If you own a camera that does not offer Wi-Fi connectivity but you want to easily control your content from your smartphone, you might need a Wi-Fi-enabled SD card. Yes, the Wi-Fi SD card exists and they are similar to the normal SD cards you use. These cards come with a Wi-Fi chip that enables them to connect to your mobile phone. So, you can wirelessly transfer your photos from the camera to your phone.
Also see: Best Entry-level DSLR
If your camera does not have WI-Fi, you can use the WI-Fi SD card in it. After that, you need to install the app which will connect to the Wi-FI network of the card to access its data. With this app, you can not only connect to a card and access but can also transfer files.
| | | |
| --- | --- | --- |
| Name | Price | Buy Here |
| Transcend 16Gb Wi-Fi SDHC Class 10 | Rs. 2790 | Buy Here |
| Toshiba Flash Air SDHC | Rs. 1999 | Buy Here |
| Eye-Fi Mobi 8GB SDHC | Rs. 3239 | Buy Here |
Best WiFi SD Cards for Your Camera
These are few best WiFi SD cards available in the market. While there are several companies that make Wi-Fi SD cards, only few options are available in India. This is the reason, I have made a list of just 3 WiFI SD cards. Yes, you can get different storage options. You can order one for you and start using it.
1. Transcend 16Gb Wi-Fi SDHC Class 10 Memory Card
After buying this card, all you need is to download the Free Wi-Fi SD app for your Android or iOS device. This app lets you connect to card and transfer files. There is also an internet mode that allows the card to connect to the Internet.
There is also a direct sharing mode that creates the dedicated wireless signal to create peer-to-peer connections between the Wi-Fi SD card and your mobile device.  There is also a shoot and view feature as well. So, you can instantly view the photo on the large screen of your smartphone as soon as you capture from the camera.
Price: Rs. 2790
Also see: Best DSLR Accessories
2. Toshiba Flash Air 8GB SDHC Memory Card (Wi-Fi)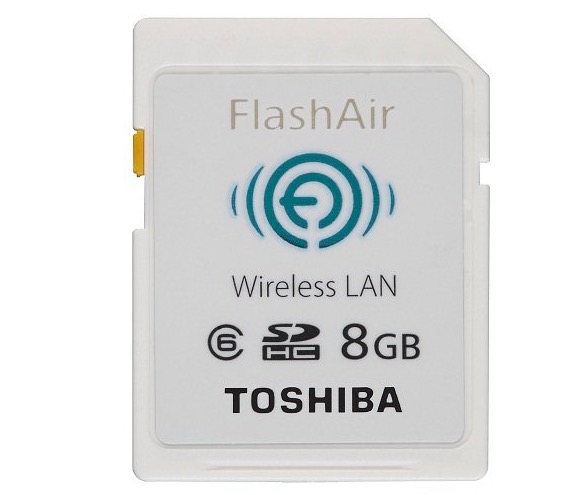 This Flash Air card also works in the same way. Turn on the Wi-FI of your phone to connect to the card and download photos on your smartphone. Good thing is that you can connect up to 7 different devices with this SD card at the same time.
It claims to offer a minimum write and read speed of 10MB/s.  If you are interested in buying this, you can check if your camera is compatible to use this Wi-Fi SD card.
Price: Rs. 1999
Buy Here: Amazon
3. Eye-Fi Mobi 8GB SDHC Class 10 Wireless Memory Card
Eye-Fi is a popular company for WiFI SD cards. You can install the Eyefi Mobi app from the respective play store and then connect the card with your phone. Eye-fi Mobi mobiles app lets you do most of the tasks.
With the Eyefi Cloud, all your photos are also uploaded in synced to your favorite devices automatically. With the purchase of this card, you also get 90 days free Eyefi Cloud account.
Price: Rs. 3239
Buy Here: Amazon
Final Words
Having a wifi SD card helps a lot. I bought an entry-level DSLR but the WIFI SD card allowed me to transfer photos quickly. Now I do not need to connect SD card to a laptop and then manually send photos to a phone for sharing on Instagram. There could be a lot more reasons to have camera photos on your phone. These SD cards will surely help you.
There are also a few other similar kinds of Wi-Fi SD cards available in different online stores. But I recommend selecting one from these three only to avoid any kind of speed and compatibility issue. If you know any trusted wifi sd card that should be on the list, you can comment below the name and price of that. I will quickly edit the post to add it.