10 Best Anti pollution masks in India to protect from Air Pollution | 2021
Delhi is facing the worst condition of Air Pollution and this situation is not going to be fine soon. We just need excuses to escape from responsibilities. Last year, we started blaming Diwali and crackers. This time we are finding another excuse to escape. By making excuses to escape from responsibilities, we are putting ourselves in danger.
We must start acting in place of writing social media posts. Reduce the carbon footprint. Every small step matters. Use fewer vehicles, try to be aware and call for awareness. Push the government to make strict rules and follow those rules without thinking about your comfort.
Also see: Best Air Purifiers for Home
Just for the sake of comfort, we have already done so many wrong things and affected our environment badly. Increasing the population is the main cause of all these things. The Large population needs a larger area to live in, more factories to work in, and more consumes more natural resources. Call for awareness, do something fruitful in place of just escaping from this.
In the meantime, you also need to take care of your health. Air Pollution affects it badly but its impact is not instant. So, most people ignore it. Considering the situation outside, you should start using the Anti Air Pollution mask. In place of using the cheap Air Pollution mask, go with a good one. Cheap pollution mask doesn't protect much and life is also very short. So, I decided to write about good Anti Air pollution masks. See the list of best Ant Air pollution masks you can buy.
Should we worry about air pollution?
According to WHO, outdoor air pollution kills around 4.2 million people worldwide every year. Air pollution leads to heart disease, lung cancer, and chronic respiratory diseases. So, it is really important to take air pollution seriously. Anti-pollution masks filter pollutants and prevent them from entering your body with breaths.
Things to consider while buying an Air Pollution Mask
If you are thinking to buy an Air Pollution Mask, you should always keep three things in your mind. The first thing is what matter size the mask can filter. Your nose can filter PM 10 and above size particles. So, the mask should be able to filter pollutants of size between 2.5 and 10. This is the reason, you should buy N99 or N95 masks. These masks are recommended.
Quality could be another important thing. So, in place of buying any random mask, you should consider buying either certified mask. The last thing is the proper fitting. Masks come in different sizes. So, you should consider the one that fits you.
Note: All these masks come in sizes and the size depends on your weight. So, select wisely by checking the product description. Air masks come with N100, N99, N95 like ratings. Try to get one with the N99 rating or at least N95.
Also see Best Air Purifiers under Rs. 15000 
If you are looking for Coronavirus masks to protect you from coronavirus or Covid-19 virus, you can buy any of the N95 masks. So, any mask on this list will help you.
Best Anti-pollution masks in India
Here is the list of best anti-pollution masks to keep yourself safe from polluted air around. If you were looking for the best masks for pollution, check this list of best air pollution masks.
1. Dettol Cambridge N99 Mask
As the name suggests, this is an N95 mask and has an average life of up to 45 days depending on the usage. The mast is reusable and washable. It can filter PM10, 2.5, 0.3 particles. It can filter 95% of viruses and bacterias. So, not just as a pollution mask, you can also use it to avoid virus infections in this pandemic time. This mask has been developed by the UK military of defense and is trusted. It also offers a proper grip to avoid air from entering from the side but it also remains comfortable at the same time. It covers your nose and chins properly.
This mask comes in different sizes, so get the one depending on our face size. Proper fitting is really important.
Price: Rs. 511
Buy Here: Amazon
2. OxiClear N99 Pollution Mask
OxiClear caught my attention because it is an N99 anti-pollution mask but is really cheap as compared to other N99 masks. It is N99 CERTIFIED and offers protection from PM 2.5 particles, Pollen, Bacteria, Smoke & Dust. It includes 4 activated carbon filters and is infused with other compounds like magnesium dioxide and copper oxide to remove hazardous pollutants from the air. The mask also has a safe release air valve. It is washable and reusable.
Price: Rs.  499
Buy Here: Amazon
3. Prana Air Mask 2nd Gen
I also reviewed Prana Air Mask the last year and I rate it as the best air pollution mask available. This new one is the 2nd Gen Prana Air mask with several improvements. has an N95 filter but is worth noting at the top due to its feature. It has a fan inside that keeps proper airflow. So, you can breathe effortlessly. It features 6 Layer Air Purification that includes 2 layers of Activated Carbon to prevent harmful gasses, a layer of Pre-White Filter to stop all particles larger than 0.10 microns, and 2 layers of HEPA to stop all PM 2.5 and PM1 particles larger than 0.3 microns. Purification efficiency 99.95%. It has a rechargeable battery that lasts over 5 hours.
Read: Prana Air Mask Review
Price: Rs. 2490
Buy Here: Amazon
4. idMASK2
This one is also a good pollution mask to protect you from pollutants in the Air. It has an Airtight fit and is made of Soft Silicone. It fits properly with no gap between the mask and face. It has triple-layer protection that filters particles. It claims to filter out 95% of particles and provide proper airflow.
This mask is for sportspersons. So, one can wear it during sports activities. It is available in different sizes for kids and adults. So make sure you are buying the right one.
Price: Rs. 3000
Buy Here: Amazon
5. Weldots 6 Layered Certified FFP2 Protection N95 Fish Shape Mask
Weldots Fender N95 mask comes with head bands that helps in easily wear it for the whole day with ease. it is designed in 3D shape which perfectly fits on human face shape and ensure the tightness and distance between the lips and mask. This increase the breathing volume. It is is made of 4 layers of non-woven fabric, 2 layers of melt-blown fabric that filters 99.9% PM 2.5 pollution particles and protects from the everyday dust and pollution.
Price: Rs. 449
Buy Now: Amazon
6. CRUSADERS Mask N99
CRUSADERS also offers different mask options starting at Rs. 599. But the cheaper one is a disposable mask. So, I recommend the washable model priced at Rs. 1250. This N99 mask comes with 4 layers of carbon filter and.5 replacement filters. It offers good protection from air pollution. It also has a valve design.
Price: Rs. 1250
Buy Here: Amazon
7. Repeller N99
Repeller N99 comes with an N99 carbon filter rated to filter PM 2.5 particles. It has adjustable straps and is washable It offers full protection from Pollution by covering your nose. If you use it for 12 hours a day, it will last for around 2 months.
Price: Rs. 350
Buy Here: Amazon
8. Honeywell PM 2.5 Anti Pollution Face Mask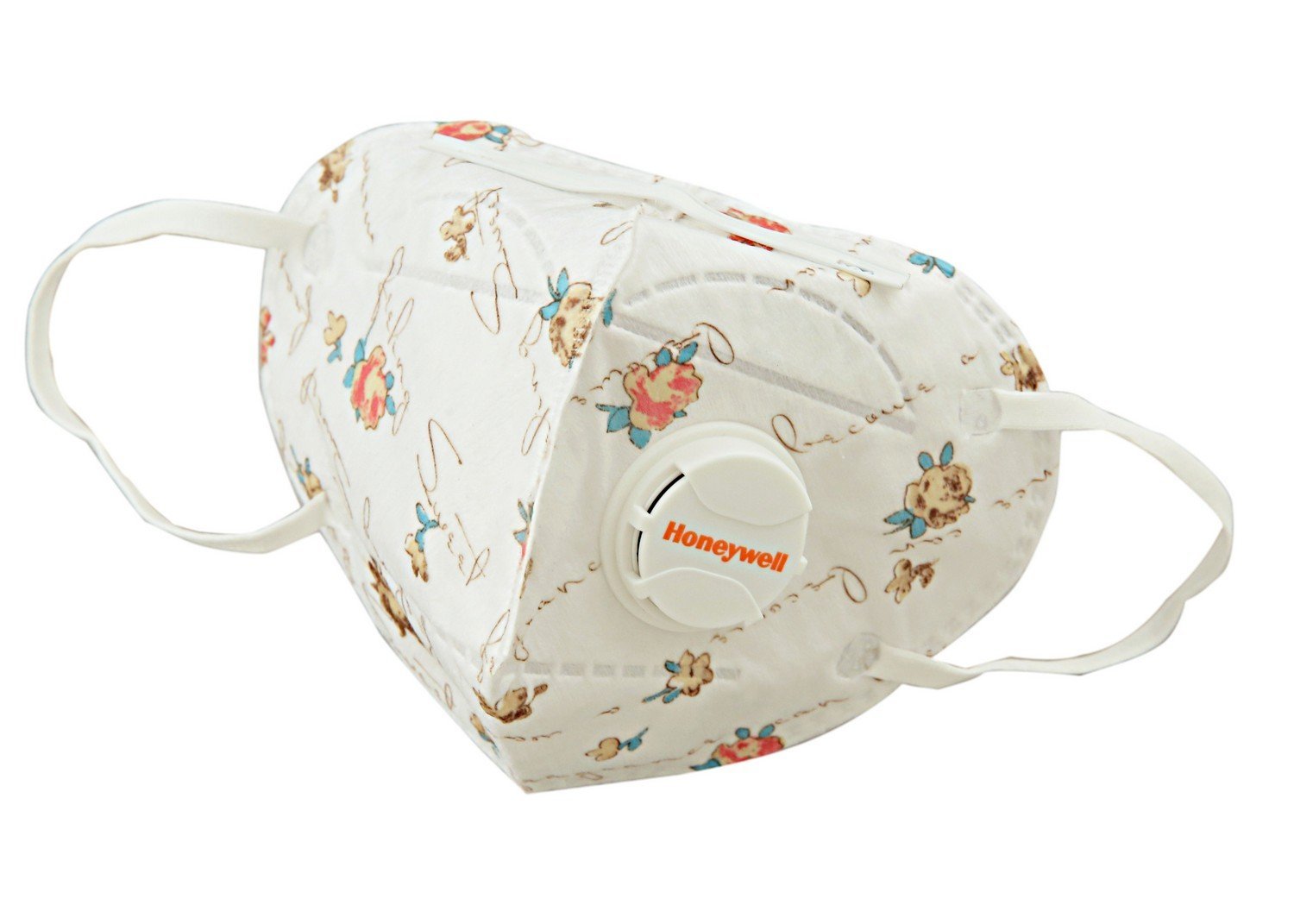 Honeywell also offers PM2.5 anti-pollution masks. The cheaper one is for basic protection and it costs just Rs. 350. There are several models depending on the design and vale option. All these masks block PM 2.5 dust, haze, bacteria, influenza viruses, filtration rate up to 95 percent.
Price: Rs. 799
Buy Here: Amazon
9. Bodyguard Reusable N99+PM2.5 6 Layer Anti Pollution Face Mask
Bodyguard Face mask is an N99+PM2.5 6 Layer Anti Pollution Face Mask which is washable and Reusable. It has exhalation valve for breathing & comfort for long time usage. It comes with 6 layers filtration and Nose Clip for the better fit. Along with pollution, this mask is also protects from dust, bad odour, VOCs & other atmospheric pollutants.
Price: Rs. 409 for 2
Buy Here: Amazon
10. Xtore Certified N99 FDA CE face mask
The Xtore certified N99 FDA CE face mask has 99% filteration efficiency that makes it N99 grade mask (equivalent to FFP3). This air pollution mask is best for dust, germs, allergies, smoke, pollution, ash, pollen, crafts, gardening, travel, anonymity, outdoor sports, haze day protection, pets hair & pet grooming sanding.
This face mask has 6 layer filtration in which 5 layers are replaceable. The mask is odour free and has quick drying ability.
Price: Rs. 735
Buy Here: Amazon
Final Words
These are some good masks for air pollution. In this list, I also added the products at cheap prices and low efficiency. If you cannot afford the better ones, you should buy these to have protection even if not as strong as in better pollution masks. N99 masks are the best to own and protect yourself from Air Pollution.
Frequntly asked questions about pollution mask
Q. What is a pollution mask?
A. A pollution mask (or anti-pollution mask to be correct) is a mask designed to protect a person from pollutants in the ambient air. It filters PM2.5 dust, haze, bacteria, influenza viruses, etc. to give you clean air for breaching. Most of the good anti-pollution masks can filter 80% to 95% pollutants depending upon their quality.
Q. What is an N95 mask?
A. Anti-pollution masks are of several types depending on filtering efficiencies. Anti-pollution masks are also approved by some certifying bodies including BIS (Bureau of India Safety), NIOSH (National Institute of occupational safety and health), and GB Standards (Guobiao standards). NIOSH has an air filtration rating that included an N95 rating for masks. N95 rating certifies that the mask can block 95% of particles 0.3 μm or larger in diameter
Q. Is N99 better than N95?
A. The difference between an N95 and N99 is simply the filter's efficiency level. So N99 is better than N95.
Q. Is PM2.5 worse than PM10?
A. Yes, PM2.5 is more harmful than PM10. PM2.5 particles refer to particulate matter with a diameter of 2.5mm and PM10 has a diameter of 10mm. PM2.5 particles are much smaller and cause more damage to the body.
Q. Should you wear a pollution mask?
A. In case the AQI level of your city is high, it is recommended to wear a pollution mask to protect yourself from exposure to dangerous air pollutants. These air pollutants can lead to lung and heart diseases.
Q. Do anti-pollution masks work?
A. Yes, anti-pollution masks work. I already recommend people to get N95 or N99 anti-pollution masks.
Q. How long do pollution masks last?
A. All anti-pollution masks come with a clear indication of how many hours you can use them. It varies from mask to mask.
Q. Which anti-pollution mask to buy?
A. I have already made a long list of the best available anti-pollution masks in the Indian market. So, you can check the list above and select one depending on your choice. Prana Air Mask is the best one I recommend.
Q. How long does the Cambridge mask last?
A. Cambridge Masks are non-disposable masks. These masks can be used for up to 340 hours, but this duration also depends on how polluted the environment is where you are using it.