8 Best Apps to Check Air Quality Index of Your City
Air Pollution is a global problem and several cities are seeing AQI higher than the normal level. In India, Not just the capital Delhi, but several cities of UP and other major cities are also suffering high pollution. If you really care for your health and want to check the Air Quality Index (AQI) of your cities, you can install a good app to check AQI. If you see AQI higher than normal level, either buy a good Air Purifier for your home or Buy a good Anti-pollution mask to wear outside.
In this article, we are listing the best apps to Check the Air Quality Index of your city. All these apps get data from official Qi Quality monitors So, the data is trusted. With the Air Quality Forecast feature available in a few apps, you know the air quality of upcoming days in advance. This helps in planning a trip or work.
Air Quality Index checker apps
1. Air Quality by AirVisual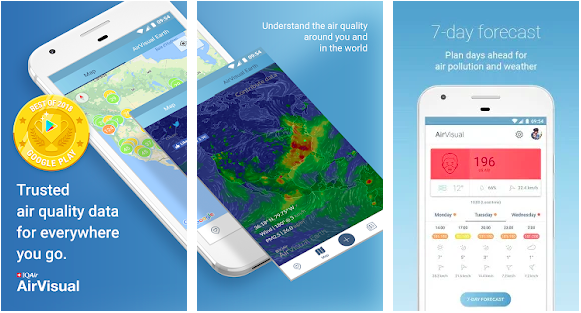 AirVisual is a known brand that sells indoor air quality monitors. I also tested and reviewed AirVisual Node. If you are interested, read AirVisual node review.
AirVisual's Air Quality app is impressive and comes with a large database. It shows Real-time, historical and Forecast of Air Pollution Data for 10,000+ cities in 80+ countries. This makes it the best app to check Air Quality data for most of the cities. The app shows 7-day Air Pollution and Weather Forecasts. So, you know in advance and can plan your works according to that.
The app also shows health recommendations, so you can lower your health risk and achieve minimum exposure to pollutants. Along with pollution data, the app also shows temperature, humidity, current conditions, and forecast weather information If you own Air Vidual node, you can link that to the app and get updates for both indoor and outdoors on the node.
The app uses Trusted Air Quality Stations to give you accurate data from across the globe.
2. AirMatters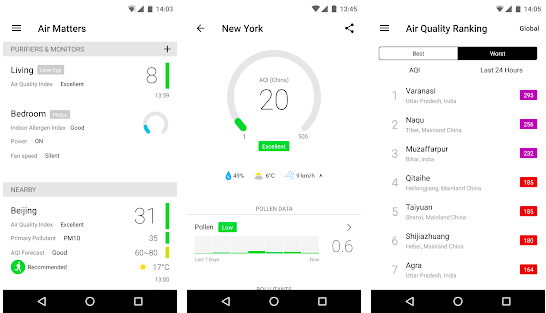 Air Matters is the app by Air Quality monitor website Air-quality.com. Air Matters brings air quality data from more than 10,000 monitoring stations for over 50 countries. It covers most of the countries and gives users an option for switching among the US, China, UK, and India standards. The app shows AQI, pollen data, temperature, wind speed and more. The forecast is available only for selected countries.
The app supports ads but offers a $0.99 USD per year subscription for the ad-free experience.
3. Air Quality Index BreezoMeter
This is also a similar app to check Real-time air quality maps and see how is the air quality around your area. It also alerts you when the air quality goes down. You get daily information about pollen from trees, grass, and weed. The app also shows the weather forecast.
The app fetches data from more than 7000 official air quality monitoring stations worldwide and calculates air quality in more than 300 million geographical data points every hour.
4. Airveda – Monitor Air Quality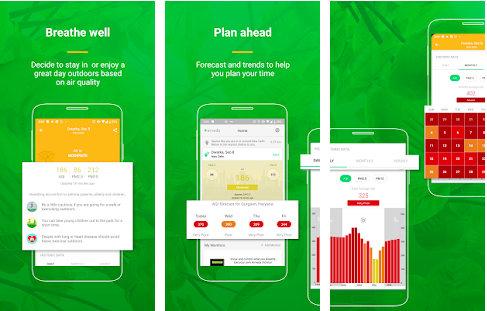 This is also a good app to check AQI for most of the locations across the globe. The app shows important data that includes PM2.5, AQI, and PM10 values. It also shows real-time and historical air quality data for all the locations it suppers.
The app supports Air quality alerts and notifies you when AQI in your location goes down. You can check hourly, daily and monthly Air Quality data for any location. It also brings articles telling you how important to monitor air quality, the impact of low air quality, and how to be safe.
5. Air Quality: Real-time AQI
This is also a similar app to check the real-Time Air Quality Index (AQI) for more than 60 countries. It shows detailed air quality data that includes AQI, PM2.5, and PM10 measurements. This data is updated every hour. You can also add a widget to the home screen if you want.
Download: Android
6. Air quality by Plume Labs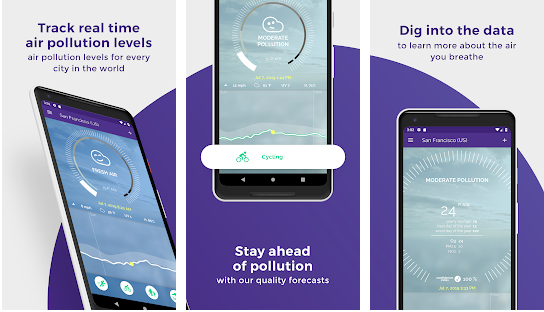 This is also a similar app that shows air quality data and brings air quality forecasts to your phone. You can use this app to check air pollution levels for several cities around the globe. With forecasts, you can plan your works in advance. You can also dig into the data to know more details. It brings Global coverage, shows historical data, shows detailed data and lets you compare Air Quality between cities. You can set your measurements in µg/m3 or a local AQI air quality index
7. SAFAR-Air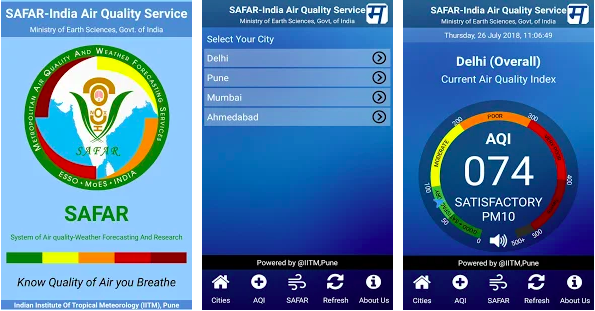 SAFAR-Air is the app by the Indian government. Here SAFAR means System of Air Quality and Weather Forecasting and Research and this project comes under the Ministry of Earth Sciences, Govt. of India. They rev developed the app to get data from official air quality monitors installed by the Indian government. The reason for putting this app low in the list is the app's poor user experience. Another reason for putting it lower in the ranking is that the app just shows data for 4 cities.
The app is Multi-lingual and shows Air Quality Forecasts for available cities. It shows detailed advisory and precautions if air quality is bad.
8. AirCare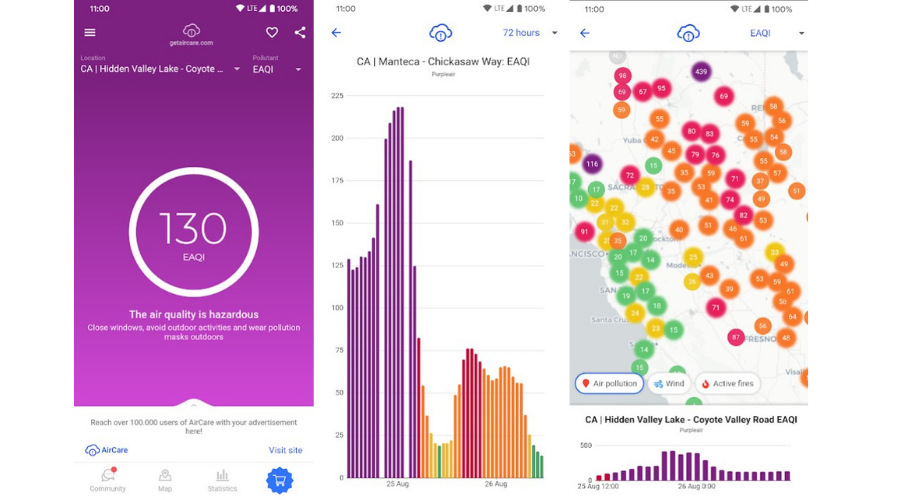 This is the air quality index app that gives real-time data about air quality in North America, Europe & Australia with AirCare! (formerly known as MojVodzuh/МојВоздух) as well as raw pollutants like PM10, PM2.5, O3, CO, NO2, SO2 (on supported stations). You can see data with the help of graphs, charts, and maps.
Read More, Best Anti pollution masks in India to protect from Air Pollution
These are the best app to Check the Air Quality Index in your area. Some of them even give information about raw pollutants, pollen, and more. If you want to check the Air Quality Index, these apps are the best ones to check.