5 Best WeTransfer Alternatives to Share Large Files
Sharing large files over the Internet is not an easy task. People use free cloud storage services as the most convenient option for sharing large files. But it also consumes space in your cloud storage services. A lot of people use WeTransfer for sharing large files smoothly. WeTransfer lets users share large files of any format. The only downside of WeTransfer is that you can share up to 2GB of files in the free option. Even if you choose the premium plan, it lets you share files of up to 20GB. So, people look for alternatives for sharing large files. If you are also looking for good WeTransfer alternatives, you are at the right place. I have checked several services that let users share large files. Based on the features and experience, I have made a list of the best WeTransfer alternatives. It is important to evaluate your specific requirements before selecting a file transfer service. I will also write key features of each service to give you an idea of each WeTransfer alternative.
Note: If you are looking for a good cloud storage service for sharing your files online, try pCloud. Just for a one-time payment of 199 USD, you get 500 GB of Storage for a lifetime.
Best WeTransfer Alternatives
1. Toffeeshare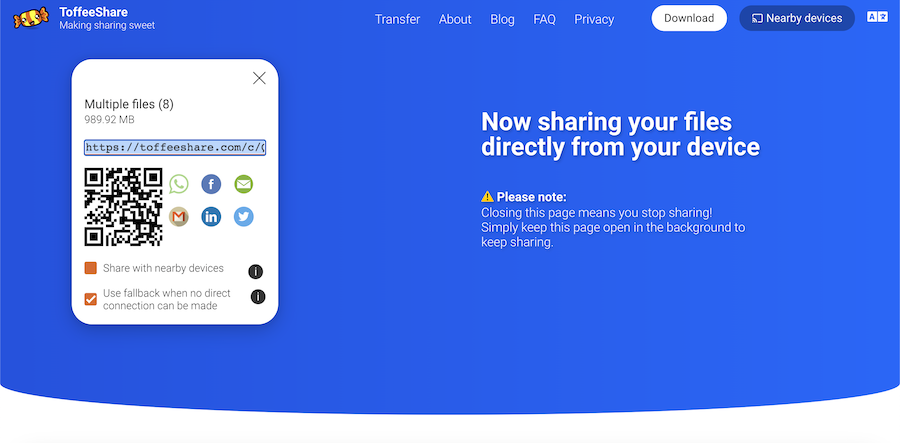 Toffeeshare is the best website for sharing large files. I have already written a detailed review of Toffeeshare. Toffeeshare has no file size limit. It also provides peer-to-peer file transfers. It means your files are not uploaded to any server. In case you want to share sensitive files, Toffeeshare is an impressive option. Toffeeshare file transfer speed is good and it also uses an end-to-end encrypted connection for sharing files. This is the reason I recommend people to use Toffeeshare. The only thing you need to remember is that you need to keep your browser tab open until the file transfer is complete. You just need to select files and it will generate a download link. Share this link with your friend. Clicking on the link will start the file download.
You also don't need to create an account on Toffeeshare for using it. So, you can anonymously use Toffeeshare for sharing large files. This is the reason I consider Toffeeshare as the best WeTransfer alternative.
2. Easyupload.io
Easyupload.io is also a good website for sharing large files. This website lets you share up to 50 files, 10GB per file, and a total of 50GB files in one go. All the files you upload are first uploaded to a server where your files remain there for 30 days. If you want to keep files on the server forever, you need to be a premium user. Premium users can store up to 1 TB of files. When you upload files on the server, it asks you for the expiration days. Free users can set file expiration from 1 day to 30 days as per their need. Once the file upload is done, you get a link to download files. You can also make files password protected to keep your files secure and prevent unauthorized access.
Easyupload.io also provides secure and encrypted file uploads and downloads. If you are comfortable with uploading your files to a server, you can use Easyupload.io as a good WeTransfer Alternative for sharing large files.
3. Transfernow
Transfernow is also simple and free to send large files to a friend over the internet. As a free user, you can share files of up to 5GB per transfer. All the files you upload on Transfernow servers will be there for 7 days. So, the receiver gets 7 days to download files. Transfernow service also lets you make your files password protected. It works the same way WeTransfer works. You can drag and drop files on the website. It also asks for the recipient's email where it will also send the download link. When the file is uploaded, it will give you the download link. Share the link via email or messaging service. It also uses a secure connection to upload and download files. So, file transfer is safe and secure.
Transfernow also has premium plans for people who want to share even large files. It also has enterprise-ready plans. TransferNow app is also available for Windows, macOS, Linux, iOS, and Android.
4. Transferxl
Transferxl is also an impressive WeTransfer alternative for sharing large files on the internet. It also has a similar interface. Just upload the file, add recipients, and it is done. Transferxl lets you share 5GB of files in one go and it also adds a 10GB max limit. So, you can only share 10GB of data per day. It also lets you add up to 5 email recipients who will receive the link to download files. File transfer is encrypted, so your data is safe. It also doesn't compress data, so it retains photo and video quality. The free plan keeps your files for 1 week on the server.
If you want to send even larger files, you can go with a premium subscription where you get 100 GB max. transfer size, 200 GB max. daily transfer size, and 6 weeks retention. It also lets you add unlimited email recipients.
5. SendGB
SendGB is also a similar file transfer sharing that lets you share files of up to 5GB. The service has a similar interface for selecting files. You can add your email, the recipient's email, expiration time, and password. It also provides an option to automatically delete files soon after files are downloaded. Sendgb works the same way WeTransfer works. You also don't need a membership for sending up to 5GB of files. All the file transfers are done over an encrypted connection. You also get the ability to password-protect files.
If you want to share files larger than 5GB, you can opt for SendGB Extra membership which provides 1 TB storage and the ability to share 20GB of files at a time.