ToffeeShare: Simplifying File Sharing with Ease
In today's fast-paced digital world where the internet has become an integral part of our daily lives, file sharing has also become an important task. We often share documents, photos, or videos with friends or colleagues. If file size is low, most people use free cloud storage services such as Google Drive, OneDrive, or Dropbox. But struggle begins when we have to share a large file. I have already talked about WeTransfer for sharing large files, but the platform only allows sharing of up to 2GB of data in a free account. But what if you want to send large files of 10GB, 20GB, or more? If data contains sensitive photos or confidential documents, you cannot upload them to any random file transfer platform. Here comes the ToffeeShare to solve issues related to large file sharing.
ToffeeShare Review
ToffeeShare offers an impressive solution for sharing large files seamlessly across devices. In this article, we will explore ToffeeShare's key features and provide an in-depth review of its performance.
ToffeeShare features a simple and intuitive interface. It is pretty straightforward, so it is easily accessible to users of all technical backgrounds without needing any tutorial.
Simply drag and drop files onto the platform, and ToffeeShare generates a unique link to share with the receiver. This link can be shared with recipients through email or messaging apps. Anyone with the download link can download the files.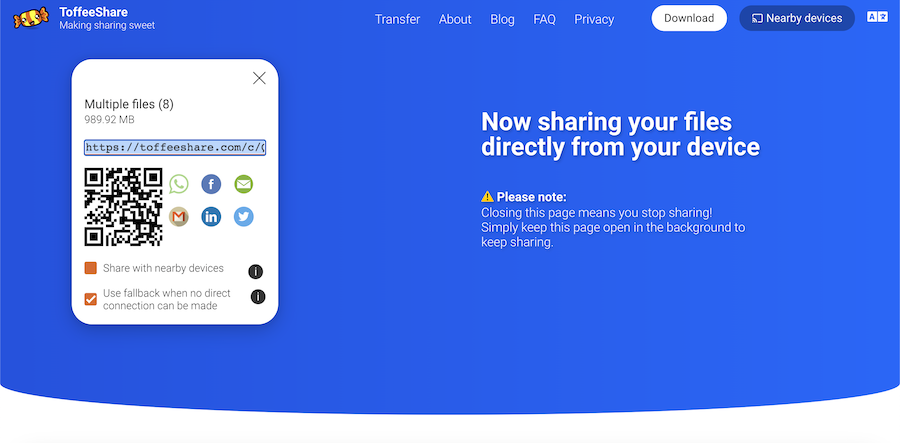 It also provides a QR code along with the download link. Scanning the QR code also instantly opens the web page for downloading the shared files.
The most notable thing about Toffeeshare is that there is no file size limit. You can share as large data as you want. The data isn't uploaded to any cloud server. It is directly transferred from your system to another system. So, you also need to keep your browser tab open until the file transfer finishes at the receiver's end.
One thing that I really like about ToffeeShare is that it also gives importance to anonymity. ToffeeShare does not require users to create an account or provide any personal information for using the platform. You just need to open the website, select the files you want to share, and then create the file-sharing link.
ToffeeShare also prioritizes the security of your files. The platform uses robust encryption methods to ensure your files are private and protected from unauthorized access. File transfer is end-to-end encrypted. As the transfer happens directly from your web browser to the receiver's web browser via an end-to-end encrypted peer-to-peer connection, you know there's no one in the middle to intercept your data. It uses WebRTC for offering Peer to peer communication.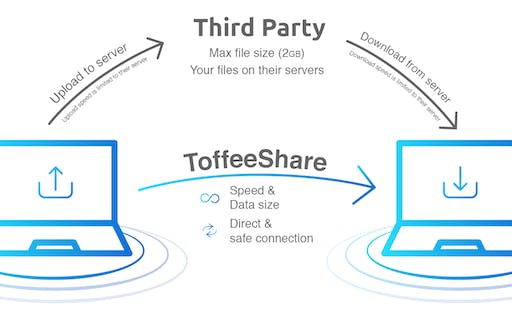 ToffeeShare is a web-based file-sharing tool, so it supports multiple operating systems including Windows, macOS, Linux, Android, and iOS. You just need to open ToffeeShare in a browser of your choice and it ensures seamless file sharing across platforms.
Wrap Up
ToffeeShare revolutionizes file sharing by providing a simple, efficient, and secure online platform for sharing large files on the internet. With its instant file-sharing capabilities, user-friendly interface, cross-platform compatibility, and emphasis on privacy, ToffeeShare has already made a large loyal user base. I also personally use it and recommend users who need a good platform for sharing large files.