What do you do when you want to send a large file to someone over the internet? Most people use cloud storage services for this. You need to first upload the file on Google Drive or any other could storage service, then share the file by giving permission to someone using email or generate the public link. I already wrote an article on sharing large files from PC to PC using a web browser. In that article, I mentioned WeTransfer. WeTransfer is a good platform for sharing large files over the internet. In this article, I will talk about WeTransfer and its key features.
Also see: Best Cloud Storage Services For Photos
Open WeTransfer on your web browser and agree to their terms. WeTransfer is really easy to use and this makes WeTransfer worth recommending. It is quicker than sharing files using a cloud storage service. Most notable thing is that files will be shared without the earring space of your personal cloud storage service. You will see a form at the left sidebar. In the form, you upload files, enter the email address of the recipient, your email, title, and a message.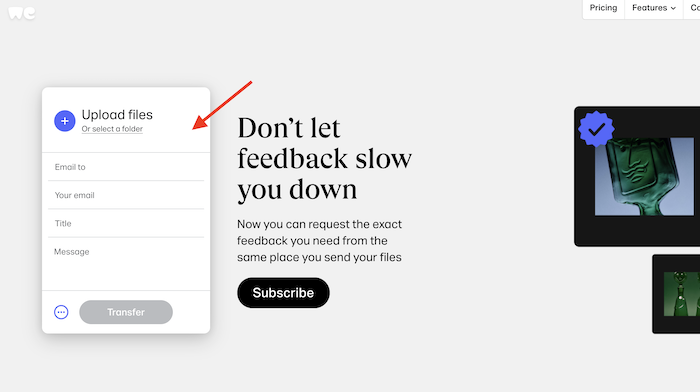 Upload all the files and enter other details. Then click the Transfer button.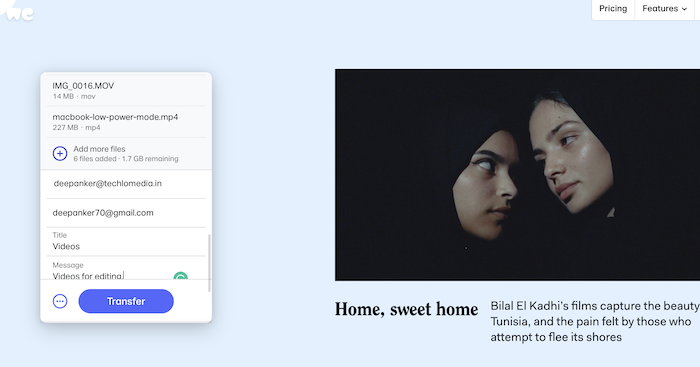 After you click the Transfer button, it will send a verification code to your email. Enter the verification code received in your email on WeTransfer. It will start uploading your files.
Once the files are uploaded to the WeTransfer server, the recipient will receive an email with the download link.
Is WeTransfer safe?
Before uploading any file on any website, most people think about privacy. So, it is really important to talk about the privacy of WeTransfer. WeTransfer creates an encrypted connection as soon as you open the website. When you upload files, these files are also uploaded on WeTransfer's server over an encrypted connection. The company also encrypts files before saving them on its server. WeTransfer also claims it doesn't look at any of the files uploaded on its servers.
WeTransfer Pricing
WeTransfer is free and you also do not need to create an account for using it. You can upload a file of up to 2GB, enter the email or recipient or create a link to share with the person. Your files will be saved on WeTransfer's server for 7 days.
If you want to share larger files, set custom expiration time, and password-protect your transfers, you can opt for the premium subscription. Premium subscriptions also come with several features that make this platform good for teams. You get shared storage, collaboration, shared branding, personalized WeTransfer emails, and more.
Wrap Up
WeTransfer is an impressive cloud storage platform that lets users share large files over the internet. You also do not need to create an account for sharing files of up to 2GB. WeTransfer is safe and secure. Just upload the file on WeTransfer and share it instantly. If you want more features, get a premium subscription. WeTransfer is ideal for people who want to transfer large files with someone quickly without needing to create an account on any website.
Frequently Asked Questions about WeTransfer
Is WeTransfer a Chinese company?
No, WeTransfer is not a Chinese company. It is based in Amsterdam, Netherlands.
Does WeTransfer look at my files?
No, WeTransfer doesn't access any of the files people upload on its server.
Is WeTransfer safe?
WeTransfer uses an encrypted connection and also saves files on servers after encrypting them.
How long do files stay on WeTransfer?
WeTransfer keeps your files on its server for 30 days. If you want to save files for a longer period of time, you need to create an account and choose how long files should be saved on the WeTransfer server.
Is WeTransfer free?
WeTransfer is free for sharing files of up to 2GB.