7 Best Email Apps for iPhone and iPad
Email is now an important part of our daily life. If you use an iOS device, you already have Apple's default Mail app. Apple Mail app is a good email client that lets you set up any email account and manage it. If you are not impressed with the default email app of iOS, you can try other good email apps. There are lots of good email apps available for iPhone and iPad. These apps let you manage your inbox, contacts, attachments, and conversations to boost email productivity. In this article, I am listing the best email apps for iPhone and iPad.
Also see: Email Apps for Android
Best Email Apps for iOS
1. Spark
Spark is the best email app for iOS. The app supports multiple email accounts. So, you can manage multiple accounts and each one receives smart notifications. This email app comes with a modern design and offers a really good user experience. It also has a dark mode to save battery life and a better experience at night. The app includes several features including quick replies, scheduled emails, smart notifications, smart search, support for cloud services, personalized swipes, and more.
This email app has been made to make collaboration easy. Teams can collaborate within Spark to discuss different things. You can also create secure links to a specific email or conversation. Then you can share the link on other tools like Slack, Skype, CRM so your team mater can collaborate. It also supports native integration with a lot of third-party apps and services. The app also features a full-featured calendar to be on top of your schedule.
Spark is free to use but the is also a premium subscription offering more featrues including unlimited email templates, unlimited collaboration, 10GB per team member, and more.
2. Gmail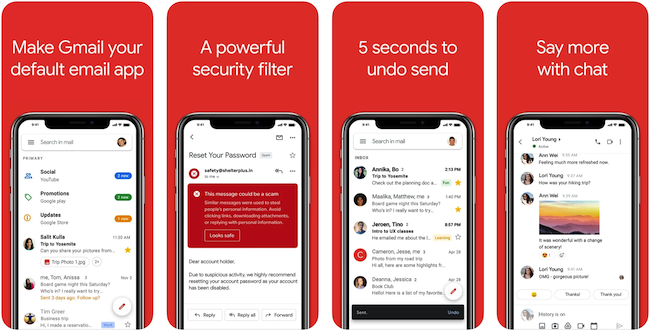 Gmail is a popular email service by Google. The app supports multiple email accounts and offers several notable features like notifications, search, and more. You can also make Gmail your default email app. Even if you don't want to use a Google account, you can set up any other email account to use with Gmail. Gmail app has good spam and malware detection. It promises to block more than 99.9 percent of spam, phishing, malware, and dangerous links from reaching your inbox. The app supports Siri shortcuts, threaded emails, Auto-complete contact names, email labeling, and more.
Gmail app comes with deep integration of other Google services such as Google Docs, Google Drive, Google Calendar, and Google Meet. So, you can edit documents, share files, manage meetings and make video calls within the app.
3. Outlook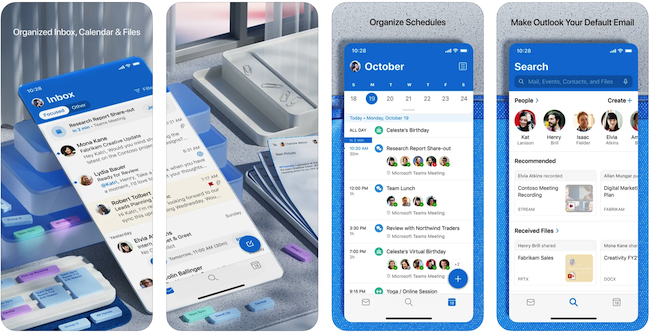 Outlook is a similar email app by Microsoft. This app can be used to access Microsoft's email account. You can also add other email accounts not associated with Microsoft. So, you can use any email account with the Outlook app. The app is good and lets you access and organize your emails properly. It has a good search to find email content. The app lets you upload a document to an email and you can also share files directly from cloud storage. Email attachments open in Microsoft apps so you can edit them directly in the corresponding app.
The app also features a Focused Inbox. It prioritizes all emails deemed important. You can toggle this feature off or on as per your need. It also organizes threads, so you can focus on a conversation.
4. Edison Mail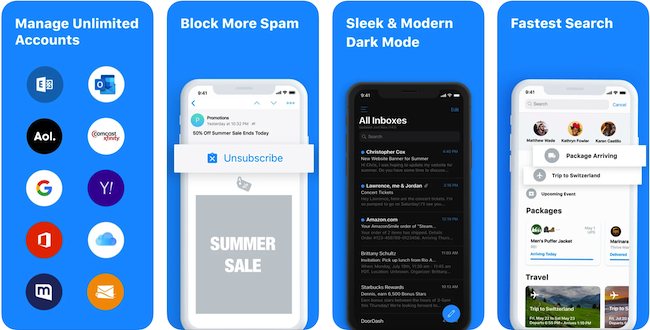 Edison Mail is also a good email app for iPhone and iPad. The app lets you set up any email account including Gmail, Hotmail, iCloud, Yahoo, Outlook, Exchange, AOL, IMAP, and more. It also supports multiple email account. The app offers a simple way to unsubscribe from annoying newsletters. It also comes with features like Smart notifications, quick replies, bulk delete, thread views, snooze, and more. Edison Mail also supports Touch ID and Face ID.
It organizes your important travel, entertainment, receipts, and purchases property. You can also see unsubscribe suggestions and upcoming meetings. Like Gmail, it also offers undo send feature.
5. Yahoo Mail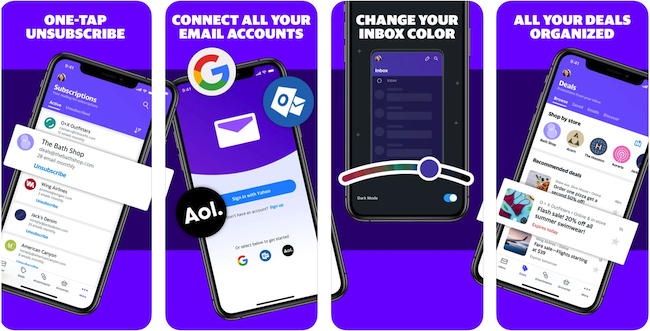 Yahoo Mail is also one of the best email apps for iOS devices. The app lets you set up any email account including Gmail, Microsoft Outlook, AOL, AT&T, and Yahoo mailboxes. You get a clutter-free mailbox with several features. It has a good Spam detection tech to keep your inbox clean. You can also easily unsubscribe from spam emails. The app also features a powerful search to find emails and attachments. It also offers customization and lets you pick custom sounds, themes anymore. The app also collects coupons you receive in different emails and shows you at a place for making shopping more manageable.
Yahoo Mail app is free but there is also a Yahoo Mail Pro app offering ads-free experience and priority customer support.
6. Newton Mail
Newton Mail is also an impressive email client for iOS devices. This app works with all email services including Gmail, Yahoo, Hotmail, Outlook, iCloud, Exchange, and all IMAP accounts. So, you can manage any kind of email account with the app. You can also add multiple accounts and manage everything in a unified inbox. The app also offers read receipts so you know who read your email. It also lets you unsubscribe to emails with a single click. You can also schedule emails to be sent later. It also gets seamless integration of several productivity apps like Todoist, Evernote, OneNote, Pocket, Trello, Instapaper & more. You also get undo send feature.
Other notable features include 2-factor authentication, HTML signature, Custom Folder Sync, support for Touch ID, 3D Touch, Remote wipe, and Moore.
Newton Mail is a paid email app and comes with a 14-day free trial and costs $50 a year.
7. Airmail
Airmail is also a good email app if you are looking for an email client to use on an iPhone or iPad. Like other email clients, this email app for iOS also supports several email services such as Gmail, Exchange EWS, Outlook 365, IMAP, and POP3. There is also an Apple Watch app, so you get interactive notifications on your wrist. It features customizable swipe, threads, snooze, bulk editing, iCloud sync, draft, multiple signatures, Unified inbox, push notifications, and more. It also comes with a powerful search, bales support, HTML rich composer, undo actions, contacts, and more.
Airmail app is free but some notable features are available with Airmail Pro. Airmail Pro costs $3 per month or $10 per year. Pro features include unified inbox, multiple accounts support, blocking of tracking pixels, Real-time Inbox Monitoring, Snooze, Send Later, and priority support.
Wrap Up
There are several good email apps for iPhone and iPad. I have listed the 7 best as per my experience. All these apps offer organized email access and good features. I personally use Gmail to manage all my email accounts. Spark is my other favorite email app. Other email apps listed in this article are also good. Read about all the apps, compare features and decide what could be your default email app on your iPhone or iPad.