5 Best Calendar Apps for iPhone
Calendar apps play an important role in our lives. A good calendar app helps you remember your important tasks, the birthday of friends, appointments, get notified about your important meetings, and more. Apple has also included a good Calendar app that has several good features but it still falls short somewhere. So, there are several good calendar apps with lots of interesting features. If you are not sure what good Calendar app you can try, keep reading. In this article, I am listing the best Calendar apps for iPhone.
Before you select a Calendar app, you need to take care of a few things. The app should be easy to use and must offer important data quickly. It should have a customizable view, so you can set what data you want to see at a glance. The app should offer notifications and alerts for important data. Maps integration makes it easy to manage your meetings. In this article, we are talking about iPhone calendar apps, so the app must have Siri compatibility.
Also see: Best To-Do List Apps
Calendar Apps for iPhone
1. Fantastical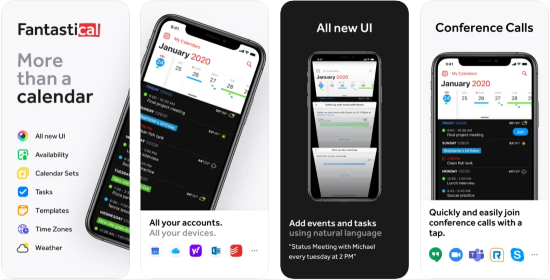 Fantastical is one of the best calendar apps for iOS. The app comes with a clean and sleek UI. It lets you manage your events and more. The free app comes with basic features and also provides 3 day weather forecast. It can also pull your calendar events from the iOS calendar app. You can also manually, custom event colors add events.
In the premium version, the app brings full task support. You can subscribe to events and get notified of event, full-screen day, week, month, and year views and tasks templates, and more. The app is available for iPhone, iPad, Mac, and Apple Watch. It also syncs data across devices.
Download (Free / $4.99/£4.99 per month)
2. Calendars 5
If you think Fantastical's subscription is costly for you, you can check Calendars 5 app. This is a one-time purchase. So, you pay once and keep using all the features for a lifetime. The app features natural language input for event creation. It offers a quick overview of all your upcoming events and tasks. You can create custom events, set custom alerts, manage your tasks, and more. The app offers offline access and syncs your data across the devices when you are online.
Download ($29.99)
3. Informant 5 Calendar
Informant 5 Calendar is another impressive calendar app for iPhone. This app lets you organize your tasks, events, and meetings. It works with data from several apps such as iCloud, Exchange, Outlook.com, Microsoft 365, Google Calendar, Yahoo, AOL, and more. The app supports Siri and lets you create and read tasks using Siri. You can check your emails and quickly turn emails into tasks.
It offers a focus view that combines weather, and current-day tasks and events. You can sync data using Informant Sync, Google sync, Native (iOS) data, and more. The app comes with customization options such as colors, tags, and customizable views.
The app is free with in-app purchases. It is available for iPhone, iPad, and Apple Watch.
4. Google Calendar
Google Calendar is also a good calendar app for iPhone users. People who have been using Google Calendar for a long time on Android and just switched to iPhone can keep using Google Calendar app. The app requires a Google account to get started. It has a good interface and also offers a web version that you can access from a browser. The app offers different views such as a month, week, and day views. It automatically adds events from Gmail to Calendar automatically. The app also adds Video Conferencing to Calendar events. It also has Apple Health integration to your workouts and mark Goals.
5. Timepage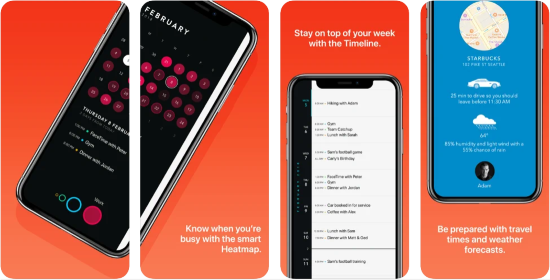 Timepage is a beautiful calendar app with a friendly UI. It makes you more productive by offering an easy way to manage your events, tasks, and meetings. The app offers a whole week at a glance and you can customize your views. So, you get a clutter-free experience. The integrates your events, maps, contacts, and weathers into one place. If you own an Apple Watch, you can get all the information using the Watch app. The app also provides travel time estimates for every transportation method.
Timepage is free to download but you also have paid membership for more features.
Wrap up
I have included the best Calendar apps for iOS. If you want a good calendar app, check all the apps listed above, read about them, and decide what should be your choice. I personally use Google Calendar app because I also own an Android phone. So, then app sync data across my Apple and Android devices. Apple's default calendar app is also good but other apps offer more features and better ways to manage your tasks.
If you think I have missed a good calendar app, you can let me know using the comments.