How to use Google Earth Flight Simulator
October 24, 2022

in

Guide
Google Maps and Google Earth are two really notable Google services that have made people's life a lot easier. Google also has two really impressive features Streetview and flight simulator in Google Earth. Google Earth Flight simulator lets you fly around the world using keyboard shortcuts or a joystick. This feature lets you fly through different airports and land at different locations. The graphics are also realistic and feels really great.
Google Earth can be accessed on a web browser but you need to download Google Earth Pro on your system for using the Google Earth Flight simulator.
After downloading Google Earth Pro, Install it on your system and launch the Google Earth Pro app. Now Click the Tools menu and then click Enter Flight Simulator. You can also use keyboard shortcuts Ctrl + Alt + a on Windows or ⌘+ Option + a on Mac to launch Flight Simulator.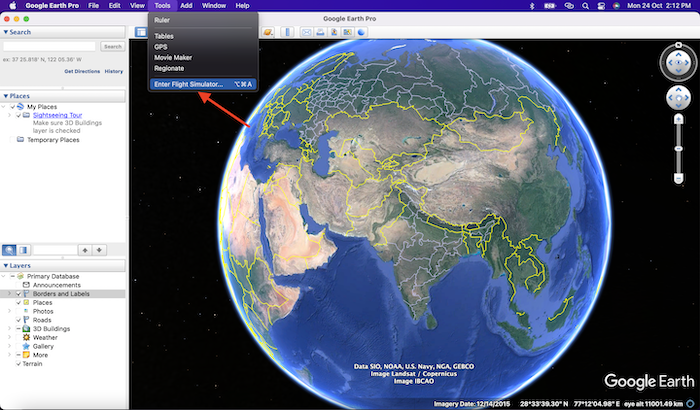 It will then ask you to select your Aircraft and the Airport to start your trip. Google recommends SR22 if you are a beginner pilot and are learning how to fly. If you want to enable Joystick support, enable it using the select box. Keep it unchecked if you want to control the flight using keyboard keys.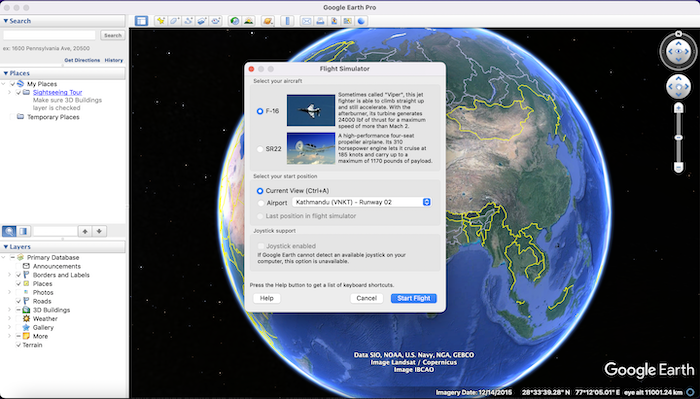 Then click the Start Flight button to start. It will start the Flight simulation.
Once it starts the flight simulator, you need to control the plane. On the screen, you get a bunch of numbers in greed. This is HUD.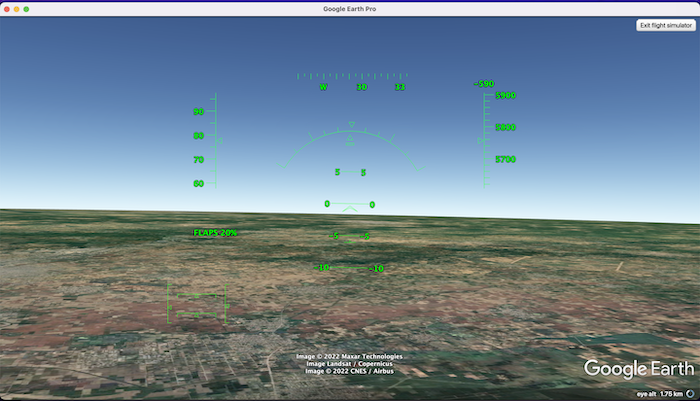 It won't be easy to control the flight and you will have to learn how to control the plane. There is no way to customize controls. So, learn the default controls.
Use Page Up button to increase your flight speed and Down Arrow Key to take off.
Once your flight reaches enough altitude, center the mouse on your screen to keep the flight flying.
Use Left and Right arrow keys to change the flight direction.
Use CTRL+ Arrow keys to look around in the desired direction. CMD+Arrow in case you are using it on macOS.
How to Exit Google Earth Flight Simulator
When you want to exit, you can click the Exit flight simulator button at the upper right corner of the screen to exit the Google Earth flight simulator. You can also press Ctrl + Alt + A (in Windows) or Command + Option + A (on a Mac) to directly exit the Flight simulator. Esc key will also do the same.
Wrap Up
Google Earth Flight Simulator is an interesting Flight Simulator you can try for free. If you want to have a better experience of flying a plane, you can get Microsoft Flight Simulator. It is a paid game but gives you an amazing experience with high-quality graphics.