Moto Razr makes comeback; launched as a new foldable Android phone
Remember the iconic foldable keypad phone Moto Razr? That was once a dream phone for many and I could remember how badly I wanted it when I was a teen. Now the company has officially launched this phone again in 2019 but with modern design and specs.
Moto Razr 2019 is also a foldable phone but with a foldable OLED display and costs $1,499. It will be available in January 2020.
Unlike other foldable display phones that fold vertically, this one takes a different approach and folds the display around X-axis. It has a 6.2-inch 21:9 plastic OLED panel that folds in half. Even when unfolded, it is similar to other Android phones offering a 21:9 aspect ratio. There's a notch for a speaker and camera. The bottom side of the display has a curved edge.

After we saw the issues with Samsung Galaxy Fold, I was worried about the durability. But Motorola has confirmed that they have full confidence in the durability of the Flex View display. The phone has an average lifespan similar to other phones. Moto Razr comes with an internal nano-coating for splash resistance. So, it can survive water splashes but don't take it to swim.
Motorola has worked with Lenovo to design this phone. The phone uses multiple hinges and sliding plates to fold and unfold. Motorola claims this system has been tested properly and won't create any issue with the time.
There is also a secondary display on the outside. This 2.7-inch glass-covered OLED panel is called Quick View display. It can show notifications, music controls and can let you use the phone in selfie camera mode. Motorola is also working with Google to bring apps to the front display.
The phone comes with Snapdragon 710 Soc that is powerful enough. Moto confirms that the reason to go with this chip is to optimize battery life and heat. The slower chip could offer better battery but they didn't want to compromise with performance. It also comes with 6GB RAM and 128GB internal storage.
The phone runs on Android 9 with a Clutter-Free Android experience. It also features Moto actions that make your interaction with easier by offering several gestures. It also has Google Lens integration.
It has 16 megapixels camera that acts as both front and rear cameras. This camera captures selfies when the phone is folded and can be used as a rear camera when the phone is unfolded. There is also a 5-megapixels camera inside when the phone us unfolded. The camera features EIS, Night Vision mode, and more.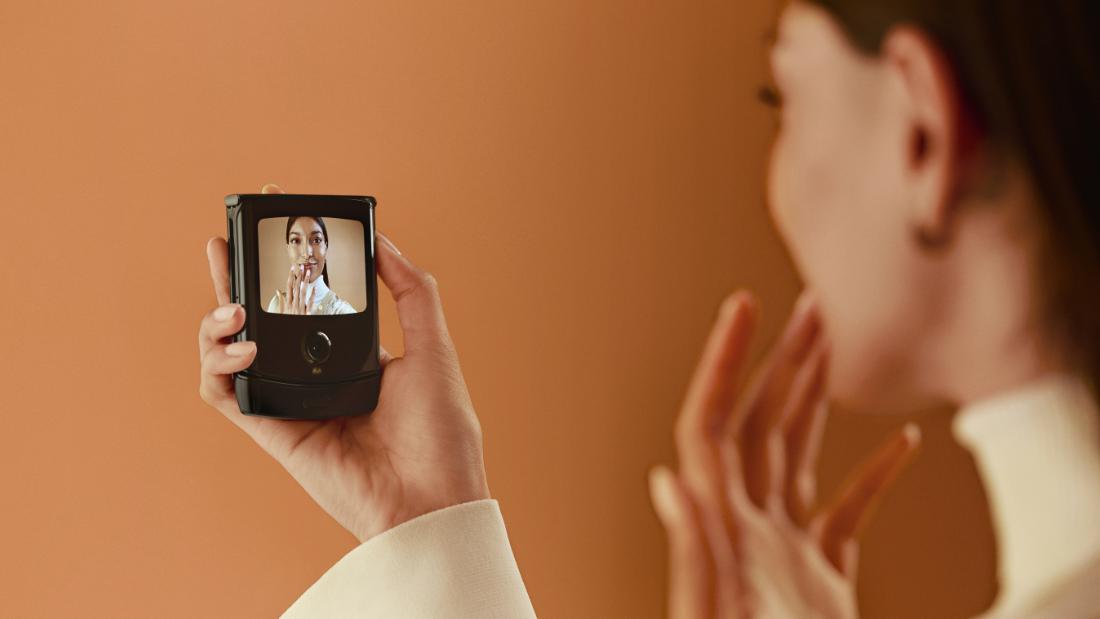 Moto Razr is an eSIM only device. So, there is no physical SIM card slot. It also has a Fingerprint sensor to quickly unlock it or authenticate payments. Other connectivity options include WiFi 802.11 a/b/g/n/ac, Bluetooth 5.0 LE, NFC, LTE and GPS/GLONASS. Moto Razr packs 2510mAh battery with support to 15W quick charging.
The phone measures 72 x 172 x 6.9mm when unfolded and 72 x 94 x 14mm in folded mode. It weighs 205g. It comes in Noir Black color.
Moto Razr comes with Razr earbuds and a set of USB-C headsets tuned by Denon Audio.
Moto Razer will be available officially in January and costs $1499. Pre-orders will start on December 26, 2019. Motorola has also confirmed that the phone will also be launched in India. To get more information, register here and you will get emails about upcoming updates.
It will compete against Samsung Galaxy Fold that looked impressive but could be as impressive in real-life usage.
Recommended Videos