Xiaomi Patents a phone with Integrated Solar Panel
A patent filed with the World Intellectual Property Office (WIPO) last year suggests that Xiaomi has been working on a smartphone with integrated solar panels for quite some time.
Dutch tech blog, LetsGoDigital has first reported about a phone with no-notch display and integrated solar panel at the back. We do not have any information about the specs, but we have a prototype photo that confirms a lot about the design.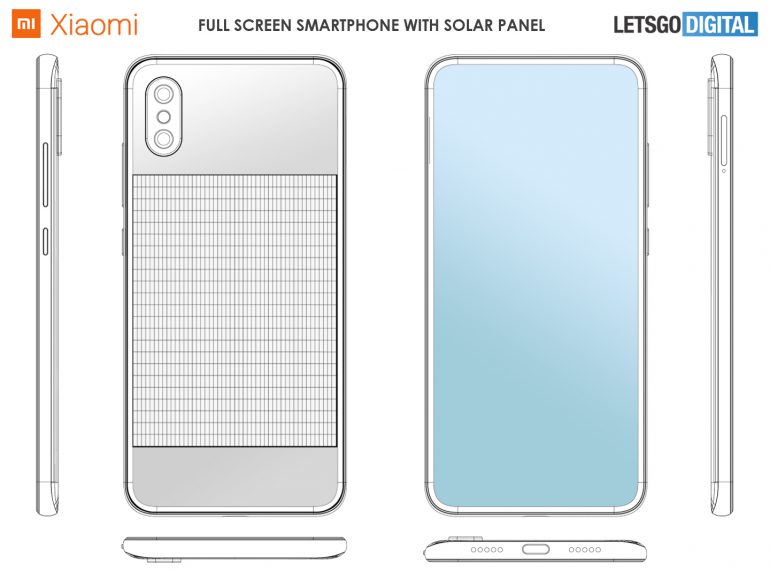 There's no notch, so there could be either a pop-up selfie camera or in-display camera that Xiaomi teased a few weeks back. There's no physical fingerprint sensor, so it could use in-display fingerprint scanner that has become common now.
Also see: Best Solar Power Banks
The back has solar panels to charge this phone by putting under direct sunlight. You should also know that Samsung launched Guru E1107 and Blue Earth S7550 phones with solar panels back in 2009. LG also launched LG Pop GD510 with an optional detachable cover with an integrated solar panel. So, Xiaomi is not doing something new.
Solar charging tech is not much fast and putting the phone under the sunlight for 10 minutes could only give you 2 minutes of call time. Now when Xiaomi is working on a phone with solar charging ability, we can expect it to be faster.
Solar charging can be a good option for people living in remote areas where electricity supply is not regular. It can also help travelers who usually go on extreme trekking.
There have been several patents that never came as a product. So, we are still not sure if Xiaomi really has plans to convert this patent into an actual consumer product.
What do you guys think about this phone? Let us know your views in the comments below.