Intel Announces Atom E3900 Series Processor for Internet of Things
Intel has announced Intel Atom E3900 series based on its latest generation Goldmont Atom CPU core. This processor series can be seen as the most dedicated project of Intel for IoT.
Intel Atom E3900 delivers excellent performance and the nice set of features that make it suitable for segments such as industrial, automotive, video, manufacturing, retail, and more.
It features Intel's ninth-generation graphics engine that improves 3-D graphics performance by 2.9 times over the previous generation. It also supports three independent displays.
It also has four vector image processing units that offer better visibility and quality video in the low light. Intel's Time Coordinated Computing Technology keeps the system of devices sync in reduced latency across a wide variety of applications.
This announcement of Intel Atom processor E3900 series will include the following SKUs:
Intel® Atom™ x5-E3930 processor
Intel® Atom™ x5-E3940 processor
Intel® Atom™ x7-E3950 processor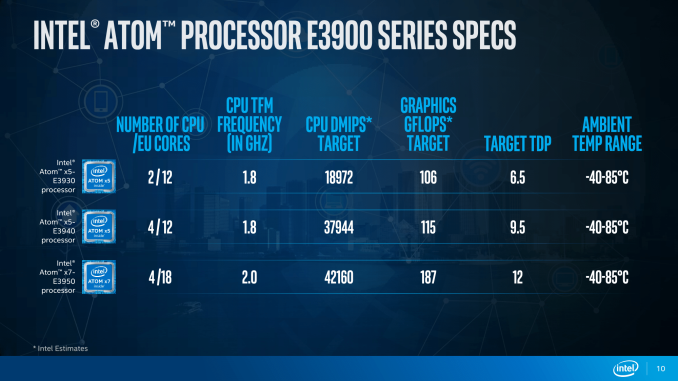 Intel confirmed that the devices with Intel Atom E3900 series processor will hit the market in Q2 2017.