10 Amazing Features of Android Nougat
The much anticipated Android 7.0 Nougat is finally here! As always Nexus owners are the first to receive the update. Nougat brings in significant changes and amazing new features. If you are not the owner of Nexus devices, you have to wait for few more weeks. Before you get Android Nougat, you should know what this new version of Android OS brings. Let's dig the key features of Android Nougat.
Also see: Brave: A browser that pays you to surf the Web
10 Amazing Features of Android Nougat
1. Multi Window: 
Starting off with the highlight of Android 7.0, the much sought Multi Window support is finally here. This feature will allow you to run two apps simultaneously on a split screen. Multitasking at its finest!
Many Samsung and LG phones already have this feature, so it was about time Google implemented this. Google also made sure it's easy to launch this, all you gotta do is long press the recent button on navigation bar. The divider in between the split screen allows you to resize the windows. You can now finally watch videos on YouTube while you reply to an email, browse the web while you text, and so on.
2. New Quick Settings Control: 
The Quick Settings menu has seen many changes over the course of time, with Nougat, it gets a fresh look. When you pull down notification bar, a single row of settings icons appear. These make accessing basic settings faster and convenient, as earlier you had to pull the notification bar twice.
These switches are small and provide plenty of space for Notifications. Also, The icons can be switched and sorted as per your convenience, which is pretty cool!
3. Improved Direct Reply Notifications: 
This new version of Android lets users reply to any notification that appears directly without changing windows or opening the notification. This "Direct Reply" feature is very convenient and handy.
The "Bundled Notification" stacks seen in Lollipop has undergone few tweaks as well. Earlier, when multiple notifications were received from a single app, they were clubbed together. Android N allows you to expand the Notification to view each notification and reply to each of them with Direct Reply.
4. Upgraded Doze: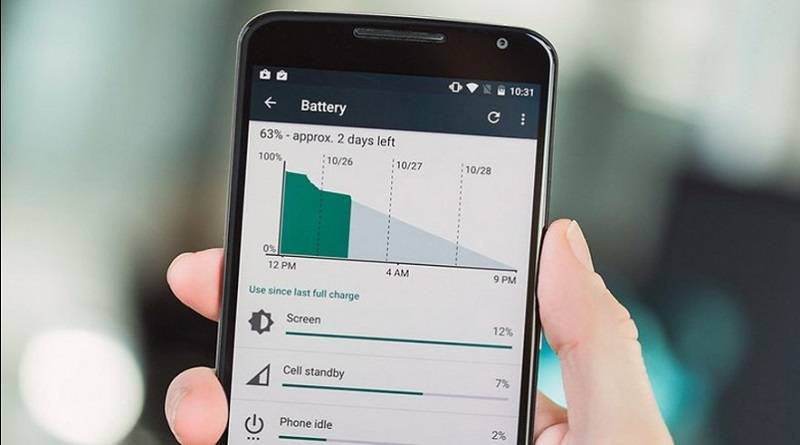 Android Marshmallow brought in an amazing feature, Doze, which would reduce CPU usage and Network activity when the phone was stationary. This feature enhanced the battery performance. Now, Android Nougat takes it a step further by putting your phone on Doze even when you are moving around, as long as you are not using the phone.
This feature significantly improves your phone's battery life. You no longer will have to wake up to a dead phone.
5. Instant Apps: 
Ever since Google announced the Instant Apps feature at Google I/O 2016, we were eagerly waiting to try it out. Android N brings in this anticipated feature, and Boy! is it a delight!
What Instant Apps basically does is let users use an app in the play Store instantly. In a nutshell, you can use apps without downloading anything, just click a link.
Try the app, test it and then decide if it's worth downloading. This right here is Android N's defining and biggest feature!
6. Updated Settings Menu: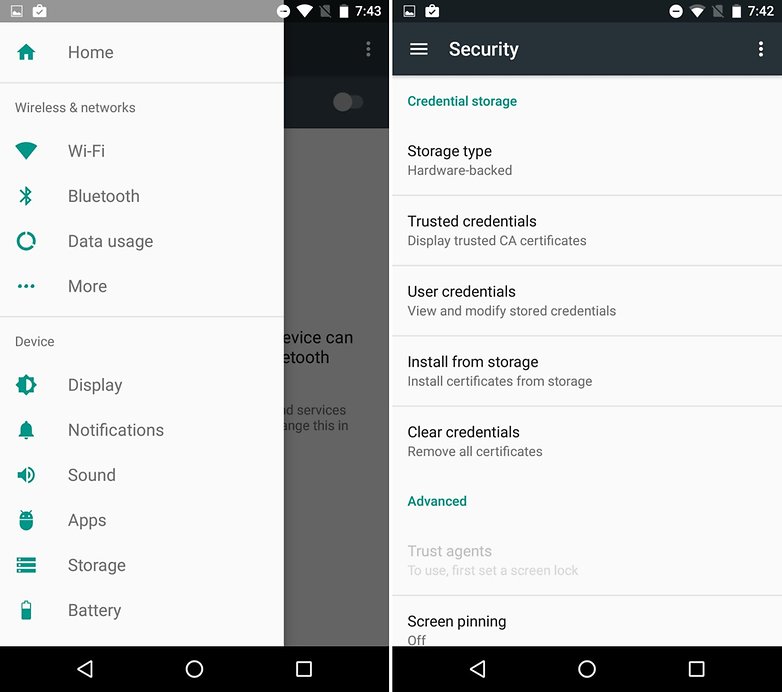 It was rumored that the Settings Menu was going to receive a facelift, turns it is true indeed. Android N saw the settings menu get a redesigned interface and are now more efficient. Relevant info can be seen under each option, it shows the name of the WiFi network and Bluetooth devices you are connected to, the amount of data used can be seen under Data Usage and so on.
Also, when you enter a submenu, a Hamburger Menu appears on the top left of the setting page.this hamburger menu lets you jump between menus without going back to the main menu.
7. New Easter Egg Game: 
Like earlier Android Versions, Android N comes along with an Easter Egg Game. Unlike previous Flappy Bird clones, Nougat comes with a Cat collector game.
To get this, You have to tap the About phone few times in the settings, as usual. Repeatedly tap the 'N' logo till a tiny cat emoji appears. You can then lure a cat with given bait. You will be notified when you catch a cat. Well, it doesn't matter if it's a Pokemon or a Digital Cat, you Gotta Catch 'Em All!
8. Emergency Information: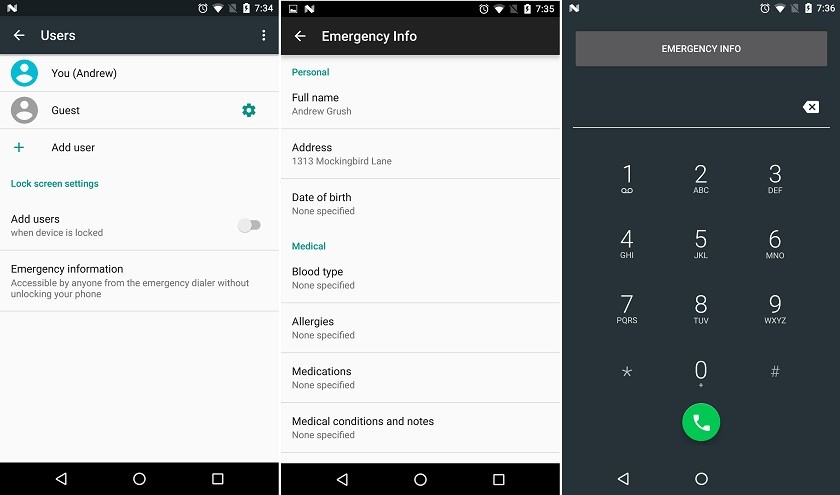 The Emergency Information is literally a Life Saving feature. Crucial Medical details, Emergency Contact Information, and even your Blood Type can be shown on the lock screen. This way in case of an accident or medical emergency, this information can be viewed by the responder at the site of the emergency. A simple tap on the "Emergency" button on the lock screen can save a life.
9. Change DPI: 
Earlier, only the Font Size could be changed, but now, with Android 7.0 you can change the size of icons and other elements on the screen. It comes in 5 sizes: Small, Default, Large, Larger, and Largest. This feature is a relief for people who have difficulty in viewing small elements.
10. Performance Boost: 

The android 7.0 received a new 3D rendering API called Vulkan. The introduction of Vulkan gave a humongous boost in terms of Graphics and Performance.
Also, the Operating System's OTA updates in the background, next time you restart your device, you will boot to the latest version. Speaking of Booting, now your device will boot faster than ever before.
Other Features:
The Android 7.0  has seen many other small changes including enhancement of keyboard, Updated Emojis, Better camera App and much more.
Google is working on Daydream VR, an attempt to bring Virtual Reality to mobile phones. It is said to be available within the year and will join Android N through an update.