Netflix officially comes to India; Plans start from Rs. 500 per month
As expected, Netflix has officially come to Indian market. Company announced its India entry at CES 2016. In India, it will directly compete with Hotstar, Boxtv, Eros and Spuul and few others.
NetFlix is a popular streaming service to watch movies, TV shows and other video content online legally. With its India entry, it will surely hurt VPN business and torrent consumption in India.
Also read: Best Music apps for iPhone
Users will get free access for 1 month and then they can go with one of three subscription plans available. For free access, you need to have credit card. In very basic plan which costs Rs. 500 per month, you wouldn't get HD content. If you want to watch ultra HD content, go with premium content. See the list of plans below: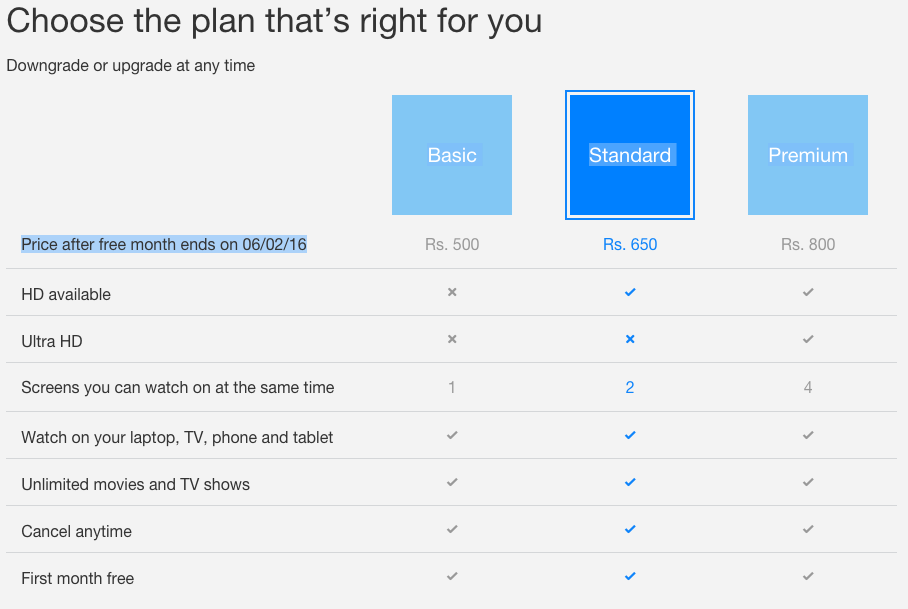 While India is gearing for 4G revolution, video consumption will grow. So, Netflix like service will help users to get video content legally.
Now Netflix is officially available in 132 countries including Russia, Indonesia, Poland, Singapore. Company is also planning to launch their services in China.