Google Search Lists Modi As 'Most Stupid' PM; Should we blame Google or trust this?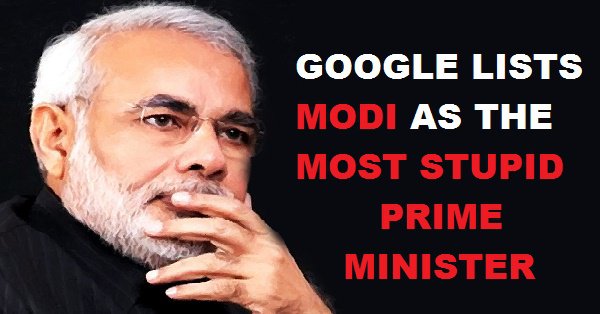 "If you are in this post to enjoy the Modi's listing as stupid prime minister, this post can burn your ass. I would like to recommend you to leave this page."
Prime Minister Narendra Modi has been in the news ever since he took office last year in June with a huge majority. Narendra Modi is always in the spotlight, be it for his Good work, economy boosting business decisions, selfies, initiatives, travels and 'achche din' .
Last month, search engine giant Google, showed Narendra Modi's image among the likes of crime lord Al Capone by listing him among the most wanted criminals. This particularly disturbed the right-wing leaning denizens of the internet while amusing the Opposition. Things got out of hand and Google ended up apologising to the Prime Minister.
Again something similar happened on Thursday. This time our country's supreme leader has found a place among the "most stupid Prime Minister" in the world. A search for "World's Most Stupid Prime Ministers" shows Narendra Modi along with other leaders like David Cameron, Tony Abbot and even former leaders like Lee Kuan Yew.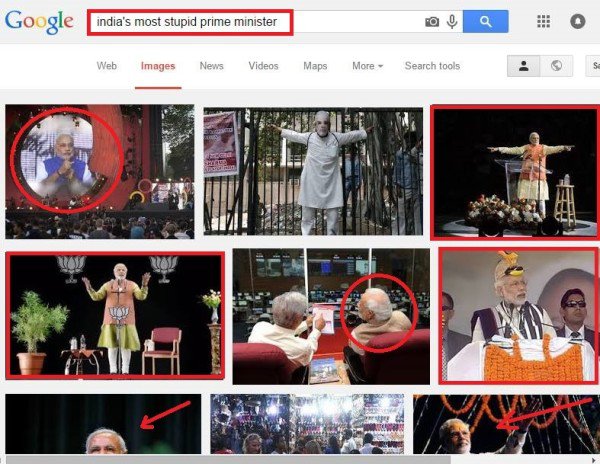 Google Responded
The last time around things got completely out of hand as Modi's fans demanded that Google remove the pictures and apologise. When the controversy broke last time:
"These results trouble us and are not reflective of the opinions of Google. Sometimes, the way images are described on the internet can yield surprising results to specific queries. We apologise for any confusion or misunderstanding this has caused. We're continually working to improve our algorithms to prevent unexpected results like this."
Google said that results to the query "top 10 criminals in India" was due to a British daily which had an image of Modi and erroneous metadata. According to Google, the image search results were drawn from multiple news articles with images of  Modi and his statements with regard to politicians with a criminal background.
Because the words, 'Modi' and 'criminal' occurred so closely it led to that particular image turning up. Similarly, the words 'Prime Minister' and 'stupid' led to an article on Reuters titled Why work with India's new leader? It's the economy, stupid. The presence of the word 'stupid' in the headline along with an article on why the US should care more about India is the reason we see PM Modi's picture in the search results.
Explanation
Google arrange image searches based on image meta data and content of page on which image appeared. That means, photo of Modi was linked in articles with keyword stupid and criminal. This is the reason the picture shows in search results. Google does not intentionally shows those results. If this was the case, 'Arvind Kejriwal' would have been in the list of stupid. Yes, of course he is the one and top most.
No worries. If you still think that showing image in Google search for stupid, makes a person stupid, you should feel sorry about your education and mental level.