TP-LINK Archer C20 AC750 dual-band router review
TP-LINK has launched Archer C20 AC750 Wireless Dual Band Router in India back in June this year. This router comes with two external antenna, dual band wifi with various nice features. I used this device for around 15 days at my home office and now I am ready to write the review of this router.
TP-LINK Archer C20 AC750 dual-band router review
Design
It has a nice design with premium looking finish at top. At back, it has two antennas, USB port, power jack, LAN ports and power button. I found the size of the device is bigger. Dimensions of the device are 230 x 144 x 35mm.
Specifications, features and performance
It supports 802.11ac standard and is also backward compatibility with 802.11n. It is a dual-band router and offers two dedicated networks simultaneously for amazing wireless performance. You will see up to 433Mbps speed over 5GHz band and 300Mbps over the 2.4GHz band. You can use the high-speed network for online video streaming and gaming. Low-speed network can be used for normal web browsing and emails. Both works fine. I tested it by connecting my phones with low-speed network and laptops with high-speed network. It is not always necessary that you use two networks. You can disable any network from the firmware.
It has two antennas for wider and seamless coverage. I never found any kind of network distraction. But I must say that this is not surprising because my older low-cost router also offered me similar coverage. But this router is good if you have big home or office space.
It also has a guest mode. So, you can share your network with guests without exposing your personal network password. You can also set the timeout time of this guest network.
I personally liked the IP-based Bandwidth Control option in this router. It lets you easily manage the bandwidth of devices connected to the router.
It also comes with parental control to restrict access to certain websites. It is good for home and office both where you will never like your children or staffs to waste time on useless stuffs.
It also has a USB port which lets you share a storage device or USB printer with all devices connected with network of this router. This is another interesting feature.
It supports IPv6. So, you can say that the device is ready for the next generation of the Internet.
Now, here comes the most important part. This router is very easy to setup and configure. So, you can easily setup this. Just connect your PC with router over LAN and then open the 192.168.0.1 IP address in browser. Login wtih username: admin and password: admin. You will be able to see the interface of the firmware.
Firmware
Firmware is easy to use and lets you configure most of options.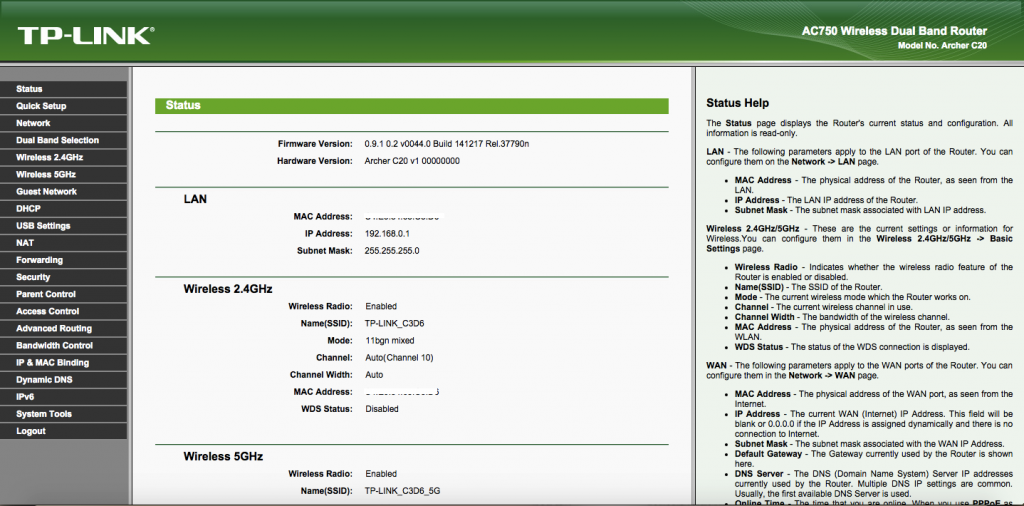 At the left side of the page, there is the menu to configure most of the things including Wireless network and its security, Guest network, parent control, access control, bandwidth control, USB device and other things. Nothing is complicated and one can easily understand how to use those features.
My Verdict
This router is costly but it justifies the cost. It is suitable for small offices and homes with more than 7-8 internet users. If you are online gamer and usually watch HD videos online, you should think of buying this. On my broadband connection, I was happy with the performance. In India, we do not have much highspeed internet connection. So, we cannot expect routers to do magic. Bandwidth control and guest modes are two best features one will like to see.