Microsoft Announced Preview of Skype for Outlook.com
Microsoft has announced that it is going to launch Preview of Skype for Outlook.com. It will be launched starting from UK and then for US and Germany.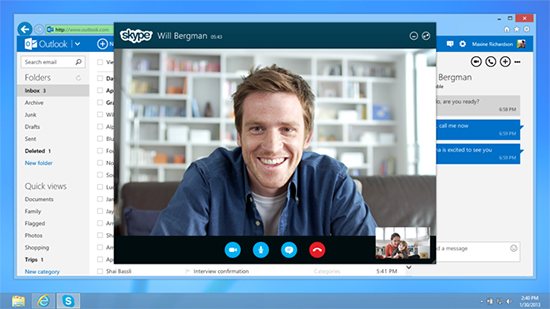 After this, Skype will be added to Microsoft's online tools wt SkyDrive. Whenever you receive an email, a Skype call option will be added to all conversation. You can use these options to quickly initiate a video or an audio call.
"Today, we're excited to announce that a preview of Skype video calling and messaging is starting to arrive in Outlook.com–making it easier to stay connected to the people you care about most. Your Skype contacts appear in your contact list, so the next time you get an email from someone, you can call them back with just a click," Microsoft announced.
Skype for Outlook.com requires a plugin to download and install as you do in Facebook before using Skype video chat. People who already has a Skype account can now integrate their Skype account with outlook.com to add their Skype contacts to the Outlook.com.
"With Skype coming to Outlook.com, we're bringing two of the world's largest communications services together in one place. To start, we'll provide the preview to a select set of people in the UK and then the U.S. We'll gradually make Skype calling available to all our Outlook.com customers as we update the experience based on your feedback," Microsoft added.
At the moment, the feature is only available for UK, US and Germany. People living in other countries will have to wait for few weeks to get this service.