Acer Sticks its Head in the Clouds with CloudMobile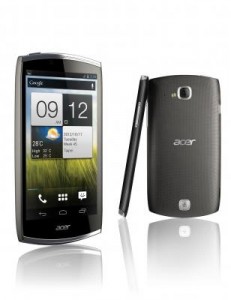 One of the under the radar launches which has impressed at Mobile World Congress is Acer's Cloud Mobile. The device was unveiled having already won a design award.
It's a slim device less than 10 mm thick making it one of the thinnest on the market. It has rounded curves and no buttons on the front making it look different from the squarer devices its competitors are marketing. The back of the device is textured like the Samsung Galaxy S2 and also has a curve to it making it easier to hold. The back is described as 3D Micro Perforation texture making it easier to grip. It is also light, weighing around 125g.
The HD display is 4.3 inches with a 1280 x 720 pixel resolution. That is around 342ppi which more than holds up against its competitors. There is what is called a zero air gap between the screen and the digitizer. There's just a single glass which means there is less reflection and therefore a sharper and brighter display. Acer also says there is a 178 degree viewing angle which means even if you're holding the phone horizontally you should be able to read the text on the screen.
The CloudMobile is powered by a 1.5 Ghz dual core processor which while good will not help it be right at the top end of the smartphone market thanks to the introduction of quad-core on the market. There is also 1 GB of RAM which means it should be a quick device.
The device comes with Dolby Mobile 3 with an HDMI output and an enhanced noise suppression making it easier to hear while making a call.
On the back is a 8 megapixel camera that Acer says has zero shutter lag making it easier to take shots one after the other. There is a Panorama HD and live zoom as just a few of the camera features.
The Cloud Mobile will run Android 4.0 ice Cream Sandwich and the features that go along with that like the shortcuts on the home screen, Android beam and NFC. On top of that runs Acer's skin as a user interface. There is also the Acer Cloud which as any other cloud server does, allows the storage of pictures and documents directly on your computer.
The device is one of several being launched by smaller mobile companies looking to make an impact in the UK smartphone market. Huawei, ZTE and ASUS, they have all launched devices that are designed to get a hold in the UK. The CloudMobile is a good device. Quad core won't be for everyone, for many it could well be a price thing and some are more than happy to run a dual core that is quick for web browsing and viewing apps.
It's also great for the UK consumer to have more choice in the market and new manufacturers coming in are likely to be more competitive on price and availability that those with a stronger and more established base. The fact that more of these newer companies are launching devices already running Android 4.0 is good for the consumer too. While Sony, Samsung and Motorola owners wait for their updates new devices with the operating system running gives more choice and diversity, which can only be a good thing.