Zynga launches Scramble, social game to iPhone, iPod Touch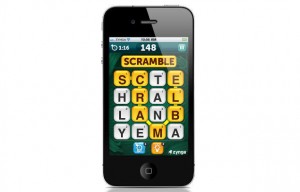 Zynga, the popular social game developer, has announced a new social game app for iPhone and iPod Touch. This new game is Scramble With Friends which is a fun, social, fast-paced game.
"Scramble With Friends takes one of Zynga's earliest games and sprinkles the magic of 'With Friends' games to enhance play and bring players a raucously fun mobile social experience," said David Ko, chief mobile officer for Zynga. "Our 'With Friends' franchise brings new twists to classic favourites and Scramble With Friends is no different. We're dedicated to innovating in mobile social games and bringing more play into everyone's day wherever and whenever they want."
In this game, players compete against other players to beat the clock and find more and more words on the game board. After 3 rounds the player with highest score will win. Round one consists of classic play with standard point values for each letter. In the second round, double letter and word values strewn throughout the game board. In round three, play with triple letter words.
This app is available for free on Appa store. Download here: https://www.itunes.com/appstore