9 Best Laptop Cooling Pads to buy
If you work on your laptop for a long time, one thing you may have noticed. The laptop becomes hotter. This is normal behavior. Even if there is a cooling fan in the laptop, working on it for a long time rises the temperature more than the expected limit. Overheating of the laptop also affects the performance and degrades the CPU capabilities. It also drains the battery faster. So, you must think about buying the best Cooling Pad for your laptop.
Reports have confirmed that keeping the laptop's temperature under control helps in getting better performance and better battery life. So, laptop cooling pads are an important thing to buy.
There are lots of cooping pads available. If you go to any shop or online store, you will surely be confused. So, I am adding the best cooling laptops to give you a filtered list. Here, is the list of best cooling pads for laptops. It is worth noting that gaming laptops with high-end GPUs produce much heat. So, it requires a good cooling solution. So, I have included both best and budget cooling pads. If you have a normal laptop where you work on daily applications and browsers internally for a long time, you can go with budget cooling pads. If you are a gamer and push the limits with your laptops, you must go with the best cooling pads. Even if those are high priced, you need those for better cooling.
Things to check while buying a laptop cooling pad
Here are a few things that you should take care of while buying a cooling pad for your laptop.
Size: Size is an essential thing to consider while buying a cooling pad for your laptop. If the cooling pad is smaller or larger, it won't work properly. So, always check the dimensions of the cooling pad and match it with the size of the laptop.
Fan: Fans keep the airflow to reduce the temperature of the laptop. Some cooling pads feature multiple small fans while a few come with a single large fan. Usually, the cooling pad comes with promised airflow that is measured in cubic feet per minute (CFM). The more CFM, the better the efficiency.
Fan Speed: Fan speed is also important, so go with a cooling pad with a higher fan speed. If the fan speed is high, it can push more air in less time.
Ports: Some cooling pads also come with extra USB ports. So, you can also connect other devices to charge or for other things. You get more ports on your laptop.
Portability: Portability isn't essential until you decide to carry the cooling pad with your laptop.
Do cooling pads work?
Yes, cooling pads work. If your laptop heats a lot, you should think of buying a good cooling pad. It is because overheating affects performance. So, you shouldn't ignore this issue. If you are a gamer, you should also buy a good cooling pad for your laptop. Even if gaming laptops come with a proper cooling system, having an external cooling pad will make the cooling process even better.
Best Laptop Cooling Pads
Below is the list of the Best Laptop Cooling Pads to cool down the temperature of your laptop. Choose the one that suits your laptop and your pocket.
| | | |
| --- | --- | --- |
| Cooling Pad | Price | Buy Here |
| Targus Lap Chill Mat AWE55US | Rs. 5272 | Buy Here |
| KLIM Cyclone Laptop Cooling Pad | Rs. 6388 | Buy Here |
| Thermaltake Massive 14 | Rs. 6438 | Buy Here |
| Cosmic Byte Meteoroid | Rs. 1799 | Buy Here |
| Amazon Basics Laptop cooling pad | Rs. 1199 | Buy Here |
| Swiss Military Cooling pad | Rs. 1620 | Buy Here |
| Quantum QHMPL 350 | Rs. 589 | Buy Here |
| Zebronics ZEB-NC3300 | Rs. 980 | Buy Here |
| Zinq Cool Slate | Rs. 799 | Buy Here |
1. Targus Lap Chill Mat AWE55US
This is the best but a good one. It reduces the internal temperatures by only a degree or two and external temperature bu 5 degrees. It is a Noise Level of 50 dB. It is non-adjustable and the speed of a fan is also non-adjustable. It is useful when you use it on the bed or while kicked back on a couch.
Buy Here: Amazon
2. KLIM Cyclone
Laptop Cooling Pad
KLIM Cyclone is a USB Stand Support laptop cooling pad that gives Maximal Cooling Action. It has 5 Fans to Chill the Laptop during heavy computer gaming. The cooling pad has a noise level of 27 dB. If you are a gamer and want a laptop cooling pad with maximal cooling action, choose this cooling pad.
Buy Here: Amazon
3. Thermaltake Cooling Pad CL-N001-PL14BU-A
Thermaltake Massive 14 is a laptop cooling pad that is best for laptops of 10″-17″ screen size. It has a steel mesh panel with a dual 140mm Blue LED Fan which gives good cooling. This laptop cooling pad also has adjustable speed control of fans. You can easily adjust the speed of fans during use.
Buy Here: Amazon
4. Cosmic Byte Meteoroid
Cosmic Byte Meteoroid is a good laptop cooling pad with 6 cooling fans. The cooling pad has an ergonomic design for superior cooling. It is suitable for gaming, business, and office. The cooling pad promises effective protection and heat dissipation for your Laptop. You can adjust the height to get optimal viewing and typing angle. It has two-way adjustment buttons that can freely adjust the wind speed higher or lower. There are 12 different modes.
Buy Here: Amazon
Budget Cooling Pads
Above laptops cooling pads are costly but the best ones. If you don't want to spend much then buy the below-listed laptop cooling pads. These are budget cooling pads.
5. Amazon Basics Laptop cooling pad
Amazon Basics also offers a range of laptop cooling pads. This model is mainly for gamers who need extensive cooling to keep their laptop's temperature under control. The cooling pad comes with an ergonomic design and includes 4 in-built fans. It also features 2 built-in USB ports and hidden storage. The cooling pad has adjustable height with 2 different levels for comfort. This cooling pad can be used with a laptop with a screen size of 10-Inch to 17-Inches.
Buy Here: Amazon
6.
Swiss Military Laptop Cooling Stand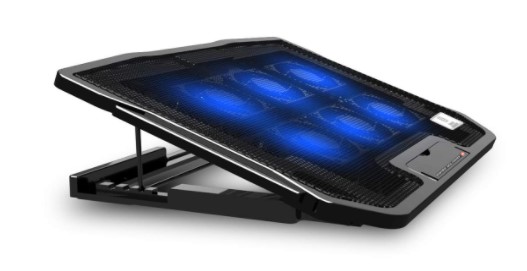 The Swiss Military Cooling Fan is designed for a 15.6 Inch Laptop base or smaller. It has well-ventilated mesh that prevents laptops from overheating & crashes during continuous long working hours, thus elongating laptop working life. It has 6 cooling fans and 4.2 USB ports for connecting an external mouse/keyboard to the laptop. You can also adjust the height of the cooling pad as per your requirement. 
Buy here: Amazon
7. Quantum QHMPL 350
Quantum QHMPL 350 is an adjustable cooling pad for laptops. It has 1 fan powered by your laptop's USB port. The built-in fan has a speed of 1000 rpm. It is also light in weight and easy to carry. It also comes in good color options.
8. Zebronics ZEB-NC3300
Zebronics ZEB-NC3300 is a USB-powered laptop cooling pad that comes with dual fans, Blue LED Lights, and dual USB ports. It has 120mm fans that offer silent operation but good airflow. The cooling pad also features a retractable stand for easy usage. This cooling pad supports laptops with screen sizes from 14 to 15.6 inches. This cooling pad is rated for 75 CFM and fans run at 1300 RPM. It also has blue lights. There are two USB ports to connect more devices.
Buy Here: Amazon
9. Zinq Cool Slate
Zinq Cool Slate is also a good laptop cooling pad. It includes 5 fans to offer effective cooling. It has a hinged flap to keep the laptop at an angle for a comfortable typing experience. The cooling pad has an adjustable tilting. It has two levels of height and dual SUB ports. The cooling pad has a metal panel and fan speed control.
Buy Here: Amazon
Final Words
Laptop cooling pads start for as low as Rs. 300 and go up to Rs. 10000. The cheapest cooling pads offer just a basic level of cooling and are not much effective. So, you should consider the good one without thinking much about the price. I have already categorized the article into two sections. If you cannot spend much, you can select one from the budget cooling pads section. If you are a gamer and want your gaming laptop to be cooler while gaming for hours, you must consider the list of Best Laptop Cooling Pads.
If you have anything to ask, you can always leave it in the comment.