5 Best Console Gaming Chairs For Console Gamers
Console gaming has been popular for years and the demand for gaming consoles is increasing year by year. People who play games on gaming consoles usually sit on the floor or sofa. But not sitting with a good posture can lead to chronic aches and body pain. So, it is advisable to use a good gaming chair if you play games for hours. I have already written an article about the best PC gaming chairs. You can certainly use PC gaming charts for playing console games, but it depends on the position of the TV you connect with the console. Some companies also make chairs specifically for console gaming to give you a better sitting posture and comfort. You need proper back support and an armrest. So, it is better to get a good console gaming chair in place of sitting on the floor or sofa. If you play games for more than 6 hours, you should think about getting a good console gaming chair seriously. In this article, I am listing the best console gaming chairs.
Also see: Best Gaming Bean Bag Chairs
Best Console Gaming Chairs
1. X-Rocker TYPHOON 4.1 Dual Pedestal Gaming chair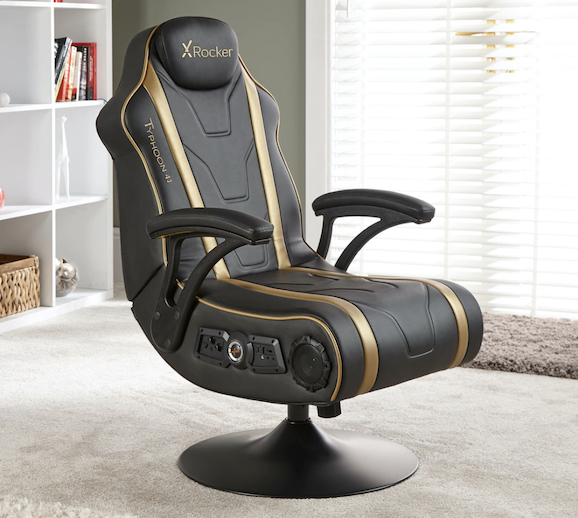 This is not just a chair but a complete gadget to improve your gaming experience. This gaming chair is made of high-quality material and aims to offer a comfortable gaming experience for hours. The chair has a fixed padded armrest and synthetic leather cover.
It also features a 4.1 Dual Audio System. There are four mounted speakers, a backrest subwoofer, and sound reactive tri-motor vibration to create an immersive sound experience. While playing the game. It connects to a console or TV over Bluetooth, Wireless, and wired connection.
DIMENSIONS
Length: 30.7in
Width: 26.4in
Height: 40.6in
ARMS:
Price: Rs. 24999
Buy Here: Xrocker Gaming
2. Green Soul Monster Ultimate
Green Soul is a known brand for gaming chairs in India. The company has grown recently after it was acquired by Upscalio. Green Soul Monster Ultimate is an excellent gaming chair that comes with an ergonomic design and support for your body at different angles. It has a high backrest with a detachable padded headrest and cushion to support the neck and spine. This chair has adjustable parts to adjust the backrest at different angles. The chair has an integrated metal frame and class 4 hydraulic piston. This gaming chair has high-quality Spandex + PU Leather. It supports different angles, tilt, heights, and the 15 degrees of rocking range.
Specifications
Adjustable Back Angle: 180 degrees
Capacity: 135 Kgs
Wheel Type: PU Wheels
Adjustable Neck Pillow
Adjustable Armrest
Frame Material: Metal
Chair Base Material: Metal base
Price: Rs. 18990
Buy Here: Green Soul
3. Uberlyfe 360 Degree Swivel Relaxation Chair
Even if the name of the chair says Relaxation Chair, it is also good for gaming and working. This chair rotates 360 degrees to be at a specific position. So, you can get your comfortable posture. The base of the chair can be removed easily to clean it. It is made of heavy weight steel alloy to ensure sturdiness and durability. The chair also has a 40 Density PU Foam padding for comfortable seating and back support. The cover can also be removed and washed easily.
Price: Rs. 6999
Buy Here: Amazon
4. 5Qebhram Multipurpose Gaming Sofa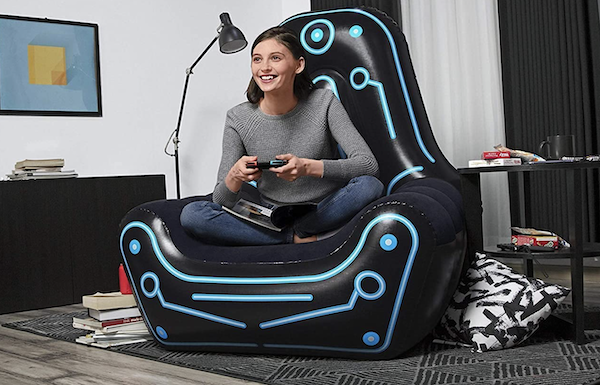 If you do not want to invest much, 5Qebhram Multipurpose Gaming Sofa is one of the best options to go with. It is made of PVC and has a moisture-proof and wear-resistant body. The company claims that the sofa is not easy to puncture. It takes a few monists to inflate and deflate. You can easily sit on it and play games for hours. It offers good support for your body and gives you a relaxed angle of 120 degrees.
Price: Rs. 3999
Buy Here: Amazon
5. Chair Sofa Bean Bag
This is basically a bean bag for comfortable seating. It comes with an elegant design that complements any room decor. The bean bag has double protection of Velcro and zipper. It is made of high-quality leatherette fabric with fade-resistant properties. The gaming bean bag is also easy to clean. If you do not want to invest much, this is cheaper than other options added to this list. You can sit in any comfortable position and play games for hours.
Price: Rs. 2099
Buy Here: Amazon