5 Best and Free Alternatives to Adobe Photoshop for Android
Now, people generally use smartphones instead of laptop or desktop for their everyday task. Therefore, there are dedicated apps for every task and this made people's life easy. Photo editing is also one of those tasks that people are doing on their mobile phones. After the popularity of Instagram, many people use photo editing software other than Instagram to edit their pictures.
No doubt, Adobe Photoshop is best for editing any kind of images but it is a complex app. Normal people are not able to use it as it is basically built for professionals. But don't worry, there are some alternatives to Adobe Photoshop. These apps are best and easy to use.
Rs. 2500 off on Redmi Y2 3GB + 32GB
Rs. 2500 off on Redmi Y2 3GB + 32GB
We made this list of best and free photoshop alternative apps that you can use to edit your images. These apps are just like photoshop and are very easy to use.
Free Adobe Photoshop Alternative for Android
Try any of these Free Alternatives to Adobe Photoshop for Android and surprise your friends with your unique and beautiful pictures.
1. Pixlr: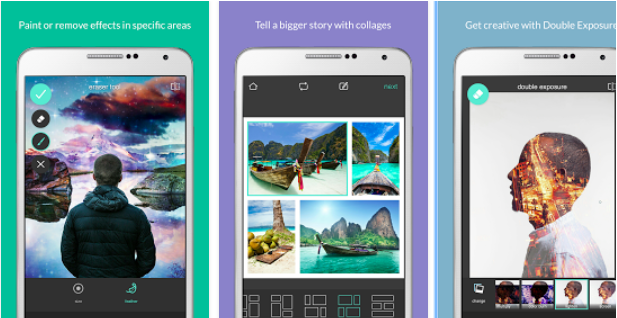 Pixlr is one of the most popular photo editing apps and best free alternatives to Adobe Photoshop for Android. It is just similar to photoshop and offers exactly same features. You can capture any moment and edit it with Pixlr. It has over 2 million combinations of free effects, overlays, and filters. With this app like photoshop, you can resize, crop, blur the image. The best feature of this app is that you can create photo collages with a variety of choices for layout, background, and spacing.
You can focus on one color with Color Splash or add impact with Focal Blur with this photoshop alternative app. It has a Double Exposure feature that can help you in layering multiple photos and blending them together to get a unique look. If you are looking for an app like photoshop, you should check Pixlr Android app.
2. Snapseed: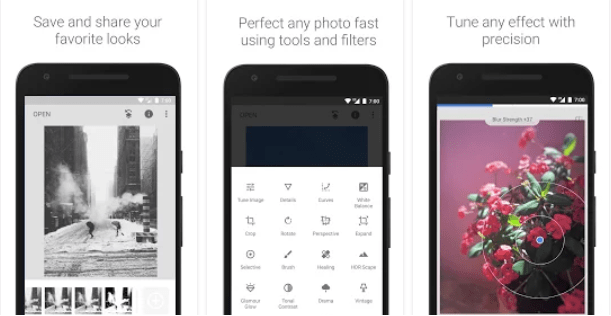 The Snapseed is a photo editing app by Google. It has similar features as of Google Nik Collection. It can open JPG and RAW files and also you can export a RAW file in jpeg format. It has many filters like Healing, Brush, Structure, HDR, Perspective and more. You can select eight locations on your image for editing.
You can also add text with the help of this free photo editing app. There is a feature Face Enhance which add focus to the eyes, add face-specific lighting, or smoothen skin. You can also correct the pose of portraits based on 3D models.
3. Photo Editor: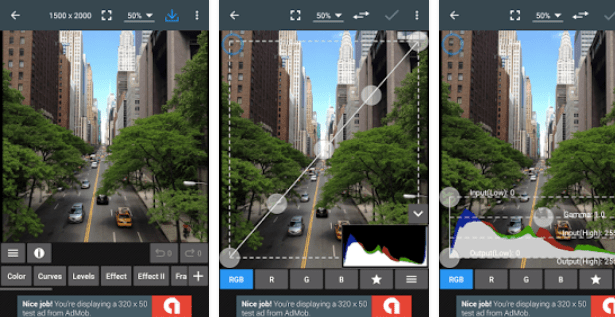 The Photo Editor is another powerful and free Alternatives to Adobe Photoshop. It is very easy to use. It has effects like gamma correction, auto tone, auto contrast, sharpen, oil paint, blur, sketch, black & white high contrast, sepia, and more.
You can add text, add an image, crop images, resize images, rotate images, remove the red eye and lot more with this app. This photo editing app also has features like Compress to ZIP, Create PDF, Animated GIF and more.
Also, read  Best Photo Scanner Apps To Scan Old Photographs
4. Photo Editor Pro: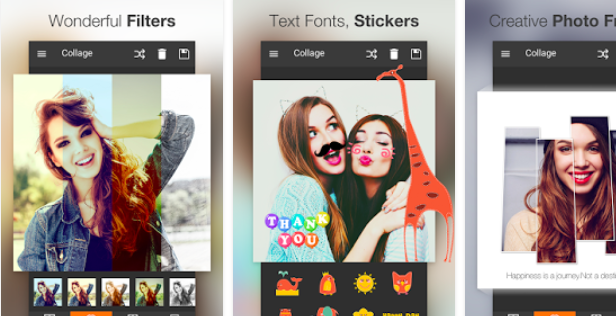 The Photo Editor Pro is a free photo editor like photoshop which has many effects, stickers, and features to apply to your photos. You can crop, rotate, and straighten your photo and add fun stickers to it. You can sharpen, blur, adjust color temperature, use Color Splash and more with this app.
This app has a feature to draw and add text to the image. You can also create your own memes with the help of this app.
5. Airbrush:
The Airbrush is an alternative to photoshop. If you are a selfie lover then this photo editing app is for you. This app has features like Blemish and Pimple Remover, Whiten Teeth and Brighten Eyes which helps in editing perfect selfies. It comes with Real-Time Editing Technology which allows you to edit your selfie before taking the picture with the help of real-time editing tools. You can also slim, reshape and lengthen your selfie or photo.
Also Read, Best and Free Online Photo Editors
The Adobe Photoshop is the best photo editor software. Its app is also best for editing any kind of photo. But it is a little bit complex app. So, if you want just like Adobe Photoshop effect with fewer efforts, these Free Alternatives to Adobe Photoshop for Android are for you. You can try any of these alternatives to Adobe Photoshop app. do share your experiences with us after using one.