10 Best and Free Alternatives to Adobe Photoshop for Android
Now, people generally use smartphones instead of a laptop or desktop for their everyday task. Therefore, there are dedicated apps for every task and this made people's life easy. Photo editing is also one of those tasks that people are doing on their mobile phones. After the popularity of Instagram, many people use photo editing software other than Instagram to edit their pictures.
No doubt, Adobe Photoshop is best for editing any kind of image but it is a complex app. Normal people are not able to use it as it is basically built for professionals. But don't worry, there are some alternatives to Adobe Photoshop. These apps are the best and easy to use.
We made this list of best and free photoshop alternative apps that you can use to edit your images. These apps are just like photoshop and are very easy to use.
Also see: Best Photo Filter and Effects Apps for Android
Free Adobe Photoshop Alternatives for Android
Try any of these Free Alternatives to Adobe Photoshop for Android and surprise your friends with your unique and beautiful pictures.
1. Pixlr: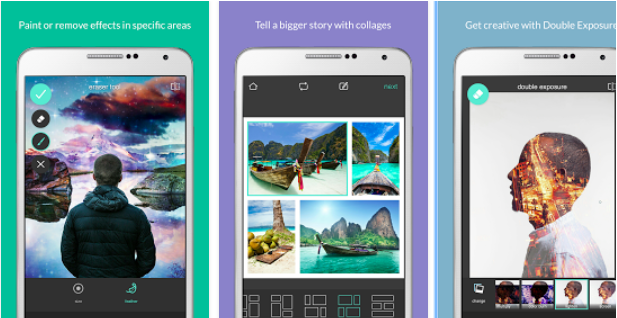 Pixlr is one of the most popular photo editing apps and the best free alternatives to Adobe Photoshop for Android. It is just similar to photoshop and offers exactly the same features. You can capture any moment and edit it with Pixlr. It has over 2 million combinations of free effects, overlays, and filters. With this app like photoshop, you can resize, crop, blur the image. The best feature of this app is that you can create photo collages with a variety of choices for layout, background, and spacing.
You can focus on one color with Color Splash or add impact with Focal Blur with this photoshop alternative app. It has a Double Exposure feature that can help you in layering multiple photos and blending them together to get a unique look. If you are looking for an app like photoshop, you should check the Pixlr Android app.
2. Snapseed: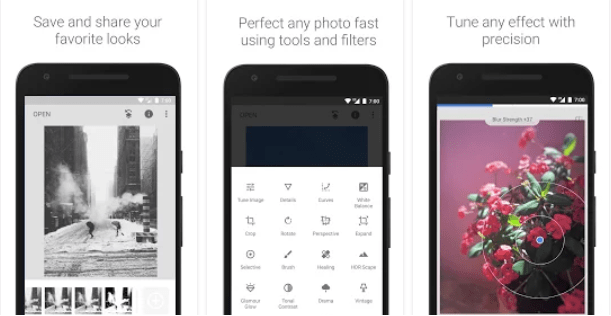 The Snapseed is a photo editing app by Google. It has similar features as of Google Nik Collection. It can open JPG and RAW files and also you can export a RAW file in jpeg format. It has many filters like Healing, Brush, Structure, HDR, Perspective, and more. You can select eight locations on your image for editing.
You can also add text with the help of this free photo editing app. There is a feature Face Enhance which adds focus to the eyes, adds face-specific lighting, or smoothens skin. You can also correct the pose of portraits based on 3D models.
3. Photo Editor Pro by InShot Inc.
The Photo Editor Pro by Inshot has stylish effects, filters, grids, and draw tools that help in creating wonderful photos even if you've never edited a photo before. You can directly post your artworks to Instagram, Whatsapp, Facebook, etc with Photo Editor Pro.
It has a body retouch feature that slims the body and face to get a perfect figure. You can elongate legs to make your proportion better. It has Multiple hairstyles, muscles, and tattoo stickers that you can apply in pictures to make it eye-catching.
4. Photo Lab Picture Editor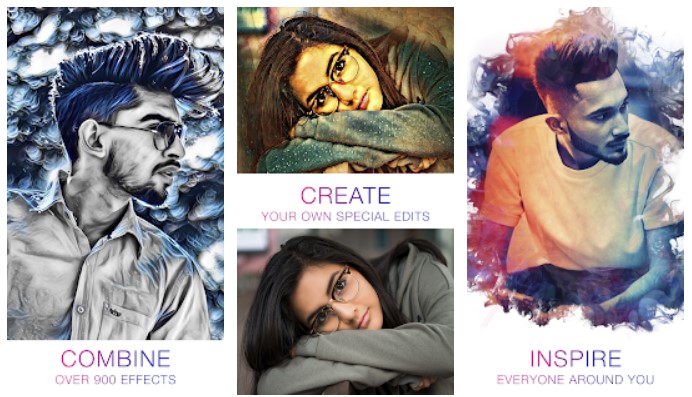 Photo Lap picture editor makes images look more creative in seconds without using a professional editor. It has vast collections of more than 900 effects. You can set them as a contact icon, a wallpaper, send a signed virtual postcard to a friend or share it to any social network. It has an automatic face detection algorithm to create the most unusual selfies.
5. LightX Photo Editor & Photo Effects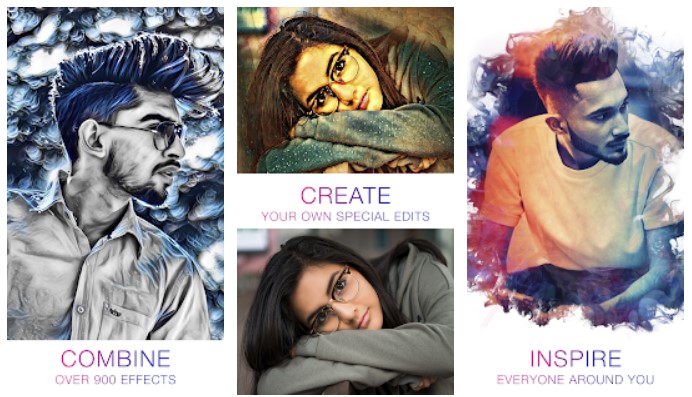 LightX is a free picture editor that helps in making photo collages, adding photo frames to your pictures, adding stickers, photo background changer, blur photos, create cartoons and caricatures, change hair color, add color splash effects, merge photos for double & multiple exposure effects and apply many other tools to edit pictures. You can also add text to your photos and create your own text memes as well. You can edit pictures using various advanced photo edit tools like Color mixing, Curves, levels, and edit brightness, Contrast, Exposure, Hue, Saturation, Shadows, and Highlights of pictures.
6. Photo Editor: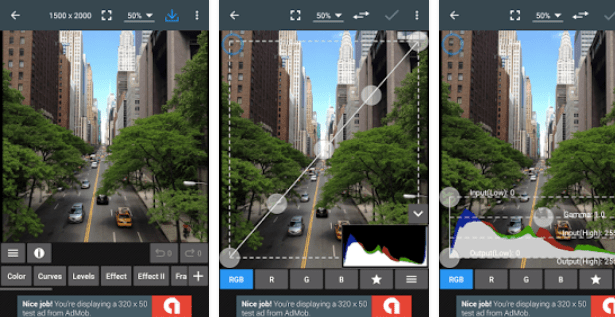 The Photo Editor is another powerful and free Alternatives to Adobe Photoshop. It is very easy to use. It has effects like gamma correction, auto-tone, auto contrast, sharpen, oil paint, blur, sketch, black & white high contrast, sepia, and more.
You can add text, add an image, crop images, resize images, rotate images, remove the Red Eye, and a lot more with this app. This photo editing app also has features like Compress to ZIP, Create PDF, Animated GIF, and more.
Also, read  Best Photo Scanner Apps To Scan Old Photographs
7. Photo Editor Pro by Zentertain: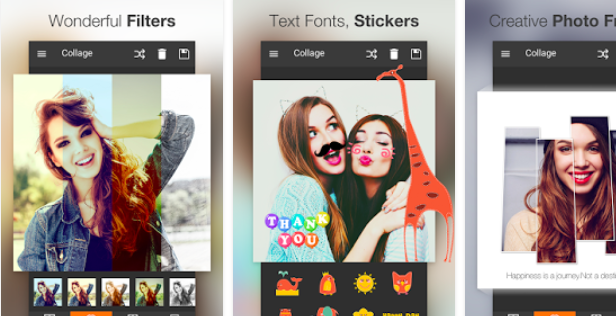 The Photo Editor Pro is a free photo editor like photoshop which has many effects, stickers, and features to apply to your photos. You can crop, rotate, and straighten your photo and add fun stickers to it. You can sharpen, blur, adjust color temperature, use Color Splash, and more with this app. There is also a Photo collage that lets you combine several photos with various frame patterns.
This app has a feature to draw and add text to the image. You can also create your own memes with the help of this app.
8. Toolwiz Photos – Pro Editor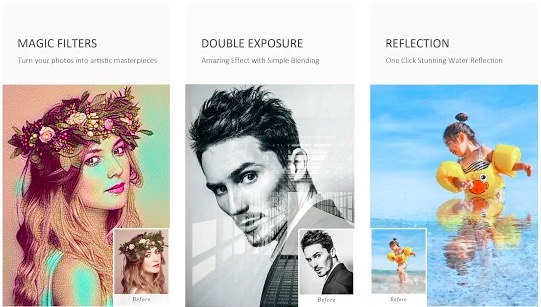 Toolwiz Photos is also a good alternative to Adobe Photoshop on Android. This photo editing app for Android brings more than 200 editing tools that let you retouch and enhance your photos. There are more than 40 style filters, 80+ Fast Filters, and several art filters. You can change brightness, contrast, add text, add elements and do a lot more things.
The app is free to download and but shows ads. If you want, there is an -app purchase to disable the ads.
9. PicsArt Photo Studio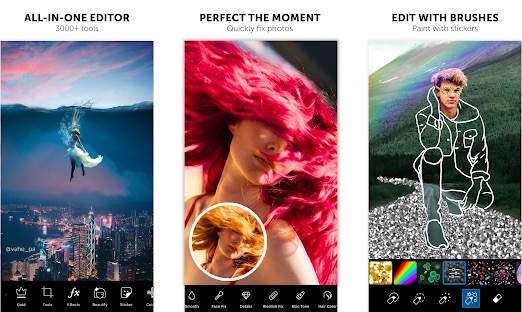 PicsArt Photo Studio is one of the most popular photo editing apps for Android. If you are looking for a photoshop alternate for Android, PicsArt Photo Studio should also be on your list. This is a photo retouching app that lets you add along with dedicated editing tools for pro users. You can stretch, adjust curves, create cutouts and do lots of things you can do in photoshop. The app also offers free templates, a collage maker, and stock photos to use.
10. B612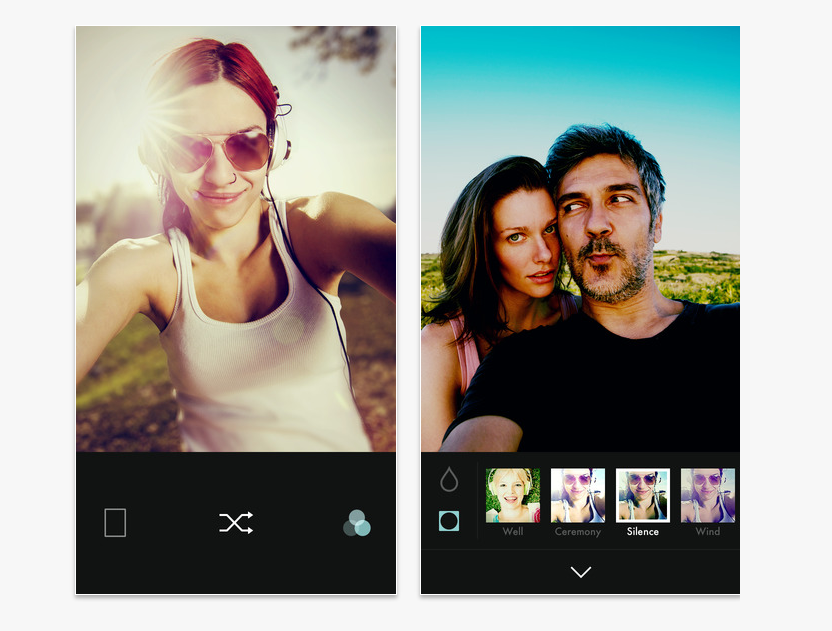 The B612 is a very popular and old photo editing app that evolved so much with time. It is the best all-in-one camera and photo/video editing app that is one of the best photoshop alternatives. You can create your own one-of-a-kind filter and share it with friends. You can also apply real-time filters and beauty to capture every moment as your pic of the day.
Also Read, Best and Free Online Photo Editors
Final Words
Adobe Photoshop is the best photo editor software. Its app is also best for editing any kind of photo. But it is a little bit complex app and is also paid. So, if you want an app that is just like Adobe Photoshop for Android, these Free Alternatives to Adobe Photoshop for Android are for you. You can try any of these alternatives to the Adobe Photoshop app. do share your experiences with us after using one.