5 Best websites to read comics online
Comics used to be kids' favorite timepass in the 80s and 90s before video games and comics took over. Now several; Comics have even moved on to get cinematic presence. But there are still lots of people who still think of reading comics. If you are one of those people, you can read comes online for free. There are several websites where you can access your favorite comic book character and read. In this article, I am listing the best websites to read comics online.
Also see: Best Cartoon Websites to Watch Cartoons Online
Websites to read comics online
This is the list of best websites. to read comics online. Check the list of comics websites below and use any of these to read comics online free.
1. Marvel Unlimited
Marvel is one of the most popular comics company that has several popular characters like Spiderman, Iron Man, Captain America, Avengers, Thor, Wolverine, Deadpool and more. You can official website and read thousands of free Marvel comics online. Not all comics are free but several are available for free. If you want to get unlimited access, you will have to purchase the Marvel Unlimited subscription that costs just $9.99/month or $69 per year. If you want to read comic books online, this is one of the best to try.
2. DC Kids
Just like the Marvel comics universe, the DC Comics universe is also really popular. There are several comics series based on different characters. DC is known for Batman, Super Man, Wonder Woman, Joker, and many more. They also offer several issues for free to read. If you want, you can visit the DC Kids website and jump into the comics section to read freely-available comics.
3. ComiXology
ComiXology is also a notable website to read comics. This website offers comics from different publications including Marvel, DC, Image, Dark Horse, and more. So, you get all at once place. There's a free section to read free comics. For getting unlimited access, you need to purchase a $5.99 per month subscription or just purchase single comics for the mentioned price. Getting a subscription is recommended if you are thinking to regularly use this website to read comics online.
4. DriveThru Comics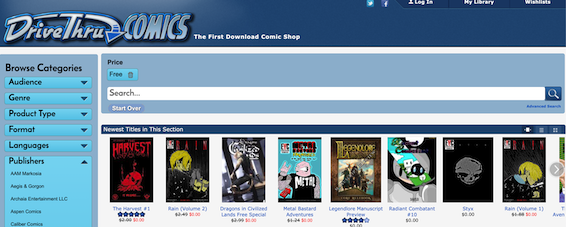 DriveThru Comics has been into comics business since 2001. The company has been selling print-on-demand and digital comic books since its inception.  They also offer a lot of free comic books from indie and major publishers on their website. On their website, you will find comics from Marvel, CD, Valiant Comics, Top Cow, and Aspen Comics. You just need to explore the free section for free comics online. They also offer paid comics to purchase.
5. Comic Book Plus
Comic Book Plus is also a good website to read free comics online. You can event find non-English comics to read. The website is free and legal. There are more than 35000 comics on this website. You can also browse comics by categories to read comics by interest. This website was established in 2006 and feels like a Comic Museum.
Wrap Up
This was the list of best websites to read comics online. You can visit any of these websites based on your interest and start reading comics. If the app is available, you can download the app for easier access to comics. In case you know any other good website where we can read comics, let me know. I will surely put that on our list.