9 Best NFT marketplaces to buy and sell NFTs
NFT is now exploding in polarity and influential people are also turning to NFT for earning big. If you are not sure what is NFT, you should my old article to understand it. NFTs or Non-fungible tokens have been in existence for a few years but they saw gain in popularity in 2021. NFT is basically a cryptographically unique token that represents the ownership of a digital asset such as painting, photo, music, video, or any other digital asset.
Now when people are taking interest in buying NFTs, there are also creators who are making NFTs and selling it for big earnings. Not all NFT marketplaces are safe, so you need to know what are the top and trusted NFT marketplaces to sell your NFTs. In this article, I will talk about some trusted and good NFT marketplaces where you can sell your NFTs.
NFT marketplaces just let you buy and sell digital assets, collectibles, and art. It is your choice if you want to invest or not. NFT prices are also volatile. If you are investing just to sell it at a high price in the future, you should stop. There is no guarantee if the value of digital art and collectible will rise in the future. The value of a digital asset is also subjective and determined by several factors.
Best NFT marketplaces
1. OpenSea
OpenSea is one of the most popular and biggest NFT marketplaces. The marketplace has already crossed a total trading volume of over $6.5 billion. This shows how big this platform has become. People are seeing NFTs of different items including artwork, music, GIFs, and more.
At the signup, you can connect your MetaMask wallet for crypto payment. The platform also supports other wallets such as Coinbase Wallet, Bitski, Formatic, and more. The best thing about this platform is that it supports over 150 different payment tokens. If you are planning to start buying and selling NFTs, OpenSea is a great platform, to begin with.
For creators, they can sell their items for a fixed price or create an auction listing. Creators can create their items on a blockchain using OpenSea's item minting tool. This platform lets you make a collection and NFTs for free.
2. SuperRare
SuperRare is another excellent marketplace made for artists to sell their unique, single-edition digital artworks. Each item has been tokenized as a crypto-collectible digital item. So anyone buying the NFT can own and trade. The platform boasts to be a social platform where people can interact with art, culture and collecting on the internet. The company works with artists. The platform approves all items manually to only allow quality NFTs.
All transactions on SuperRare are made using ether. Ir requires a wallet like MetaMask or Formatic at the time of signing up for sending and receiving payments.
3. Rarible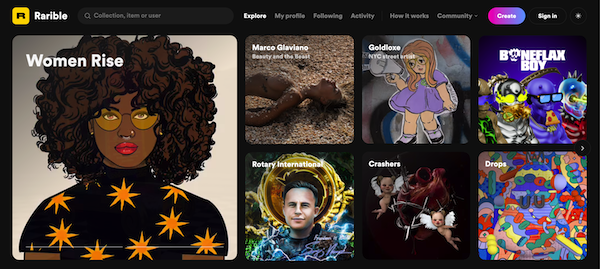 Rarible is another good NFT marketplace where all kinds of art, videos, collectibles can be created, sold, and bought. Unlike other marketplaces, this platform uses just Rarible token. So, you need to first get a Rarible token to buy and sell on the marketplace. Rarible is built on the Ethereum blockchain. At the signup, you can connect different crypto wallets, including MetaMask, Coinbase Wallet, MyEtherWallet, or any mobile wallet using WalletConnect. Then purchase Rarible token and hold it in the wallet you connected with Rarible.
To boost users on its platform, Rarible has also partnered with some popular companies including Yum! Brands' and Adobe to get NFT artists' and creators' work.
3. Foundation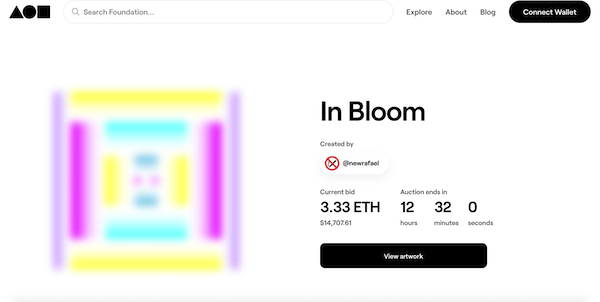 Foundation is a digital platform to bring digital creators and collectors together. This platform focuses on digital art. The platform was launched in early 2021 and has already sold more than $100 million of NFTs.
This platform isn't ideal for people who are new because it isn't an easy way to start creating your own NFTs. For buying, you need a crypto wallet funded with Ethereum. Creators also get 10% on the secondary transactions. It means when a collector re-sells an artist's work, the artist gets 10% of the sales
5. KnownOrigin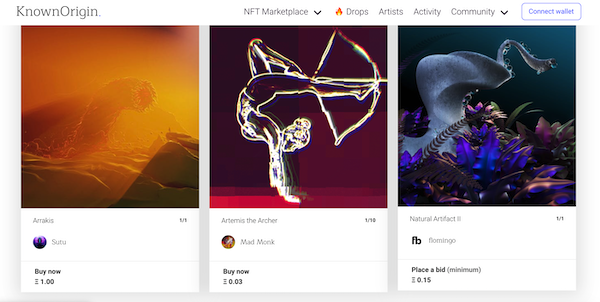 KnownOrigin is also a similar marketplace where you can discover and collect rare digital artwork in the form of NFT. Every digital artwork on this platform is authentic and truly unique. Both creators and buyers can join this platform. The platform has been secured by the Ethereum blockchain. All the artworks are held on IPFS.
This platform is easy to use. You need to connect a wallet like MetaMask or Formatic before you start using this platform.
6. Portion
Portion is also a good NFT platform that connects artists and collectors. It uses Blockchain technology to sell and buy art and collectibles with complete transparency. The platform has a big community of Artists and creators. The platform lets artists manage their physical and digital collections in one place. Sellers also get 100% of the sales they make. This platform uses Portion Tokens. These tokens exist to decentrally govern and vote on the platform's future.
7. MakersPlace
MakersPlace is also an interesting NFT marketplace that hosts exclusive collections of digital fine art. This platform hosts a number of NFTs by musicians including T-Pain, Shakira. You can purchase unique works from amazing digital creators. Later, you can also resell the digital asset on the platform.
The platform is really easy to signup for and use. You can even connect your Google or Facebook account logins to signup. It requires you to purchase through ETH balance or your credit card. Creators need to request an invitation to join the platform.
8. Mintable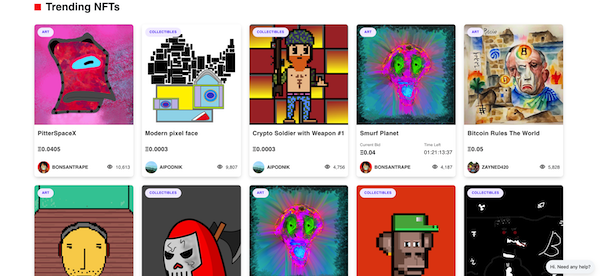 Mintable is also an open marketplace similar to OpenSea. Anyone can buy and sell NFTs on Mintable by using Ethereum cryptocurrency. The platform lets users create digital items on the blockchain without any prior knowledge of coding. You can easily turn your digital content into digital items (NFTs) that live on the blockchain. It is very easy to create and list an item for sale using this platform. Buyers can browse the market place and make bids on digital items they are interested in purchasing.
9. Theta Drop
Theta Drop is also a good blockchain platform built for the distribution of video and TV on the internet. This NFT marketplace was launched in 2021 with the World Poker Tour's digital collectibles. Theta Drop platform is powered by the Theta, a blockchain technology built for media and entertainment. This technology also boasts to be environmentally friendly and 100% green. It also claims that creating and transacting NFTs on the Theta Network costs a fraction of a penny and is 100x faster than Ethereum. To use this marketplace, you need Theta Token. Several crypto exchanges support this Token. So, you can easily get Theta to spend on Theta Drop.