5 Best Apps to Fake GPS Location on Android Devices – Fake GPS Apps
Android smartphones come with GPS connectivity for location services. Different applications use your GPS location to offer you location-based services. Google, Facebook, Tinder, Uber, and several other apps use GPS location for offering their services. But there could be some cases when you do not want your exact location to be picked. For example, you wish to browse people of other locations without buying a premium subscription on Tinder. There could be several other similar cases. This is the reason, there are few apps that allow you to fake GPS location.
Also see: Free Movie Streaming Sites (Legal) To Watch Movies Online
In this article, I am listing a few best apps to fake GPS location on your Android phone. These apps allow you to select any random location to set as your current GPS location. You will be shown a map to select a location and the app will start faking the location you selected. Most of the location-based apps that use GPS for location data will use the fake location in place of your original location.
I have tested these apps with several other apps that allow location sharing. I found that you can use these apps to share a fake location on WhatsApp, Messenger, or Maps. When you open Google Maps after faking your location, it picks your location from that fake location. When you open Facebook, it asks you to check in at the new place. I even managed to use Tinder for any other location without buying a premium subscription. It means, these apps work flawlessly.
Here is the video demonstration for WhatsApp location sharing using the Fake GPS app.
Note: All these apps are free to use. You also do not require any rooting for using any of these apps.
Best Fake GPS Apps for Android
Here are the best fake GPS apps for Android. You can use any of these apps to fake GPS location.
1. Fake GPS Location Spoofer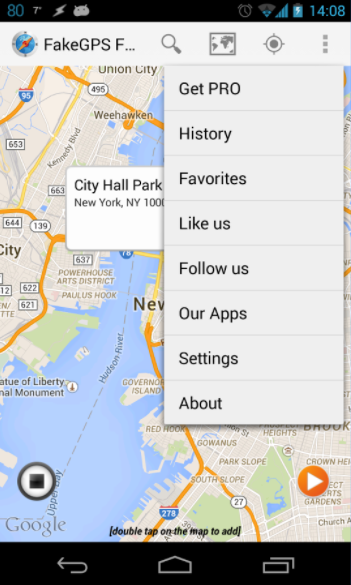 Fake GPS Location Spoofer is the app I personally use to demonstrate how to fake a location on Android. The app is simple and easy to use. You can search for locations by name or GPS coordinates. Just select the location and press the play button to start faking a location.
Download (Free)
2. Fake GPS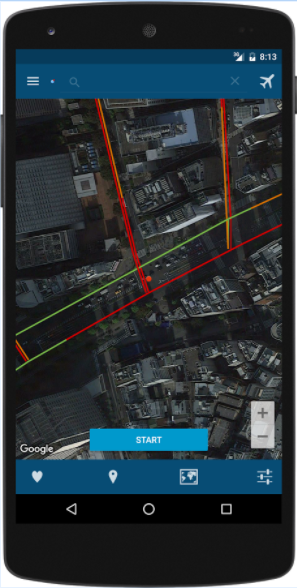 Fake GPS is also a nice Android app for faking GPS location. It brings several kinds of Maps to select the location. You can also use the search to find location by name or ZIP code. It also offers location history and the option to select favorite locations. So, you can trick other people and pretend to be somewhere else. You can also fake your location in several apps such as WhatsApp, Snapchat, and Google maps.
Download (Free)
3. Fake GPS location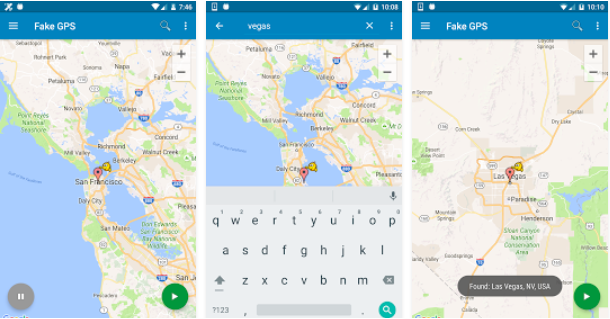 Fake GPS location is also a similar kind of Android app that allows you to change your GPS location to anything you want. If after using this app you couldn't change back to the original GPS location, don't take tension. Select your real location from the app and leave it for several hours. You can also install "GPS Status" from the Play, launch, and get a fresh GPS fix.
Download (Free)
Read More: 5 Best Ringtone Maker Apps for Android 2017
4. Fake GPS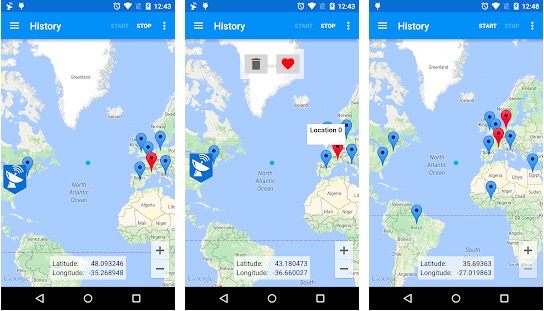 It is a different app with the same name that allows you to pick any random location and fake it as your default GPS location. You can then share that fake location on WhatsApp or Swipe on Tinder for any remote location without using a paid account.
Download (Free)
5. Fake GPS Location – Floater
Floater is also a similar fake location app to change the location of the app anything. So your Device's GPS location will be what you want and other apps will see that. So, you can share that location on WhatsApp, Messenger, or on any other app.
Download (Free)
How to use fake GPS apps and fake location on Android
You cannot just install and use these apps. You need to follow a few options for enabling the option "Select mock location app". For this follow the steps given below.
Step 1: Enable the developer option on your phone. For this, go to Settings->About Phone and tap on the "Build Number" continuously seven times. Once you see a confirmation message, you are ready for step 2.
Step 2: Now go to Settings->Developer Options and scroll down to find the option "Select mock location app".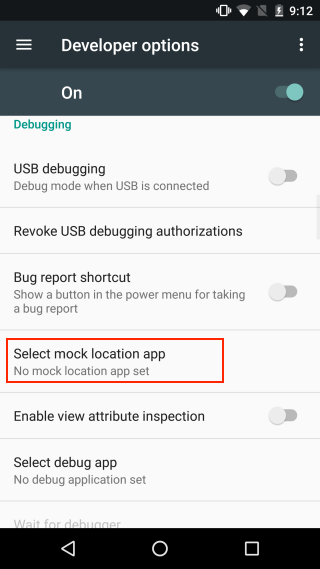 Step 3: In the next screen, select the fake location app you have installed on your phone.
Step 4: Now go to Settings->Location->Mode and select the "Device Only" option.
Final Words
I didn't make this list long as the first app is enough for your usage. Fake GPS Location Spoofer is a good app to try. You can simply install it and use it on your phone to fake your location. The only thing I will recommend you not ever try these things for anything illegal. I will not be responsible for any hard you do. Use any of these location faker apps just for fun.
I have also included a video to demonstrate how to use the fake GPS app to fake your location and share the same on WhatsApp.
If you have anything to say, you can always leave a comment.