25 Best Shopping Apps in India for Good Online Shopping Experience – 2021
In this busy world, Smart people prefer online shopping on their smart devices instead of going out in the market. They don't want to waste their time in traffic and at the market when they can get better products on their doorstep without getting out. After the covid pandemic, online shopping apps even become more popular as it is the safest way for shopping. Online shopping made life very easy and online shopping apps are the best way to shop at any time and anywhere.
There are so many online shopping apps available that give a better, easy, and safe shopping experience on some popular online retailers. There is one more benefit of online shopping. Online retailers give coupons and offer so that customers get their products at the best price. Now, you don't have to go to the market and bargain for your products.
Here is the list of best online shopping apps for Android and iOS devices to help you shop online. We made the categories of online shopping apps so that you can select the best shopping app for online shopping as per your needs.
Best Online Shopping Apps for Android and iOS
Here are the best online shopping apps you can use for a good shopping experience. We have added apps to shop for everything online. Have a look at the list.
Best All-in-One Shopping App:
1. Amazon: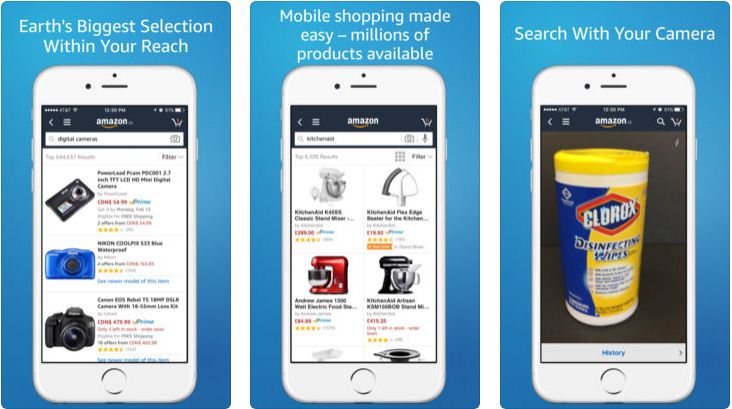 Amazon is the world's largest online shopping website and app. It has over 17 Crore original products that too at great prices. You can find many exclusive electronics gadgets like Oppo reno 3 Pro, Redmi Note 8 Pro, Apple iPhone X and more. It has almost every product that you can think to buy. Amazon also has its grocery app named Amazon Now.
Download Amazon: Android  |  iOS
2. Flipkart: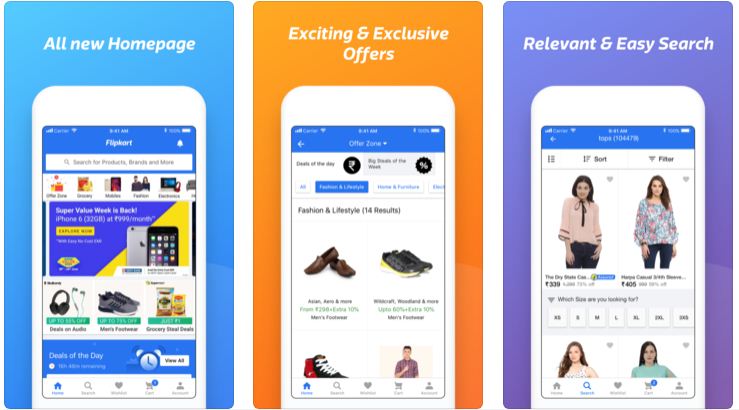 Flipkart is Amazon's one of the biggest rivals and offers various products to shop online. It is the most popular online shopping website in India which sells almost every product online at a reasonable price. Flipkart Android and iOS app allow customers to search and shop items online. They can either pay online or choose cash on delivery. All products come with an official warranty.
Download Flipkart: Android  |  iOS
3. Snapdeal: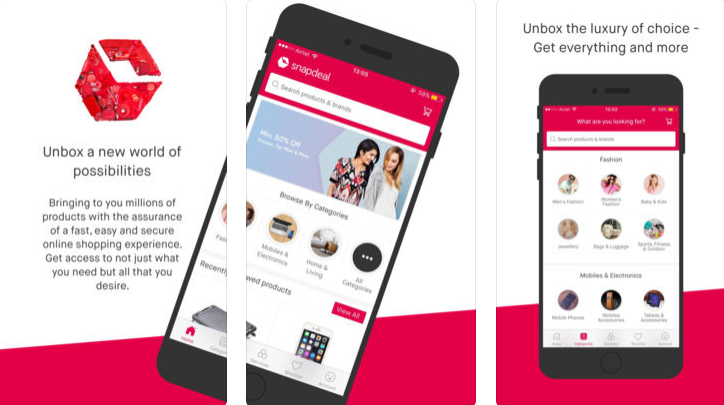 Snapdeal is a one-stop destination for quick, effortless, and secures mobile shopping. You can buy anything from this shopping app like electronics, gadgets, clothes, jewelry, home kitchen essentials, and lot more. Snapdeal is also India's one of the largest online marketplace like Amazon and Flipkart.
Download Snapdeal: Android | iOS
4. Paytmmall: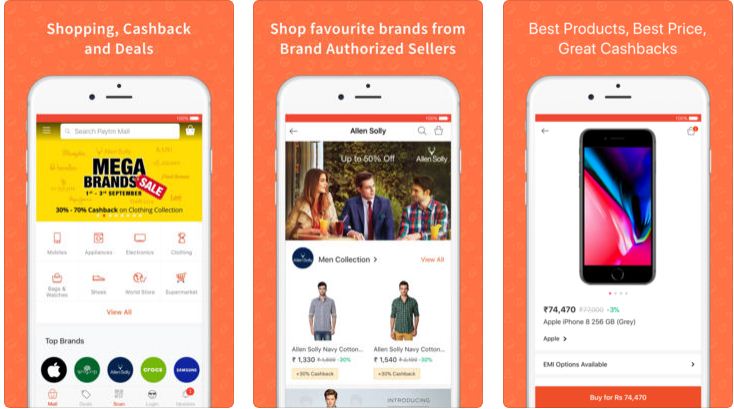 Paytmmall gets popular because of its cashback strategy. It deals in almost every area from Mobiles to Fashion, from home kitchen to fitness and more. You can buy any products here and get cashback on almost every product. The cashback strategy makes it one of the best shopping apps.
Download Paytm Mall: Android  |  iOS
5. Tata CLiQ: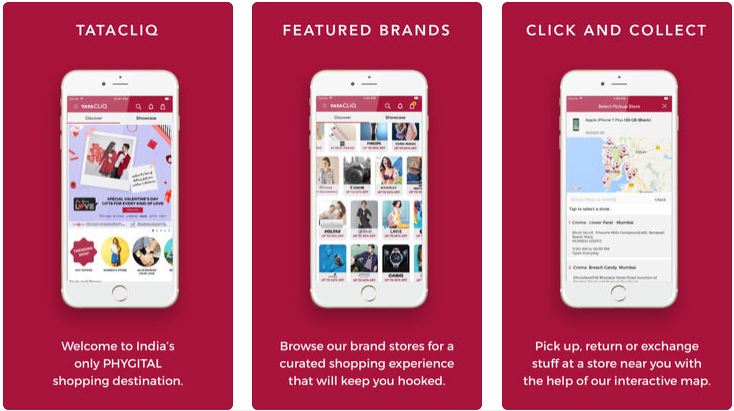 Tata CLiQ is an online shopping Android and iOS App for Clothing, Electronics, appliances, and Fashion Accessories. It is the only PHYGITAL shopping destination that you can use for the best experiences.
Download Tata CLiQ: Android  |  iOS
Read More: List of Best Mobile Wallets in India For Quick and Safe Online Payments
Best Fashion Shopping apps
6. Myntra: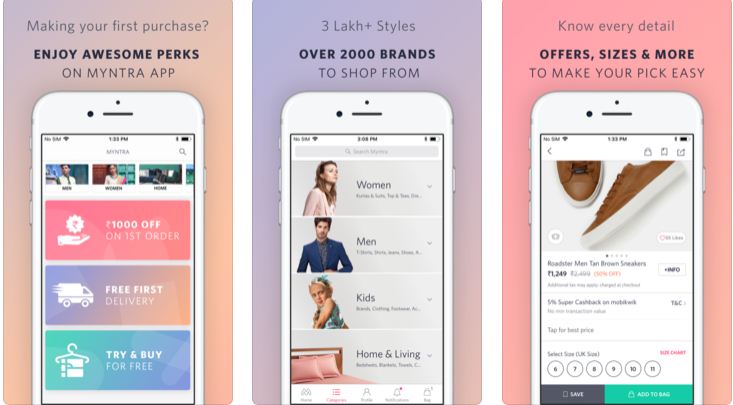 Myntra is the best online clothing app and website in India. I personally use this app for more than 4 years and hardly found any issues in clothes or in their services. Very fast delivery, amazing collections, quality, and good customer assistance, what else do you need on buying clothes online.
Download Myntra: Android  |  iOS
7. Ajio: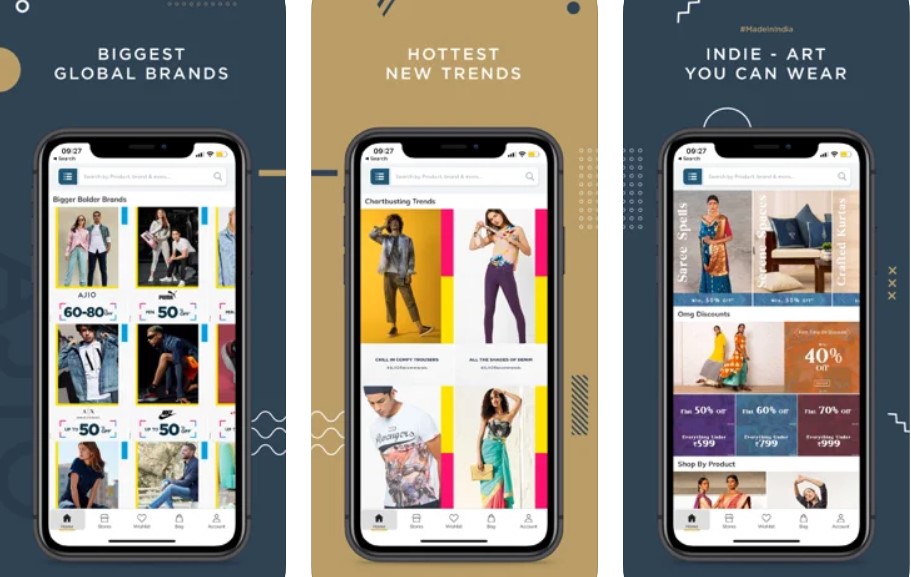 Ajio is one of the good online shopping destinations in India & also one of the best fashion apps in India by Reliance trend. Well, no other online shopping app beats Myntra but Ajio gives the best competition to it. Ajio gives promo offers & daily deals every day for their users.
8. Bewakoof: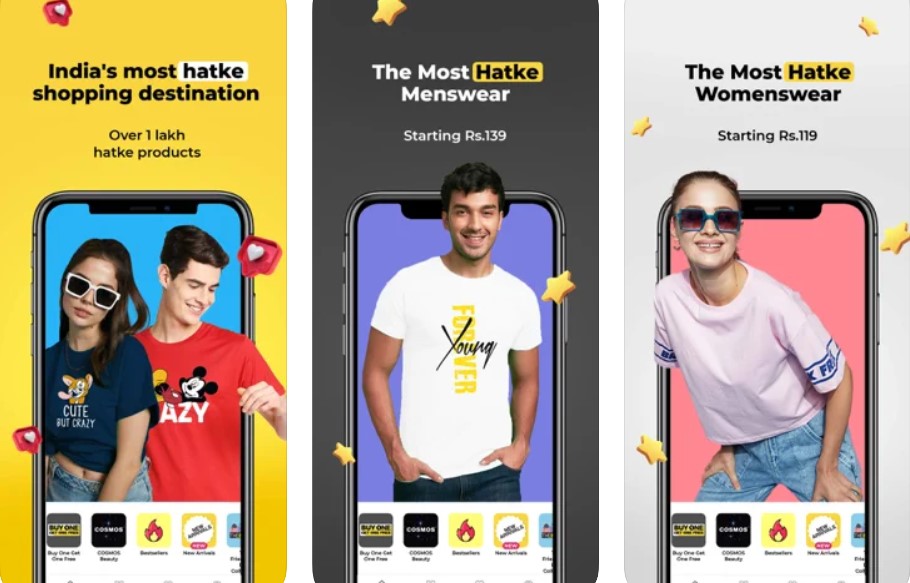 Bewakoof is the fashion shopping and mobile cover shopping App. In this fashion shopping app, you can latest t-shirts, mobile covers, joggers, bags, etc. at reasonable prices. The app offers the best prices on the latest fashion, popular deals, and exclusive offers. The Bewakoof mainly focuses on budget-friendly fashion.
Download Bewakoof: Android | iOS
9. H&M: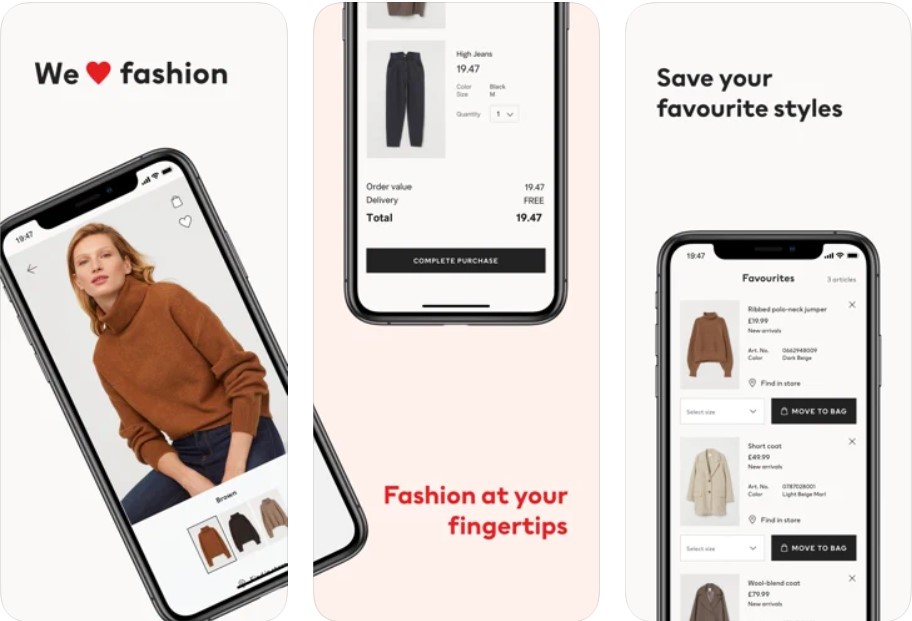 The H&M is an easy-to-use fashion shopping app where you can shop affordable, fresh, and exclusive styles by the H&M brand. This online shopping app in India has clothes inspired by the latest fashion trends from all over the world.
Best Online Lingerie shopping App
10. Zivame: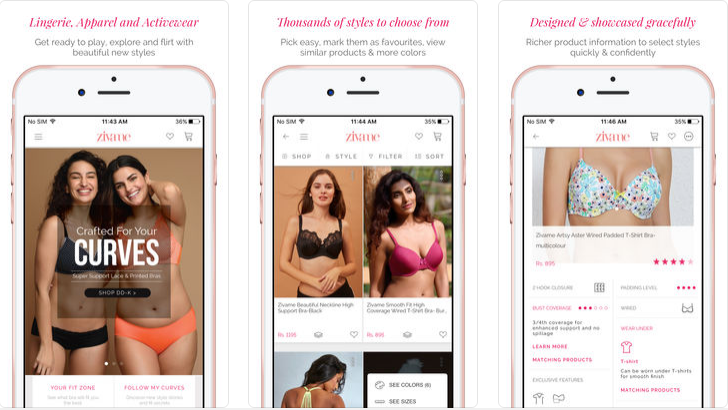 Zivame is India's largest online lingerie shopping destination and one of the most popular women's innerwear online shopping app. You can buy any kind of lingerie, activewear, nightwear here at a good price. I have been using this website for 2 years and I am loving it. This shopping app also has easy return policies. Now, no need to go for that embarrassing lingerie shopping.
Download Zivame: Android  |  iOS
11. Clovia: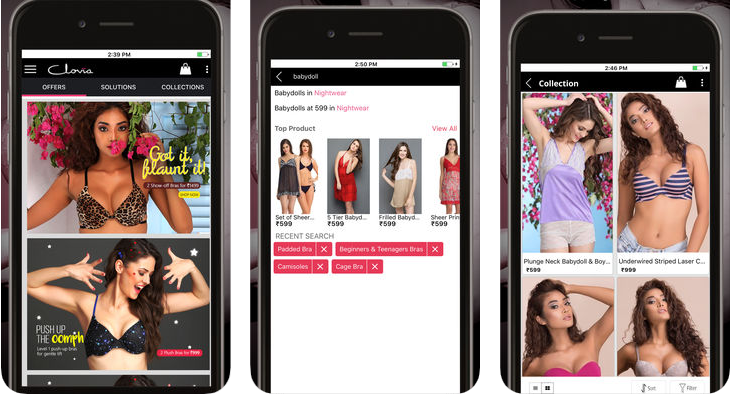 Clovia is the fastest-growing lingerie shopping app and website. You can buy any kind of innerwear and nightwear from this shopping app. It has almost all brands of lingerie and nightwear. If you want to buy unique sexy nightwear, do prefer this app for lingerie shopping.
Download Clovia: Android | iOS
Best Beauty Shopping Apps:
12. Nykka: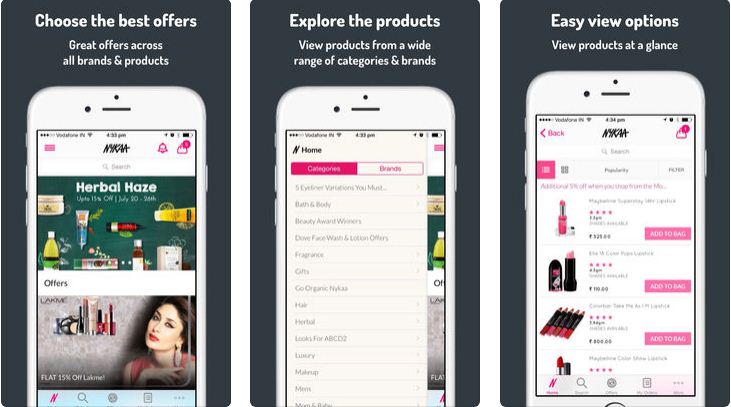 Nykka is the most popular shopping website and app for buying beauty products and cosmetics. It is a premier online beauty and wellness destination with over 1 Lakh products and 850+ brands. You can get the best products for men and women on this app. It has all makeup, skincare, haircare, appliances, perfumes, bath & body, luxury, herbal, wellness, mom & baby products, and more products.
13. Purplle: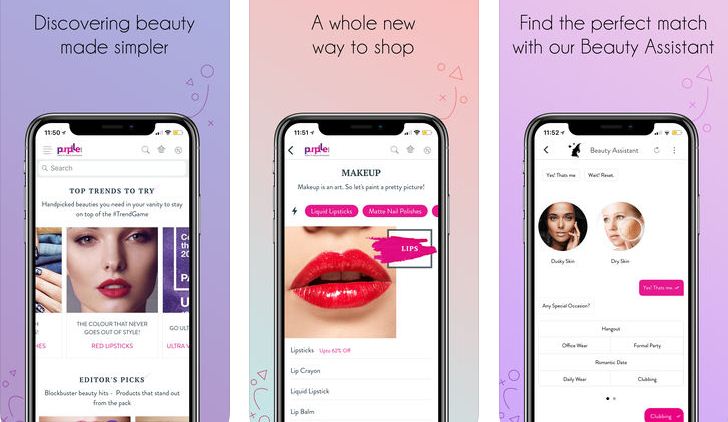 Purplle is the Beauty Shopping App that offers over 40,000 products from over 600+ Indian and international brands to suit your beauty requirement. You can buy makeup, Skincare, hair care, perfumes, and more from this beauty shopping app.
Download Purplle: Android  |  iOS
Buy/Sell Used Products apps:
14. Olx: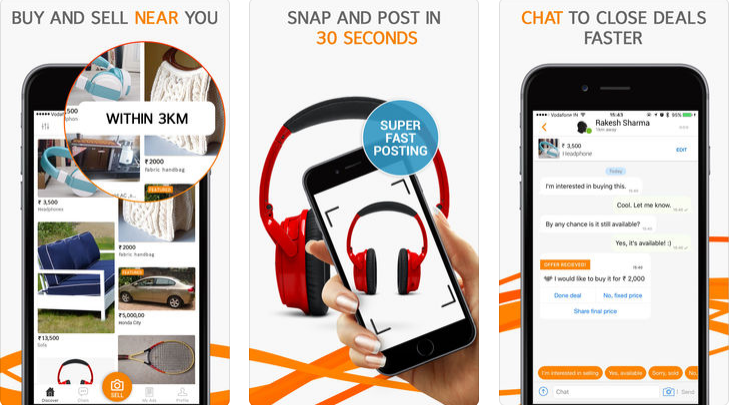 Olx is the best app that deals with buying and selling second-hand stuff. You can sell any products which are in good condition here. We have used this app many times and are satisfied with its services. So, you can use this shopping app to buy and sell second-hand products.
15. eBay India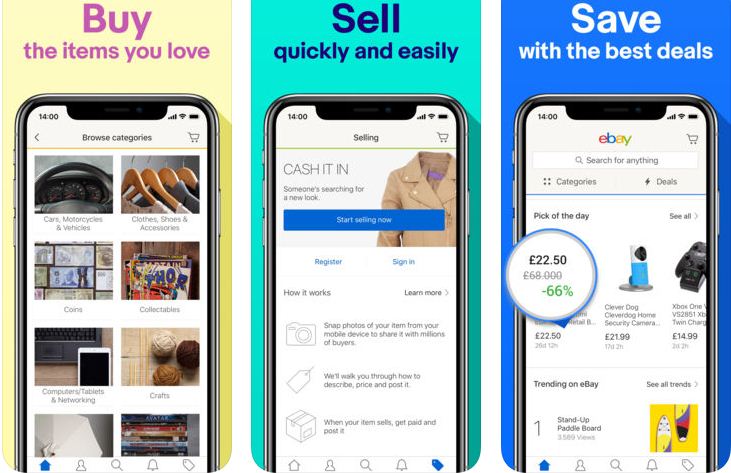 eBay is one of the most popular online shopping websites in the world. With this app, customers can search for items online. Customers can filter search results via categories to make the search narrow and find what they are looking for. With this app, customers can purchase a variety of products or bid on various deals.
Best Home Furniture Apps
16. Pepperfry: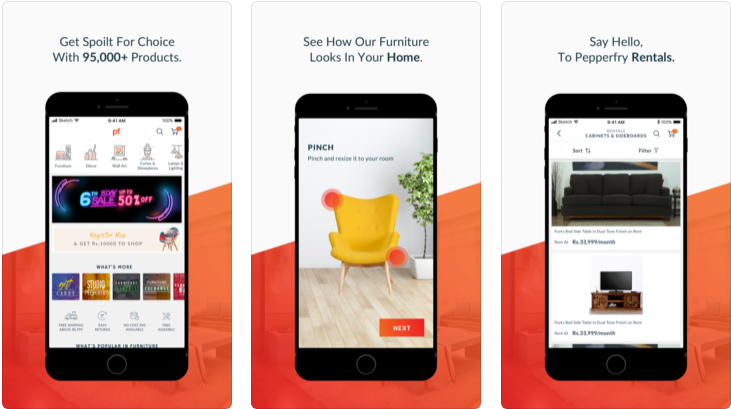 Pepperfry shopping app has over 1 lakh furniture and home products. It is one of the best shopping apps for home decor. You can buy any kind of furniture from this app and make your house a comfortable home.
Download Pepperfry: Android  |  iOS
17. Urbanladder: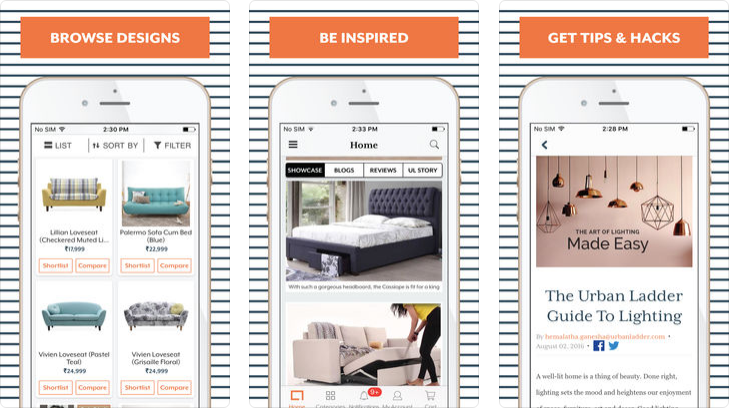 You can browse our entire furniture and home decor catalog on the Urban Ladder shopping App. You can pinch and zoom feature to see the design detail of every product. You can find the latest trends in furniture here. The app also has Interior design inspiration, how-to guides, DIY tutorials, and a lot more.
Download UrbanLadder: Android  |  iOS
Best Online Grocery Stores
18. Groffers:
Groffers is an online supermarket that delivers all household items within 1 or 2 days. You can even buy milk, bread, eggs, kitchen essentials, and more from this app. Its online grocery shopping app helps in saving people's time.
Download Groffers: Android  |  iOS
19. Bigbasket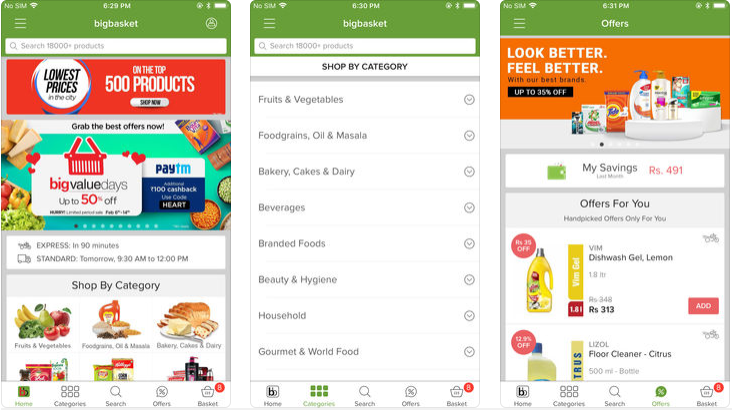 Now the supermarket is at your doorstep. The Bigbasket is an online supermarket that can deliver all the groceries, fruits and vegetables, home & household essentials, pet care needs, organic products, beauty, and hygiene products, at your home.
Download Bigbasket: Android  |  iOS
20. Swiggy Instamart

The Swiggy is an online food delivery app in India that also deals with grocery shopping. Swiggy Instamart feature of this app is an instant grocery delivery service that delivers groceries to your doorstep in just 15-30 minutes. yOu can order from snacks and beverages to fruits and vegetables, cooking to cleaning essentials, or personal care to baby care.
Download Swiggy: Android | iOS
Best Electronics Shopping App:
21. Croma: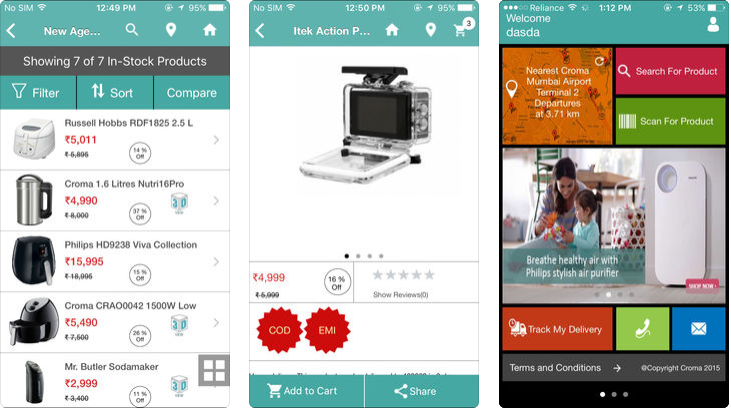 Croma is the online electronics store and app in India which delivers Smartphones, Laptops & Desktops, Tablets, LED Televisions, Refrigerators, Washing Machines, Air Conditioners, Cameras and a lot more. This electronic shopping app has Store Locator in which you can find your nearest Croma store and products available at your preferred Croma Store.
Check this out: Best Websites to Sell Used Clothes Online in India
Best Jewellery Shopping apps
There are many jewelry shopping apps but beware of fraud apps. There are only a few apps that are genuine. They sell the best qualities of jewels with a try at home option. Investing in pieces of jewellery is a big investment. So, we made this list of genuine apps for jewellery shopping.
 22. Bluestone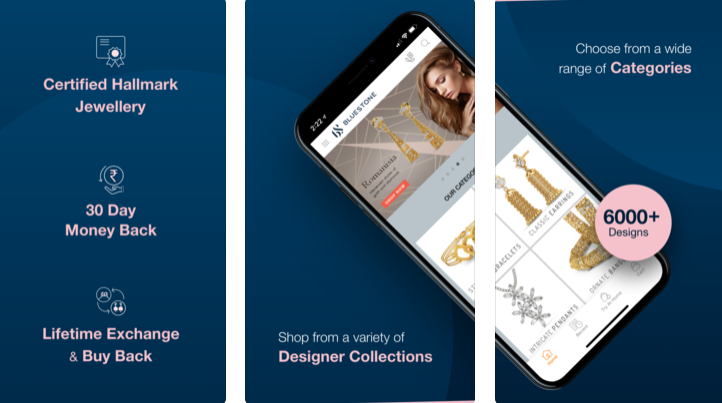 You can find perfect designer Jewellery here on Bluestone that you will definitely love. This is one of the biggest online jewellery stores where you can buy trendy and classy certified hallmark jewelry. They have "Try at Home" option and also have 30 days easy return.
Download Bluestone: Android | iOS
23. CaratLane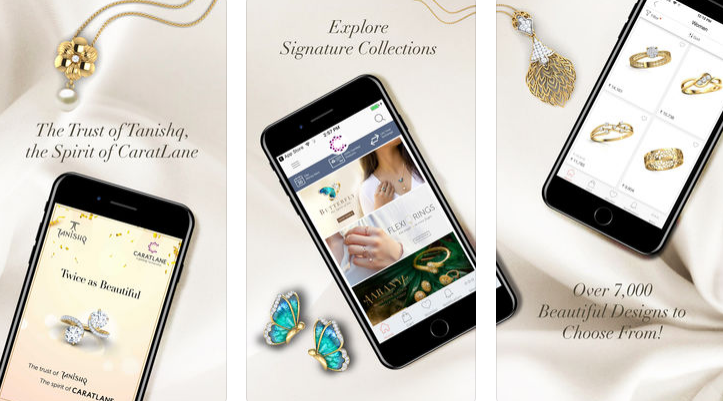 CaratLane is a Tanishq online partner and one of the best online jewelry destinations with over 5,000 beautiful designs. It offers the largest collection of gold jewellery & diamond jewellery with the help of over 4,000 global vendors. You can also use a "try at home" option before buying any jewelry.
Download Caratlane: Android | iOS
Here is the list of Best Online Jewellery Shopping Websites from where you can buy jewelry.
Online Shopping Apps for baby & kids
24. FirstCry Kids shopping App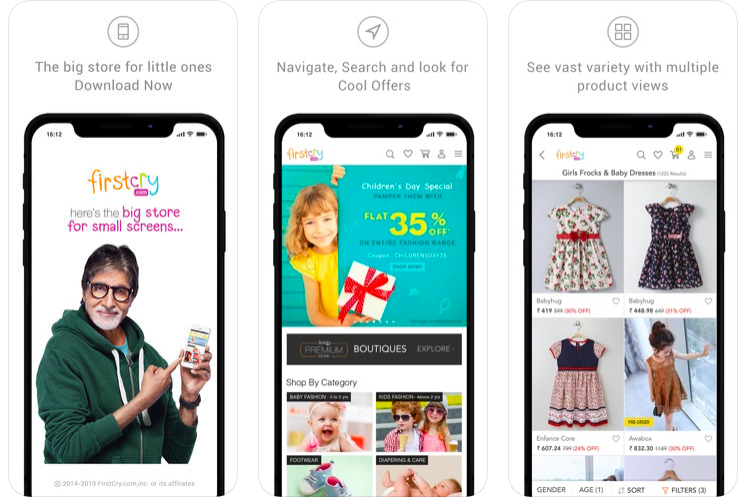 FirstCry claims that they are Asia's Largest Online Portal for Baby and Kids Products. You will find almost all kind of baby products and parenting products on this shopping app for kids. The app also gives the discounts coupons time to time to their customer and also give tips on parenting.
Download FirstCry: Android | iOS
25. Hopscotch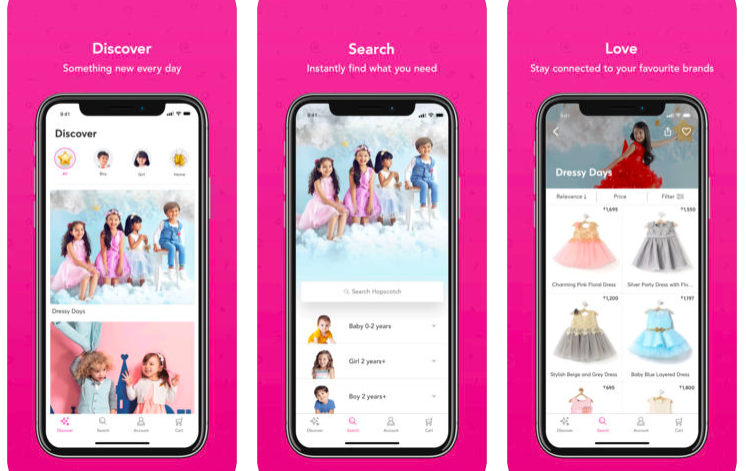 The Hopscotch is an online kid's fashion app that has cool, quirky, and fun items and dresses for every age group. You can shop any kind of fancy dress from this online app for kid's shopping and make your kids' look smart.
Download Hopscotch: Android  |  iOS
These are the best online shopping apps in India for doing online shopping. Now, no need to waste time in the market. Get the products at your doorstep at a reasonable price. Do, check and avail offers and discount on apps for shopping at the best prices.
Share your experiences in the comment section with us after using any online shopping apps from this list. We would love to listen to your feedback.
Experts Answers to FAQs:
Q. Which is the best online shopping app?
A. As per the users' experiences, Amazon and Flipkart are the best shopping apps for overall shopping. Myntra is best for fashion shopping online.
Q. Which is the cheapest online shopping app?
A. There is no such app that can give you products for free or cheap. But Amazon and Flipkart have offers and sales where you can get products at the cheapest rate. Do be aware of fraud and fake products.
Q. What are the online shopping apps?
A. Online shopping apps help people to buy goods online without going to the market. You can buy any products online with just a single click. Apps like Amazon, Flipkart, Myntra, and Nykka are the best shopping apps.