You may have seen people sharing screenshots of tweets on different social media platforms. Most people easily trust these photos but this isn't the case always. There are some tools that let you create fake photos of tweets. These tools are called Fake Tweet generators. These Fake Tweet generators can create real-like fake screenshots of tweets. Many people use these tools to make satire and controversial social media posts. If you also want to know about some good fake tweet generators, keep reading. These tools let you create fake tweets by adding a profile photo of the user, tweet content, and even reply to the tweet if you want.
There are lots of fake tweet generator tools but most of those are now outdated. Outdated fake tweet generators still use old Tweet UI. For example, see this screenshot of the Tweet I created using a Twitter Tweet Generator. This is how Twitter used to show tweets in the past.

If you use old fake tweet generators, tweets won't look real. That's the reason I didn't include any fake tweet generator that still generates tweets with old Twitter UI.
Note: These fake tweet generators are only for fun. Do not use these tools to spread misinformation or demand someone.
Most meme pages use fake tweet generators by showing fake like and retweet counts. So, it feels like the Tweet is getting good engagement and encourages other people to check the tweet. There could also be other reasons why you can use fake Tweet generators.
Fake Tweet Generators
1. Tweetgen
Tweetgen is the best fake tweet generator that lets you create a photo of a fake tweet and reply chain. You can also create snapshot-like someone has blocked you or an account has been suspended. The company keeps updating the platform as per changes on Twitter.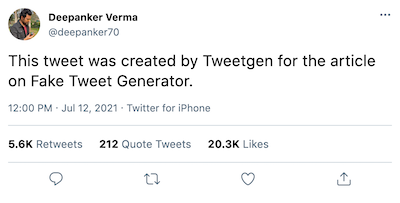 Not just text tweets, you can also add a photo in the tweet content. If the profile is verified, you can enable the verified badge. Just like on Twitter, the tool also lets you add a fact check warning. This tool also lets you select background color because Twitter also supports dark mode. In the reply chain, you can add up to 8 Tweets at once.
So, everything has been converted. You can use Tweetgen's fake tweet generator to create any kind of fake tweet.
2. Zeoob Fake Tweet Generator
This is also a similar fake tweet generator that doesn't miss any tweet component. It makes almost the real-looking tweet screenshot.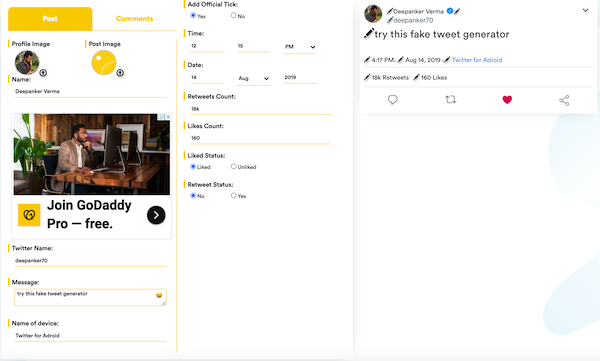 You can enter profile image, profile name, username, name of the device, tweet content, date, time, retweet counts, like count, and icons.
3. Generate Status Fake Tweet Generator
This is another good fake tweet generator online tool where you can create fake screenshots of tweets. You can enter your name, profile photo, ate time, post content, verification badge, like count, retweet count, and name of the device for including in the tweet.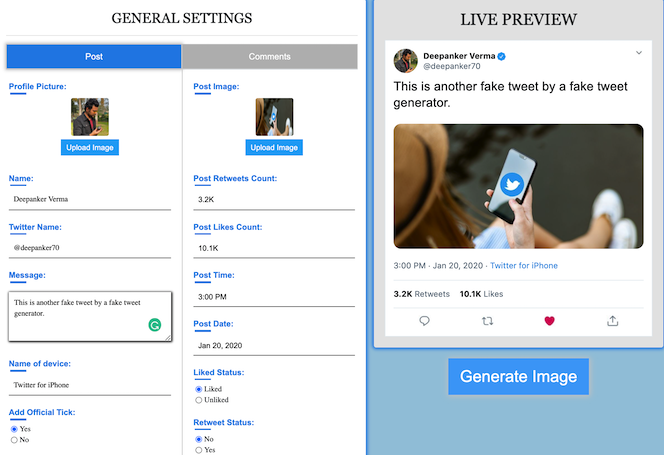 This screenshot looks real and most people will trust it thinking it is a real tweet.
4. Spoof Tweet from Tucktools
I also like this fake tweet generator tool. It also created a real-looking fake tweet screenshot. The screenshot this tweet generates look almost real. This tool misses comment, retweet, like, and shares icons.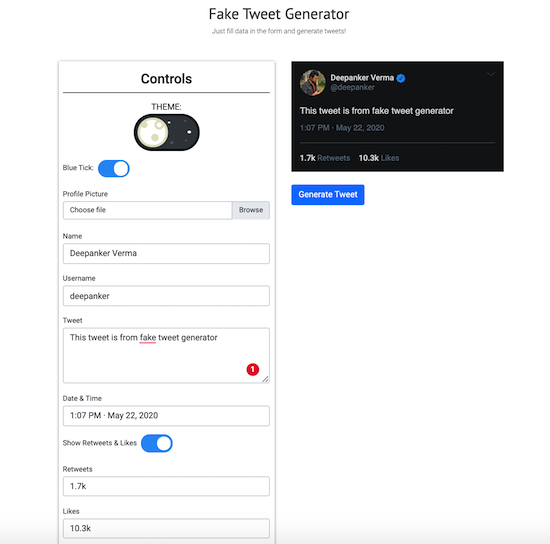 This fake tweet generator doesn't have an option to add devices like Twitter for iPhone or Twitter for Android. But these are not big things. Still, the tweet looks almost real. They mainly look for tweet's UI and content.
Wrap UP
These are some good fake tweet generators. I personally use and recommend Tweetgen because it also lets you create fake Twitter conversations by adding multiple tweets from different accounts. Other tools only create fake tweets. All these tools use modern Twitter UI, so look real.