Top 10 Best Business Card Scanner Apps For Android
Being a business person, you need to manage lots of contacts you meet during a networking event or a conference. Here business card plays an important role. A business card is one of the important things we use daily in professional life. When we meet new people for business-related conversations, we usually exchange business cards. But that is not the ideal way to keep the contacts with those people with you. Now we have to save their contact info on our smartphone or carry the business card always with us. But you need to have those contact information with you always. So, either you enter all those information on the phone manually or use business card scanner apps.
Business card scanner apps quickly scan a business card and save the contact information printed on the card to your smartphone. There is no need to waste your time in manual data entry. It is the perfect app for sales agents, entrepreneurs, businessmen, and anyone in related to the public dealing field.
Before going further, you must know about the very important detail. The business card reader apps are based on the OCR (optical character recognition) software. This software works on a basic principle: scan the structure of a document ( here business card), break it into blocks of text and images, and discover what words, numbers, or a string of characters it represents. After that, it sends this extracted data into an editable and searchable contact form to the app.
If you are looking for a good business card scanner app, I will help you in selecting one. See the list of the best business card scanner apps for Android.
Also see: Best Photo Scanner Apps To Scan Old Photographs
Best Business Card Scanner Apps For Android
Here is the list of best business card scanner apps for android:
1. CamCard – Business Card Reader
CamCard Free is one of the best free business card scanner apps available in the Play Store. It claims to have more than 100 million users worldwide. As a business card reader app, it allows you to scan a business card and save information directly on your device. It also offers few additional features other than business card scanning. You can add notes and reminders to contacts.
You can also exchange e-cards and find directions to the contacts within the app. It also supports 17 different languages such as Traditional Chinese, Simplified Chinese, Danish, Dutch, Finnish, Korean, Norwegian, Japanese, English, French, German, Spanish, Portuguese, Hungarian, Italian, Swedish, and Russian. In the free version of the app, you can only scan up to 200 contacts.
2. Business Card Scanner & Reader
Business Card scanner app converts normal paper-based business cards into digital business cards. It helps you in very minor but has very important tasks that save your precious time. You have to just open the digital business card scanner app and scan the card. The card will automatically save the contact to your cell phone. It instantly transfers all the required data to your cell phone. The company claims that it is a very useful application with the best OCR that capture visiting card in no time.
3. Wantedly People scan biz cards
The Wantedly People Scan Buz cards app is a speedy app that scans 10 business cards at a time. You just have to scatter out your cards, tap a button, and watch them transform into digital contacts. The OCR (optical character recognition) detects and analyzes text on cards to instantly create new contacts. It helps you spend less time organizing and start a conversation right away. You can search contacts by name, as well as company and job position in this app. Wantedly's agile business chat platform helps you in sending instant messages to contacts via Wantedly Chat.
4. ScanBizCards Lite
ScanBizCards Lite comes with a modern UI and offers a good experience. The OCR is perfect even in low light. So, it scans business cards effectively and saves information on your phone. This is one of the best business card scanner app for Android.
It can also export your business cars to multiple CRM platforms including Salesforce and SugarCRM. So, it is an ideal solution for business persons. Another good thing is that it supports canning in 22 languages.
There is also a pro version offering better features if you want.
5. Business Card Reader by ABBYY Mobile
ABBYY Business Card Reader app scans and manages all business cards and contacts in seconds. You can instantly transfer all the business card data in 25 languages right onto your smartphone with this scanner app. It can sync cards across smartphones, tablets, and computers via ABBYY's cloud. You can also access your contacts from anywhere on its official website ABBYYBCR.COM
6. Business Card Reader by Ionescu Alexandru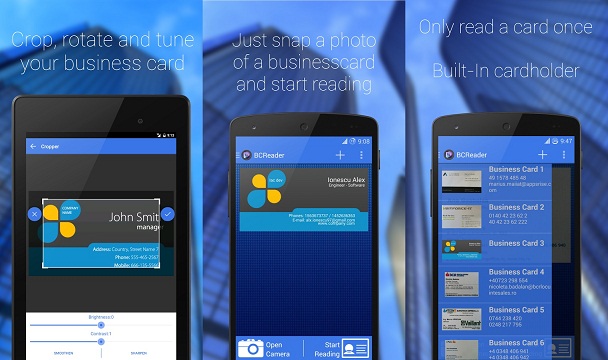 Business Card Reader is another popular app for scanning and saving business card information on your Android device. The OCR supports 66 languages including Hindi and English.
It also offers a card wallet with icons. So that you can quickly find a card. It also has a card designer to design your business card. You can create your own personalized business card and share it via NFC. It also has an option for QR codes that can be scanned in seconds.
It can also seamlessly and securely sync your cards across all of your devices with only one account
7. Haystack Digital Business Card
Haystack is a nice app for Android devices that allows users to scan, store and access business cards. It also allows you to create your own digital business cards and share them via NFC, Email, text, etc. It has an advanced camera interface with a built-in OCR to capture data from business cards. You can also add personal notes to the business cards you scan.
The OCR is not perfect, so, you need to take care while saving information using Haystack.
It also takes a backup of your scanned contacts in the cloud. So, you can always access it back if you somehow lose contacts saved on your phone.
8. Business Card Reader SugarCRM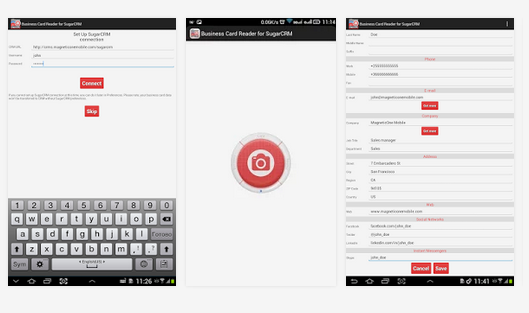 Business Card Reader SugarCRM Android app also lets you scan a business card and import card data into SugarCRM system. New contacts automatically stored into your CRM account. It offers high processing speed and claims to scan up to 20 business cards per minute. Before saving, it also previews the data, so that you can make necessary changes. It supports 25 different languages.
9. Microsoft Office Lens
Microsoft Office Lens is a PDF scanner app that can scan documents or business cards. If you are looking for a good business card scanner app, you can use this app as a business card scanner app. The app works best with several languages including English, German, Spanish and Simplified Chinese. Support for more languages will be available soon.
10. WorldCard Mobile Lite
WorldCard Mobile Lite is one of the best and oldest business card scanner apps. The app has also been awarded several times in the past. It comes with OCR options to scan business cards and save information on your phone. The app can recognize 25 different languages. You can also set reminders to contact newly-added people.
This app also lets you backup stored contacts in local storage as well as online. This app is feature-rich and comes for free. You can also buy the Pro version if you want more features.
Read More,  Best Document Scanner Apps for Android and iOS
Final Words
Now you have a list of the best business card scanner apps for Android. You can use any of these business card scanner apps to manage your business cards and save information on your mobile phone quickly. You can select any of these apps. If you have been using any other good business card scanner app that I missed adding to the list, do not forget to tell us about that. I will surely use and mention it in the article.