10 Best Document Scanner Apps for Android and iOS | 2018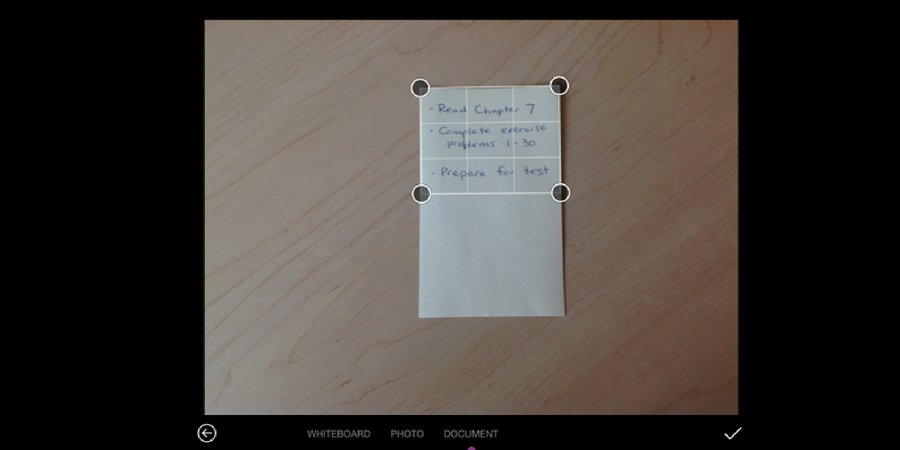 Do you want to urgently scan a document but do not have scanner? This is one of most common problem generally a working man face in India. People have to go to shops for scanning the documents which costs high. But, very few people know that they can also scan the document with the camera of the smartphone. No, I am not talking about the capturing the photo. There are few mobile apps which can use smartphone camera to capture the photo and then turn into a PDF document. Output looks very similar to what we get with scanner. In this post, I am listing 5 best document scanner apps for smartphones.
Best Document Scanner Apps
1. Google Drive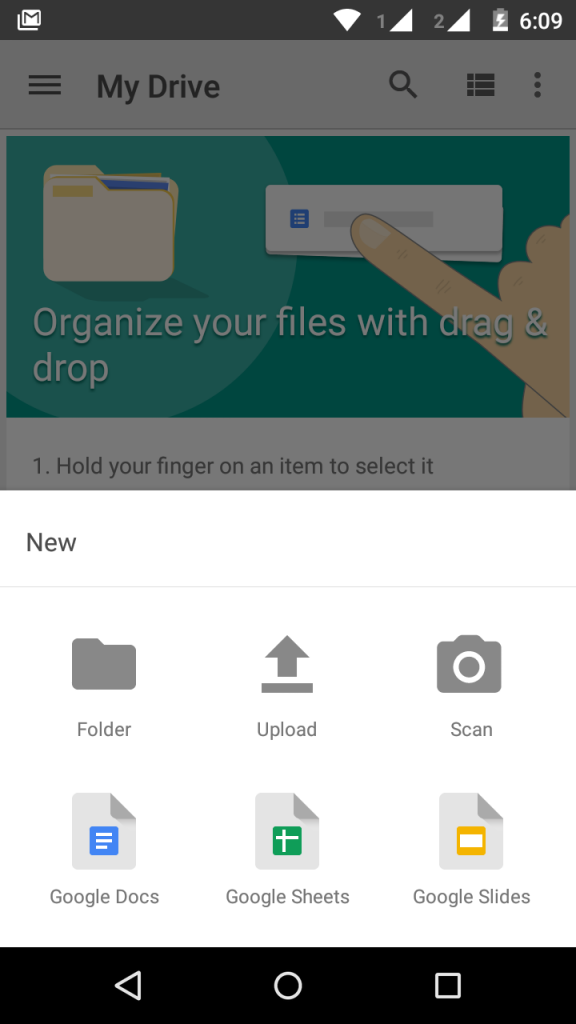 Rs. 5000 off on Redmi Note 5 Pro 6GB + 64GB
Rs. 5000 off on Redmi Note 5 Pro 6GB + 64GB
If you are Android user, you already have Google Drive installed in your device. IOS users can download Google Drive app to enjoy its scanning feature. Clicking on create new document icon offers various options to create a new document. In this, select scan option. It will open the camera of your device. Capture the document with the camera and then see how perfectly it has scanned the document.
2. CamScanner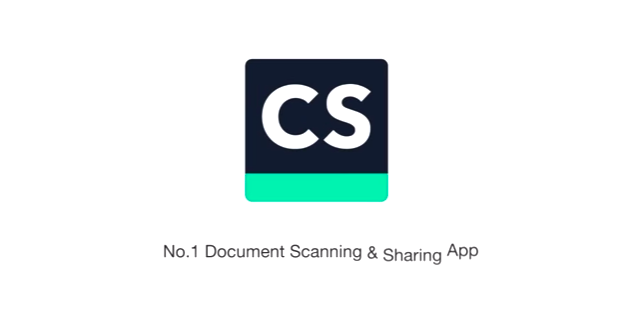 CamScanner is one of the most popular document scanning app. It is available for Android, iOS and Windows Phone platform. It is an easy to use app which can scan documents to output a PDF file. It is available for free of cost, but there is a pro version of the app which offers few other features including 10 GB of cloud space. If you can pay, you must check the pro features.
This app can also crop images, extract text from images and enhance the images. This is why, you must check this app once. I am sure you will like it.
3. Office Lens
Office Lens app is by Microsoft. It is available for iOS, Android and Windows Phone platform. This is also a nice app and can scan your document with the help of device's camera and then convert the document into editable format. So, you can also edit this scanned document. Is it not really cool feature.
Download : iOS | Android | Windows Phone
4. Adobe Scan: PDF Scanner, OCR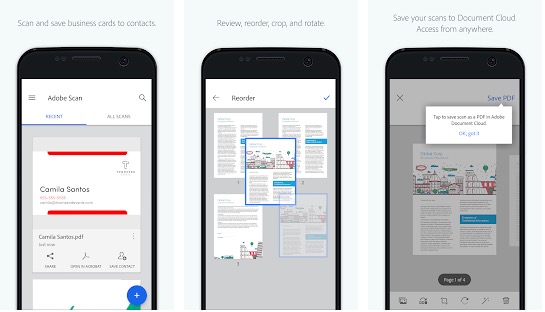 Adobe Scan is another brilliant app that allows you scan notes, forms, documents, receipts, and images to PDF files. You just need to point the phone's camera to the document you want to scan and app will automatically scan it. It also permits you to reorder the page if you need. You can also scan multiple pages into single PDF file. It also allows color correction of scanned document.
5. Genius Scan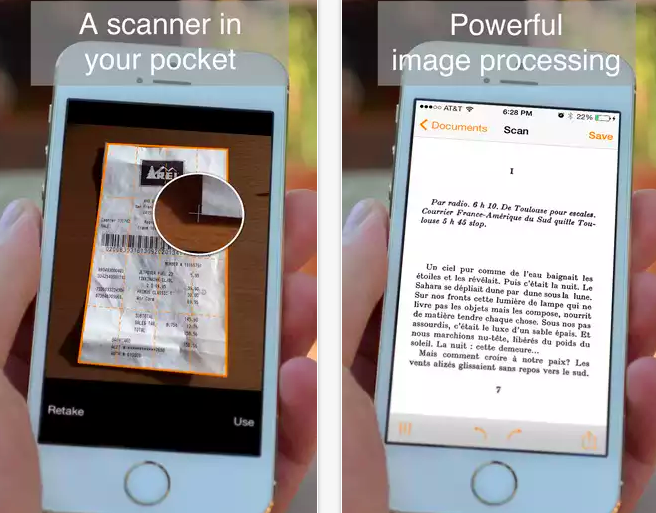 Genius Scan is another nice document scanner app available for iOS, Windows Phone and Android platform. This app can also scan your documents and can convert it into PDF or JPG files. It also features perspective correction that can correct perspective distortion in your photo. It can create multi-page PDF documents as well. You can also protect your scanned documents using PIN or fingerprint.
6. Evernote Scannable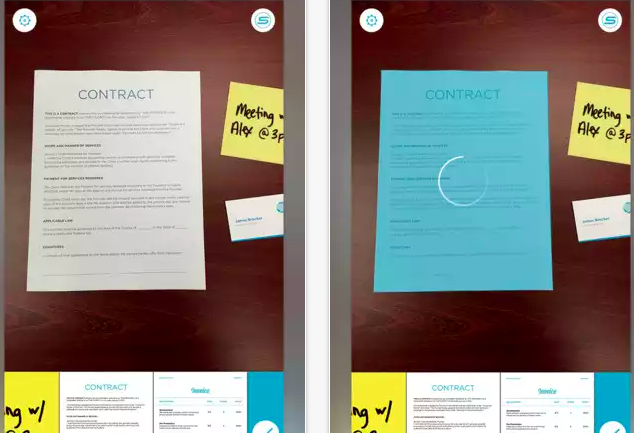 Scannable is the app by popular note taking app Evernote. This app can also convert your paper documents into digital documents. You can scan your documents and convert into PDF format. This app can also scan business cards. Soon after scanning, you can also share the documents via email, message or send to evernote.
7. Clear Scanner: Free PDF Scans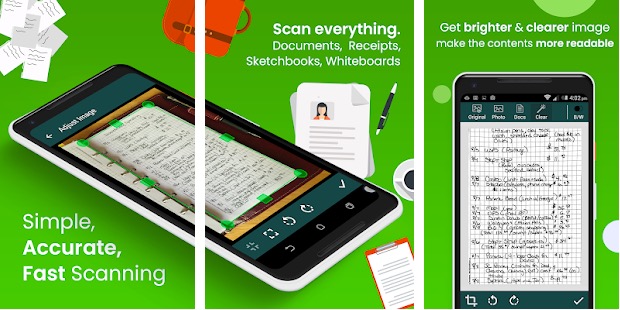 Clear Scanner is another good and lightweight app to scan documents or images to save that in digital format. You can scan documents and images to JPEG and PDF sending on your need. This is fast and even supports Cloud Print. You also get several editing features if you need.
8. TurboScan: scan documents & receipts in PDF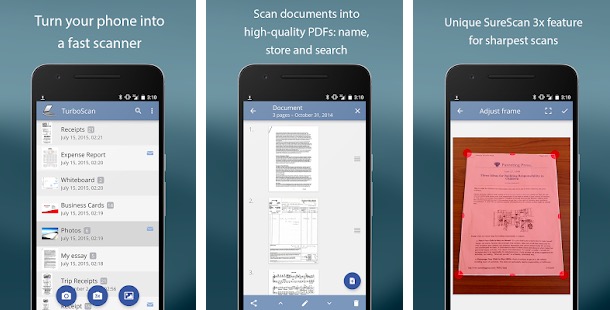 TurboScan is the powerful and full featured Android scanner app. It allows you scan and share multipage documents in high-quality JPEG and PDF formats. It also supports multipage editing features such as page adding, reordering, and deleting. It is light weight app and works fast.
9. Fast Scanner: Free PDF Scan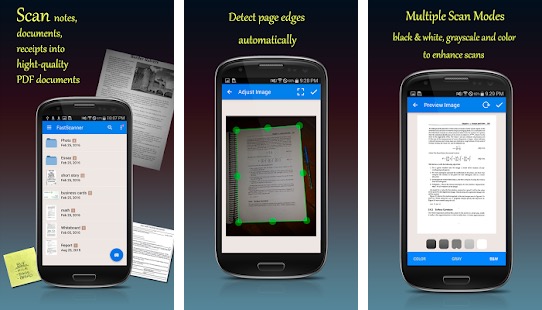 Fast Scanner is also a reliable document scanning app available for both Android and iOS. You can use it to scan your photos and documents to save it in PDF or JPEG format. It can add multiple pages to scanned documents. You can add new pages or delete existing pages. The app is free to download and contains ads.
10. Smart Doc Scanner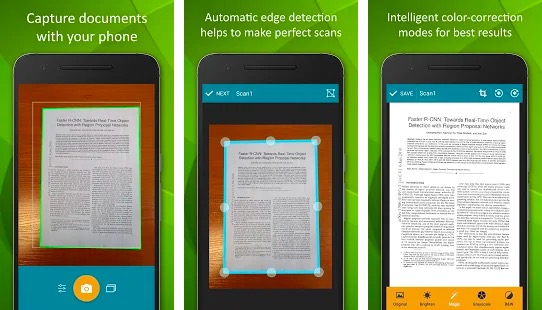 Smart Doc Scanner is another intelligent scanner to digitize your documents. The app can connect images to text in more than 40 languages and also includes spelling check. It supports almost all popular image formats such as JPEG, PNG, BMP, GIP, and WebP.
Download: Android
Final Words
Now you have a long list of document scanner app for Android and iOS. Read the description and select one based on your need. All these works well. I personally use Google Drive to scan my documents and receipts to save it in PDF format.
Let me know what app do you use. Share it in comments.