5 Best App Making Platforms In India
India is a lucrative market for anything and everything, and being an IT superpower, it is slowly turning out to be the app development factory for the world. The app economy which is at $4tn across the globe has a very limited India share of around $9bn but is growing fastest in the world with a growth rate of 41% and poised to reach $30bn by 2022.
Companies from the US are opening up shops in India, bigger players have started their app development verticals, start-ups have joined the bandwagon to capture the market pie of the growing market as it not just serves domestic market but the international market.
Here are the top 5 players which are making app development simplified even for people with no coding knowledge:
1. Engineer.ai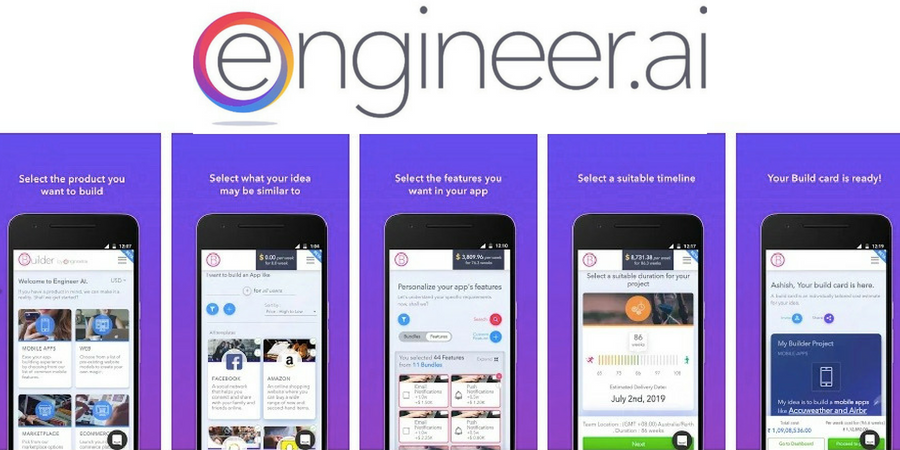 The SanFrancisco Headquartered and Gurugram based startup has made their global launch of BUILDER platform from India. The platform is an AI-based assembly line for app development with the wide variety of options to choose from, the unique aspect is that one will not be charged for code that already exists in their repository, team to choose from various time-zones, controlled development pace. This platform makes app development much easier. You can either mention your requirements or just mention if you want an app similar to any other app. Based on the data you provided, they show you the pricing. If you want things faster, you will have to pay more for speedy development.
BUILDER gets the edge over the competition because of its app development ecosystem which will allow anyone to get a 360-degree service suite at only one point. A cross-platform builder (iOS, Android, Windows etc) is focusing towards SME's, startups, Entrepreneurs and big enterprises to help build apps/ software from the scratch or add more functionality to existing setups.
2. Zoho Creator
This is a bigger name in the market and respected entity, however, most of its offerings are targeted towards SME's and larger organizations. Zoho Creator is one of the business tools the company offers for business to get things done without paying much. Here, an organization looking to add more features or functionality to their existing IT setup can very well opt for various business-centric solutions like logistics, employee management, sales management etc. Their Creator 5 platform allows startups to build customized mobile apps using existing templates for faster turnaround times.
Zoho charges monthly for their platform. In the basic plan, you will be charged Rs. 400 a month where you can make 3 Apps that can store up to 25000 records. You can choose from over 50 ready to use apps, have a custom design, third-party integration, and support.
3. Appy Pie
A US-based startup with an office in Noida is like BUILDER by Engineer.ai, it provides a drag-and-drop framework to create apps for various purposes. The wide variety of features to choose from allows the user to navigate the whole website to find what they are exactly looking to build. You can select all the available prototype for making a similar app. It shows all the features the app can have. Then you can start making the app.
4. forBinary 
Recently funded, forBinary is on a quest to tap next billion internet users in India, targeting SME's &mSME's the company wants to provide mobility to businesses in an instant. Being similar to Appy Pie and BUILDER, the USP is local functionalities (Vernacular languages, Offline first, local integrations etc).
The platform claims to offer 3 easy sets of app building. You can easily integrate lots of things into your app and make your feature rich app as per your requirements. Your app will be ready for both Android and iOS.
5. 
TechJockey
This is different from the whole lot as they are into app reselling, they manage an inventory of previously built apps which one can explore according to their business domain and need.
Though they are not into the customized in-depth experience which other platforms like BUILDER by Engineer.ai, Appy Pie or others provide, the functionality is somewhat similar from the buyer point of view and the final product is for sale on their platform. This releases the time constraint faced by businesses to deploy IT functionality sooner than anyone. However, bugs or optimization are still a grey area which one may have to contend with.
Final Words
If you are looking for app development service but not sure whom to contact, why don't you try these platform that gives you full control on the whole process and offers high-quality service? So, you will have the real value for your money. Finally, there is no ranking to this but these are platforms which can help to build or get IT solutions handy for any business to scale up their processes or business.
Recommended Videos