10+ Best Android Cache Cleaning Apps
Cache is the part of your storage where device store data for quick access. Apps use this storage to put temporary data. When app need to access data, first it look in cache and then in storage. Over the time, cache becomes large so looking in cache takes enough time. It makes device slow. Although, Android has a good memory management system, but it is fine if you take care of this by yourself. If you device is getting laggy or slow, you can clean the cache to improve the performance. If you think its hard for you to go and clean cache, you can try cache cleaning apps.
In this post, we are posting 10 best Android cache cleaning apps. By using any of these apps, you can clear cache in one click.
Best deals on mobile phones
Thinking to buy a phone? do not miss these awesome deals
Also see: MP3 Downloader Apps
Best Android Cache Cleaning Apps
1. Clean Master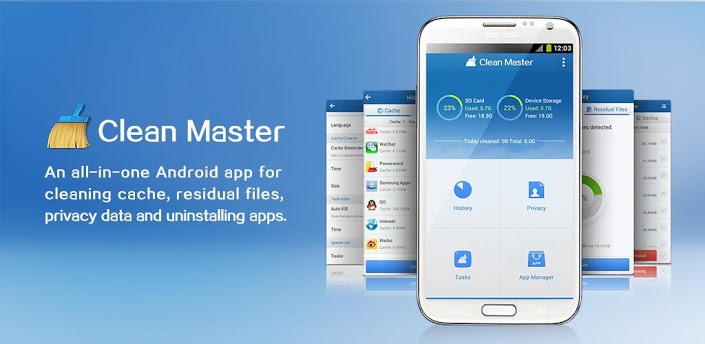 Clean Master is an all-in-one cleaning app for Android devices. It comes with simple to use, and attractive interface. It helps you to easily clear cache and history from any app you want. You can either select individual app or clear cache from all at once. It also works as task manager so you can stop an app from it if you want.
2. Cache Cleaner – DU Speed Booster
It is one of the best Android cache cleaner apps trusted by millions of people. It is capable of optimizing background apps, free memory space, and remove unnecessary junk files. You can perform all these things with just one tap. It even has an option that shows which apps are consuming more CPU power. This option is called CPU cooler. It terminates CPU consuming app to keep phone cool.
3. Power Clean
Power Clean is another nice app designed to clean your phone and optimise its storage. With a single tap, you can clean junk files and optimise phone's storage. It also allows you uninstall, backup, and share apps. There is also a built-in app locker to uninstall, backup, and share apps.
4. Clean Master
Clean Master is also a nice app that helps you in cleaning cache of your Android device. But the name is inaccurate. There is nothing in the app that helps you in cleaning in single tap. With this app, you can either select individual app and clear cache or clear cache from all apps. You can not select multiple apps to clear cache. I am sure this option will be added in next update.
It also comes with a built-in antivirus to scan your apps and block virus to keep your phone safe. It also has a Photo vault for keeping your photos safe in your phone. It can also detect fake WiFi and unauthorized connections. It also has a feature called game master to manage your games and accelerate loading speed of games.
5. AVG Memory & Cache Cleaner
AVG Memory & Cache Cleaner is another popular app used for Cache cleaning. This app is from well known security products company AVG. It allow users to quickly clean cache and memory. This app is simple and easy. You can easily erase your call and text history, browsing history, and cache.
6. Ace Cleaner
Ace Cleaner is also a similar Android cleaner app to optimise your phone for better performance. It offers several notable features like Ace Boost, Quiet Notification, Battery saver, and CPU Cooler. It can also remove duplicate photos to clean your phone's space. If you are looking for best Android cleaner apps, you can also try this one.
7. Turbo Cleaner
Turbo Cleaner is also a notable app to boost your phone's performance. It can clean background processes, stop stealthy running apps and free RAM for boosting performance. It also comes with battery saver that can disable unnecessary apps that consumes lots of battery. It also has a CPU cooler that kills heavy resource consuming apps to avoid overheating the phone.
8. All-In-One Toolbox
All-In-One Toolbox is an Android cleaner and booster app the comes with over 30 different tools for boosting your phone's performance. It come with cache cleaner, junk cleaner, CPU cooler, Memory booster, batch app uninstaller, Quick Charge Master, App lock, Game Booster, Auto task and few more features.
Also see: Best Ringtone Cutter Apps for Android
9. Systweak Android Cleaner
Systweak Android Cleaner is also an interesting app to clean cache and boost RAM periodically without user intervention. So, you can use it if you don't prefer doing it manually. It also comes with an app manager to show you what apps you no longer use and uninstall. It also comes with a battery saver feature to close background apps.
10. The cleaner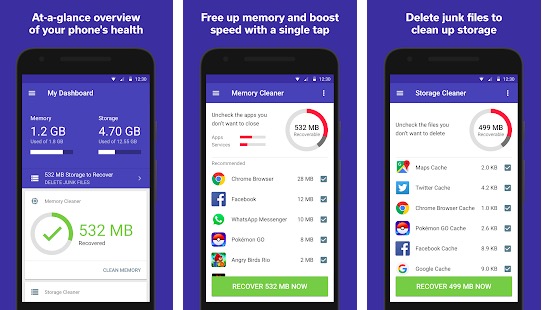 The cleaner is a lightweight app with easy to use interface. It comes with batch uninstall option. You can schedule reminders to clean your device periodically. It offers memory optimizer, storage cleaner, game booster, and app locker features.
11. App Cache Cleaner
App Cache Cleaner is also a nice app that allows users to select apps and then clear cache at once. You can also clear cache of all apps or select individual app to clear cache. It comes with very simple interface that may look ugly but works fine.
Also see: Best Password Managers For Android
Final Words
These are few nice apps that you can use to clear cache and optimize your phone's performance and storage. You can check all the apps and install one of these apps depending on your requirements. Few of these apps are just for cache cleaning while many of these apps are lots of other features like Antivirus, app lock and more. So check all the apps and install one depending on your choice.
Share your favorite app with us via comments. Be sure to share this post with all your friends.