10 Best Alarm Clock Apps for Android and iOS
Waking up in the morning at a specific time is not possible without an alarm. Previously, we had alarm clocks, but now smartphones do that job for us. Smartphones come with an alarm clock app, but sometimes it doesn't work as well as we expect. There are lots of good alarm clock apps that do a good job in waking up in the morning. If you are looking for a good alarm clock app, you are in the right place. In this article, we are listing the best alarm clock apps for Android and iOS. You can use any of these apps depending on your choice.
Also see: Best Reminder Apps for Android
Alarm Clock Apps for Android and iOS
Here are some good alarm clock apps for both Android and iOS.
1. AlarmMon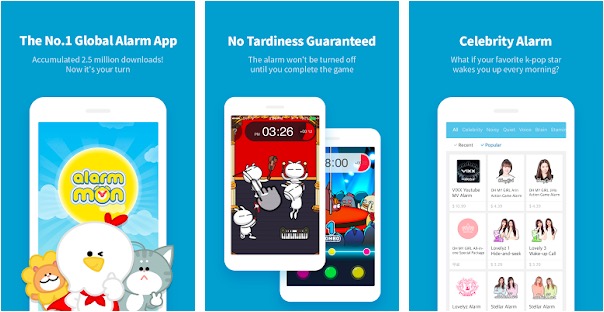 AlarmMon is a good Android app that is more than just an alarm clock. This alarm clock app will definitely wake you up in the morning. There are several kinds of alarms including Noisy alarm, quiet alarm, game alarm, video alarm, voice alarm, and more. One of the alarm options asks you to solve a random math question. You cannot turn it off until you solve the question. There are several other interesting alarms.
Not just an alarm, you can also use it as notification alerts for different actions like while boiling milk, cooking something, or anything else.
The app keeps a history of wake-up time and sleep habits. There is also a weather broadcast alarm that lets you know today's weather. You can also set Today's news alarm that tells you top stories in the morning.
AlarmMon is a free alarm clock app but with ads and in-app purchases. It is available for both Android and iOS platforms.
2. Alarmy
Alarmy claims to be the world's most annoying alarm clock app. It offers several unique options for alarms that will force you out of the bed in the morning. The app comes with crazy loud ringtones that will surely force you to wake. There are other things like missions to complete for turning the alarm off. In the Photo mission, you need to register an object. In the morning, it will ask you to click and upload a photo of that object. You register the bathroom sink or anything away from your bedroom for best results. Math mission asks you to solve a matching problem. In a shake mission, you will have to shake your phone up to 999 times.
Photo Mission works best for most people. If you register the bathroom sink or toilet seat as an object, you will have to go to the bathroom for turning the alarm off. Once you are there, brushing teeth will wake you up completely.
3. Walk Me Up
Walk Me Up is also a unique alarm clock app that uses a different approach for waking you up. The alarm of the app stops running only when you have walked a certain number of steps. At the time of setting the alarm, you can decide the number of steps. The app can detect shakes, so you cannot cheat. You will have to actually walk and finish the target you set for the alarm. You will have to get up and walk.
There is also an evil mode that disables the snooze button. So, you can't snooze and will be forced to walk. If you want to snooze, you can also set the snooze duration.
4. I Can't Wake Up
I Can't Wake Up is also a good alarm clock app that offers up to eight different wake-up Tasks for turning off the alarm. You can set multiple alarms, daily repeating alarms, and more kinds of alerts. You can set the Snooze Music, start time and wake up tests. Wake up tests include math, memory, order, repeat, barcode, Rewrite, shake, and match tests. You can configure any of these wake up tests.
This is a free alarm clock app with ads. It shows banners and full-screen ads. If you don't want to see ads, you need to buy the paid version of this alarm clock app for Android and iOS.
5. Sleep Cycle
Sleep Cycle can also be a good option if you want an alarm clock app that can also track your sleep along with waking you up in the moistening. This app uses the phone's microphone and accelerometer to track your sleep and then uses this data to gently wake you up in the morning.
The alarm clock wakes you up while you're in light sleep. Snooze the alarm by shaking or double tap. With proper sleep data, you can take steps to improve your sleep and lead a healthy life.
6. Freaky Alarm
Freaky Alarm is an iOS-only alarm clock app. This app also comes with several kinds of alarms that will force you to leave bed. It asks you to solve logic games to stop the ringing. You can also Scan predetermined objects such as QR codes or product codes. There are 30+ annoying sounds for alarms. It also has 9 different logic games to choose for turning the Alarm off. It also has a Nightstand clock, volume control, and Voice Alarm. There are also several themes to choose from.
It is a paid app and costs $1.99.
Download: iOS
7. Early Bird Alarm Clock
This is Android only alarm clock app that helps you by waking up early in the morning. This app doesn't play the same tone every day. A different alarm sound will prevent you from getting familiar to an alarm sound. It also keeps telling you the current time during alarm firing. It uses several alarm stop methods in combination to prevent you from sleeping. These methods include a Combination of a QR code, voice recognition, and trace and write force you to get up. It can also show the weather forecast on notification if you want to know the weather forecast every morning.
This app is free to download but there is also a paid version to use the ads free version.
Download: Android
8. Loud Alarm Clock
Loud Alarm Clock is also a unique kind of alarm clock you shouldn't miss. This app claims to be the loudest alarm clock available for mobile devices. It also has a big collection of sounds and plays random sounds each morning so you cannot get used to a specific alarm sound. You can also add background images, weather forecasts or other things to the alarm. You can also set a time after that you cannot snooze an alarm.
9. AMdroid Alarm Clock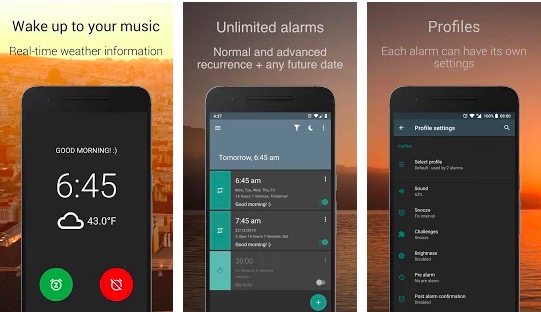 AMdroid is an alarm clock app for heavy sleepers. It offers several alarms including timer and math problems. This app is fully customizable and free. It was you up slowly and naturally. Even if you are in deep sleep, you won't feel uncomfortable. This app offers Recurring alarms, One-time alarms, Countdown alarms, and more. Each alarm has its own settings. It can also show weather information. There will be several challenges to stop the alarm. These challenges include math problems, Captcha, Wi-Fi, NFC, and Barcode/QR code. So, you won't be sleeping again.
This app also offers Sleep tracking. This app is also location-aware, so your alarms will only go off in certain areas. If you are not at your location, AMdroid will temporarily disable your regular alarm profile automatically.
10. Uhp Alarm Clock Pro
Uhp Alarm Clock Pro is a premium alarm clock app for iOS devices. You can use this app to set iTunes Songs as alarm tones. There is also a Social Media Alarm that posts to Facebook or tweets if you try to sleep through your alarm. It also asks you to track a path from your bed to the place you go when you first get up in the morning. This app can recognize your location and doesn't ask to track the path if you are not at home. It can also show Weather Info to start your day.
Final Words
Now you have a long list of the best alarm clock apps for Android and alarm clock apps for iOS. Depending on your device, you can select any of these apps and download them on your phone. These apps will help you in waking up in the morning and never miss any meeting or flight again.