10 Best Reminder Apps for Android
There could be several reasons why you miss so many works. I personally forget so many things to do at the scheduled time. This is the reason, there are several reminder apps to remind you about your tasks before the scheduled time. SO, you do not miss any. On Android, there are so many reminders apps to try.
If you do not want to use any third-party app, you can always use Google Assistant to set reminders and it will remind you at the specified time. But managing all the reminders is not as easy because you will have to ask everything by voice commands. After missing several tasks, I have finally started asking Assistant to remind me about several things. But that just shows a notification and you could miss it. So, having a dedicated reminder app is a good idea.
If you want a dedicated app, here is the list of best Reminder Apps for Android.
Also see: Best Ringtone cutter apps
Best Reminder Apps for Android
Here is the list of best reminder apps for Android devices. In case you were searching for apps for reminders, you can refer to apps listed here.
1. Any.do
Any.do is the best To-Do List app where you can set your tasks and assign a time. The app will remind you. You can set small tasks like paying bills, ordering groceries and grab milk from the store. It will make your work easier with the available customization option. It also syncs your list between devices. You can also set reminders based on both time and location. So, you can set a reminder for a specific time if you are at a location.
The app also allows you to create a shared list if you have some tasks to do with friends.
You can always mark the completed task having passed by swiping from left to right as you do in with pen on paper. If you want to reopen a task you make finished, you can always make it active again.
2. Todoist
Todoist comes with an easy to use interface and nice features to manage your todo list. The app is also available on other platforms including its browser extension. So, you will receive cross-platform notifications.
It uses Google account for sing in and then you can start creating your tasks and to-do list. You can easily add labels for easy filters. You can also see statistics on the number of tasks you have finished and pending tasks.
You can set tasks and it will remind you of the time. You can also set recurring due dates like "every second Monday." It is free with an option to upgrade if you want more features.
3. BZ Reminder
BZ Reminder is also a simple but good app to set reminders. It also supports the Android smartwatch, so you can create reminders even without taking your phone out of your pocket. You can easily organize reminders and assign colors to easily differentiate them.
The app features a widget and calendar. You can quickly see all reminders just by Swipe down from the top of your phone's display. You can also set repetitive reminders as well.
All created reminders splayed on the main screen and they are sorted by date. While creating a reminder, you can always specify the type like birthday or meeting. You can specify description, color, date time and even attach a contact or phone number if needed.
4. Google Keep
Google Keep is one of the best note-taking apps where you can create and manage notes. The app allows you to create a list of tasks, add colors, photos, voice notes, audio notes and more. So, you can also create a to-do list here and set a reminder.
Create a note, set description, add photo or audio if necessary, choose labels or colors and then set the reminders. If you were also looking for an app for keeping notes, this app is good to go with.
5. GTasks
GTasks is also one of the good todo list and task scheduler app for Android. It has lots of features to manage your task and supports cloud synchronization. It uses Google account and quickly access the data from Calendar and extract that. You can quickly create tasks with dates and name. Then you can add descriptions and priority.
Users can later edit the name or change the priority. The app also supports voice input. There is also a paid version with no ads and some advanced tools.
This is also a basic task management app with a reminder option. If you are looking for a good reminder app, you can use GTasks as well.
6. Calendar Notify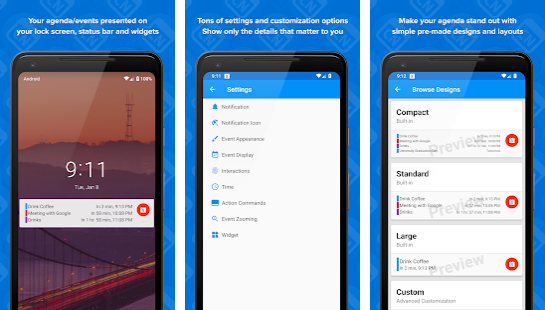 Calendar Notify is another excellent reminder app that comes with reminders on widget, lock and status bar. This app lets you schedule your events and the app will remind you by showing your events on the lock screen, status bar or in a widget.
You have complete control over the appearance and information displayed. The app is free but there are a few advanced options you can access if you upgrade. The app also lets you take the backup of your data to Google drive.
This app can be used independently or as a companion app for your existing Calendar app that supports Android calendars. It is free to download with in-app purchases.
7. Ike To Do List
Ike To Do List is a unique reminder app that uses President Eisenhower's Priority Matrix. It organizes tasks by importance and urgency. The app prioritizes tasks, todos, and reminders into a priority matrix depending on their importance. You can add due dates to tasks. These due dates can repeat daily, weekly, monthly, yearly, or be customized. You can add multiple time or location-based reminders to each task. The app also gives an option to add an image to a task to add more information. You can also add notes and descriptions to your tasks.
The app lets you create widgets to add, edit, complete, and view tasks. It is free to download but you can upgrade to the pro app to get more features including all themes, widgets, up to five reminders per task, images, and audio recordings.
8. Microsoft To-Do
Microsoft To-Do is the app from software giant Microsoft and is also one of the most popular reminder apps. This is a task management app that lets you stay organized and manage your day-to-day tasks. The app lets you take notes, record collections, plan an event or set reminders.
This app has been deeply integrated into other Microsoft apps, so it can capture tasks from other Microsoft apps and services and sync them. The app makes your tasks accessible anywhere. You can add reminders, tasks, and lists with the To-Do widget. Reminders can be of one-time or recurring due dates. The app also lets you attach up to 25 MB of files to any task.
9. Rembo
Rembo is a reminder chatbot that remembers your tasks and gives you reminders. Using simple chat messages, you can stay organized, set alarms, reminders, medicine and even exercise notifications. The chatbot will remind you with alarm and notification. This chatbot remembers important dates like birthdays and makes sure you don't miss your important meetings and calls.
10. TickTick
TickTick is a simple but effective to-do list and task manager app for Android. The app lets you make schedules, manage time, remind about deadlines and organize life at work. The app is easy to use and sync data across your devices. You can quickly create tasks and notes and get reminders as per due dates. The app comes with a clean and sleep calendar showing your monthly tasks. You can also integrate it with third-party calendars such as Google Calendar, Outlook, etc.
Final Words
This was the list of apps for reminders. You can download any of these reminder apps for Android and stop forgetting tasks. Use these reminder apps for creating a to-do list and task management. In the busy life when we usually forget so many things, reminder apps help a lot. If you know any other good reminder app that I didn't add to the list, let me know using the comments section below.