Asus Zenbook Pro Duo Review: Powerful Laptop for Creators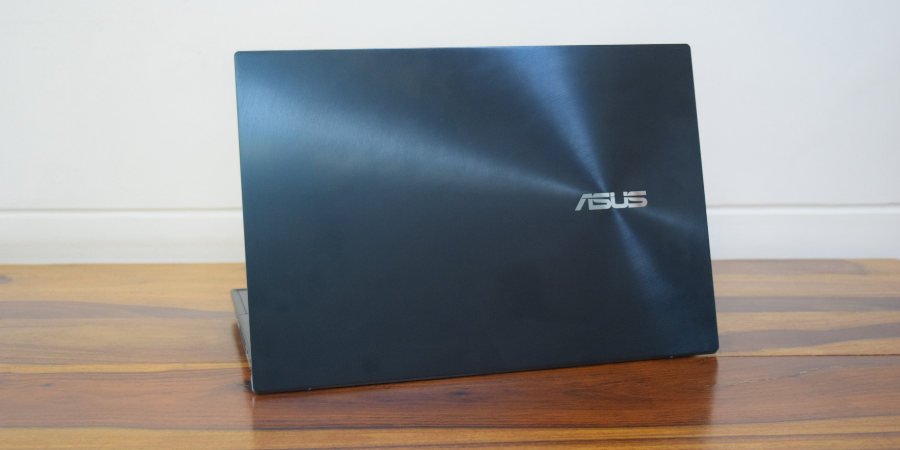 A few days back, I posted the first impressions of Asus Zenbook Pro Duo soon after I unboxed the product and used it for a few hours. I was impressed with its specs and two display setup. Now after using the laptop for around a week, this is my review of Asus Zenbook Pro Duo.
Asus Zenbook Pro Duo Review
The first thing you will notice on this laptop is its weight. It is heavy with 2.5kg of weight. The power brick is also large and heavy. You will also have to carry the palm rest and stylus as well. So, it will put enough weight on your backpack. There are large cooling vents on each side and it has an angular finish to the back edge. The laptop has all aluminium build and Asus claims that it has Military-grade toughness. The laptop feels quite solid and build quality is good. It has an ErgoLift design that makes a room for better airflow. As soon as you open the lid, the next notable thing is the secondary screen located above the keyboard.
The laptop has a USB Type-A 3.1 Gen 2 ports, Thunderbolt 3 and an audio jack on the right side. On the left, it has another USB Type-A port, a full-size HDMI 2.0 port and a DC-in port.
The laptop has 15.6-inch OLED panel offering 4K resolution. The display also features HDR, so it is excellent. It offers vibrant colors, sharp details and nice viewing angles. Due to fantastic color reproduction, you will enjoy watching videos on the display. Hence the laptop will offer a good experience to video editors.
The secondary display (ScreenPad) also offers 4K resolution (3840 x 1100 resolution) but it not as vibrant as the primary display. it has completely different color profile As the display is ultra wide, videos run on middle leaving about 3 inches of black space on either side. This display also has a matte finish so it is not reflective.
You can use two apps side by side on the ScreenPad due to its ultra-wide aspect ratio. You can watch videos on main panel while accessing social media apps on ScreenPad. There's a small arrow icon on the left of the panel that opens menu and navigation bar. You can access different pre-installed apps directly from here. You also have an ability to create your own Quick Keys by recording keystrokes. You can drag an app shortcut from the top display to this launcher. When you tap on an icon of ScreenPad's launcher, the app will open on the ScreenPad.
You can also create custom app groups and add up to 5 apps. There's also a dedicated Task Swap button that swaps apps from main display to ScreenPad and vice versa.
Both displays of the laptop are touch sensitive and Asus offers Asus Pen to use with the laptop. Asus Pen is made of slate-gray aluminum and uses AAA batteries. It has 1,024 pressure levels and does a fairly good job. You can use it for writing or sketching. I prefer writing on ScreenPad because that makes the perfect angle for writing.
When the primary display is touch enabled and Asus Pen is also there, the laptop could come with a full 360-degree hinge to use it in tablet mode or tend mode.
The laptop has a keyboard just below the Screenpad and a tochpad at the right side of the Keyboard. There's no space below the keyboard, so you don't get a palm rest from the laptop's body. This is the reason, Asus has bundled a palm rest with the laptop. With the palm rest, the keyboard is comfortable to use. The only drawback is that the palm rest doesn't attach to it. If you slightly move the laptop, you will have to again adjust the palm rest. A Magnetic palm rest could have been a better option.
The touchpad is located on the right side of the keyboard. So, it will take some time to be habitual of this new position of the touchpad. Touchpad is responsive enough to use and it supports gestures as well. The only issue could be with left handed people who will find it hard to use the TouchPad. This touchpad can also act as Num Pad. You just need to press the icon located at the top-right corner to activate the Num Pad. There's also an icon at top left to adjust the brightness.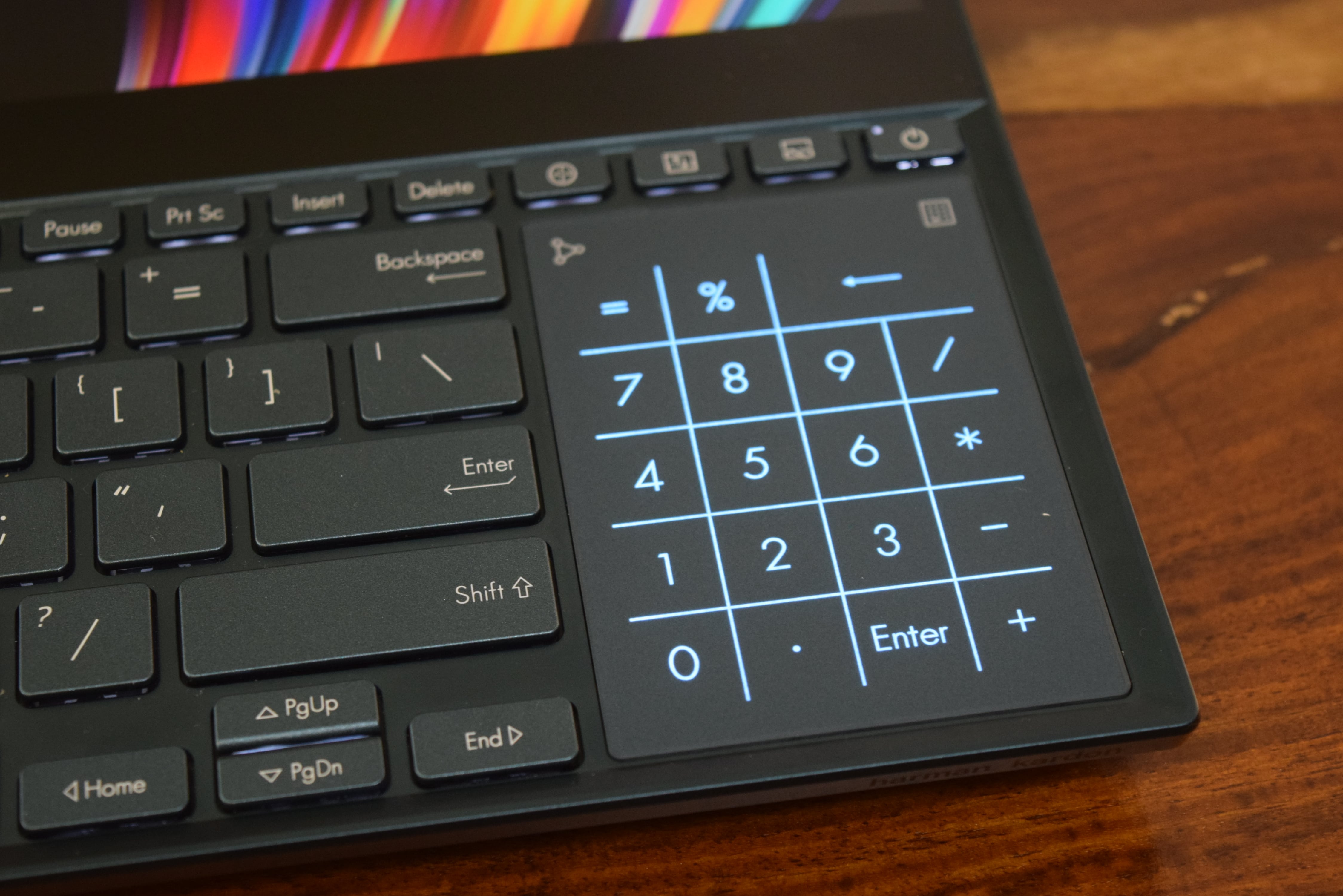 The laptop packs 2.4-GHz Intel Core i9-9980HK processor with 32GB of RAM. It also has latest Nvidia GeForce RTX 2060 that makes this laptop a beast. This is the reason the laptop is a bit heavy. This device is capable of handling powerful tasks like ultra-HD video editing or high-end gaming. Your day-to-day tasks will be much smooth. I could easily browse the web while keeping more than 30 tabs open on Chrome including a few of YouTube tabs.
Pro level of video editing will be really smooth and pleasing. Laptop is also fast enough in exporting a 4K clip or in transcoding a 4K video to 1080p.
Even if the laptop is for content creators, the powerful specs make it good enough for gaming. I tried playing a few games and gaming experience on this laptop was fine. It touches 40 fps on the Rise of Tom Raider and 60 fps on Grand Theft Auto V.
So, graphics heavy tasks on this laptop are smooth. When you are not doing heavy tasks, the laptop switches to integrated Intel UHD Graphics 630 GPU.
The laptop comes with ErgoLift design that elevates the laptop for making a space for better airflow. It also has Cool-Air express system that uses four heat pipes for advanced cooling. So the laptop doesn't become much hot while performing heavy tasks on the laptop, but you can feel the heat around vents that blew hot air outside. There's a dedicated Turbo button to increase the fan speed. You can use it when you feel the laptop is getting too warm.
It comes with TB PCIe Solid State that means you have a lot of fast storage available for your use.
The laptop has a 720p webcam that performs well. It has side-mounted Harman/Kardon speaker but I wasn't much impressed with its performance. It could have been a better. Sound output over headphone jack was impressive. So, I recommend the use of headphones when you are doing any kind of video editing, audio editing or gaming for better sound experience.
The laptop comes with Windows 10 with Asus-branded software to run system diagnostics, contact customer support, check for software updates. You also get McAfee Personal Security and Nvidia GeForce Experience, a suite of software.
The laptop is Alexa compatible, but Alexa for Windows 10 is not yet available in India. So, you will have to use Cortana. It has integrated array mic to capture your voice properly for listing to voice commands.
I have already talked about the physical ports this laptop carries. Along with that, it also features Wi-Fi 6 and Bluetooth 5 connectivity. It lacks LAN port and surprisingly lacks SD card slot.
The laptop comes with powerful specs including a power-consuming discrete GPU and 4K OLED panel so I was not expecting much battery life. I was getting close to 3 hours of battery life. My usage involved video streaming, web surfing over Wi-Fi, and ScreenPad enabled all the time. Disabling ScreenPad improved the battery life for up to 20 minutes. If the machine targets creators, it should offer a better battery life.
Dual-screen laptop is not a new concept and Asus itself has experimented with several positions of secondary display. But, the ZenBook Pro Duo tries to give you a suitable position of secondary display to improve better productivity. The 4K OLED panel is brilliant and the laptop comes with high-end specs to give you powerful performance. The laptop is priced at Rs. 2,09,990, so it is not cheap but its specs make it worth of the price.
If you are looking for a powerful Windows Laptop for video editing, this laptop will not disappoint. You will also learn how to use the ScreenPad for improving your productivity.
ZenBook Pro Duo
"ZenBook Pro Duo with its ScreenPad is an impressive laptop for creators. It has excellent 4K OLED display paired with powerful hardware for offering smooth video editing experience."
The Good
Excellent OLED Panel
Powerful hardware
ScreenPad for better multitasking
Wi-Fi 6 support
The Bad
Average Battery
Heavy
No SD card slot
Breakdown
Design 100%

Display 90%

Performance 90%

Features 75%

Battery 65%

Value for money 80%