Apple iPhone 11 Pro Review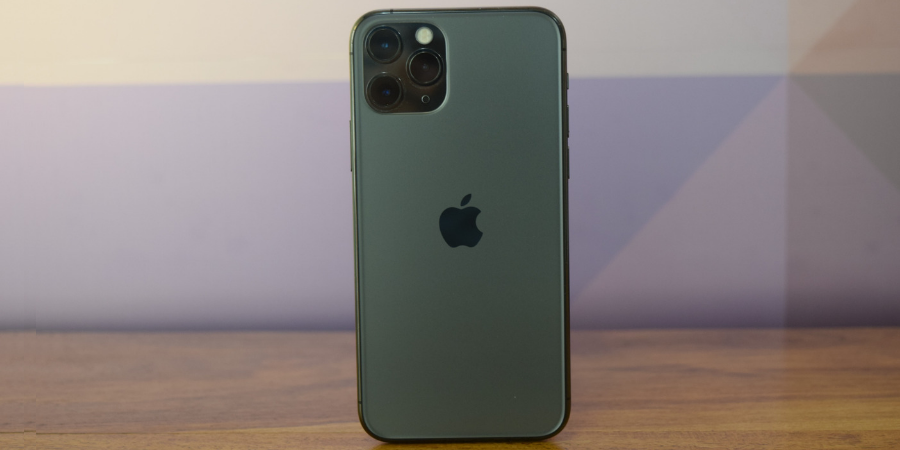 Apple's recent iPhone 11 series include three smartphones iPhone 11, iPhone 11 Pro and iPhone 11 Pro Max. I bought the iPhone 11 Pro to try Apple's latest generation of iPhone. I have been using iPhone 11 Pro for over a week now and based on my experience, here is the review of iPhone 11 Pro.
Buy Here: Amazon
Apple iPhone 11 Pro Review
iPhone 11 Pro Specs
| | |
| --- | --- |
| Screen (Resolution) | 5.8-inch Super Retina XDR Display (2436 x 1125 Pixels) |
| CPU | A13 Bionic |
| RAM | 4GB |
| Storage | 64GB, 256GB, 512GB |
| Rear Cameras | 12-MP wide (f/1.8), 12-MP ultra-wide (f/2.4), 12-MP telephoto (f/2.0) |
| Front Cameras | 12-MP (f/2.2) True-depth camera |
| Water Resistance | Up to 4 meters for 30 minutes |
| Battery Size | 3046mAh |
| Size | 5.67 x 2.81 x 0.32 inches |
| Weight | 188.00 grams |
| Colors | Gold, space gray, silver, midnight green |
Design
The iPhone 11 Pro looks similar to iPhone XS from the front due to the same kind of wide notch but can be uniquely identified by its unique kind of triple camera setup. It is slightly thicker and slightly heavier than iPhone XS. The phone has a glass body. I really like the matte finish on the back that not just prevents fingerprints and makes the phone less slippery than other phones with a glass body. The square-shaped camera bump has a matte frosted finish and three cameras are arranged in a triangular formation within that square. It looks odd as there is no symmetry but I have no problem with this. I think people have also found a different kind of iPhone's back to show off.
The phone is IP68 rated and can survive in up to 4 meters of water for up to 30 minutes. Apple claims that the phone comes with toughest glass ever, but we have seen several broken iPhone 11 Pro already. Sorry, but I didn't try testing this toughness.
In the era of large smartphones, I think the iPhone 11 Pro has the perfect size for most of the people. One can easily use this phone using a single hand. The phone feels beautiful and premium.
Display
The iPhone 11 Pro comes with a 5.8-inches of 2436 x 1242 resolution OLED panel. Apple calls it Super Retina XDR Display. The screen offers 800 nits of brightness as compared to 625 nits in iPhone XS. It can hit the peaks of 1,200 nits which are twice that of the iPhone XS. This max brightness plays an important role while watching rich content like movies, photos, and games.
The display is really amazing and it comes with ultrawide viewing angles. It has wide color support. Blacks are absolute black and colors are brighter than ever. So, this display impresses in everything. Be it watching videos or playing games, you will love this display.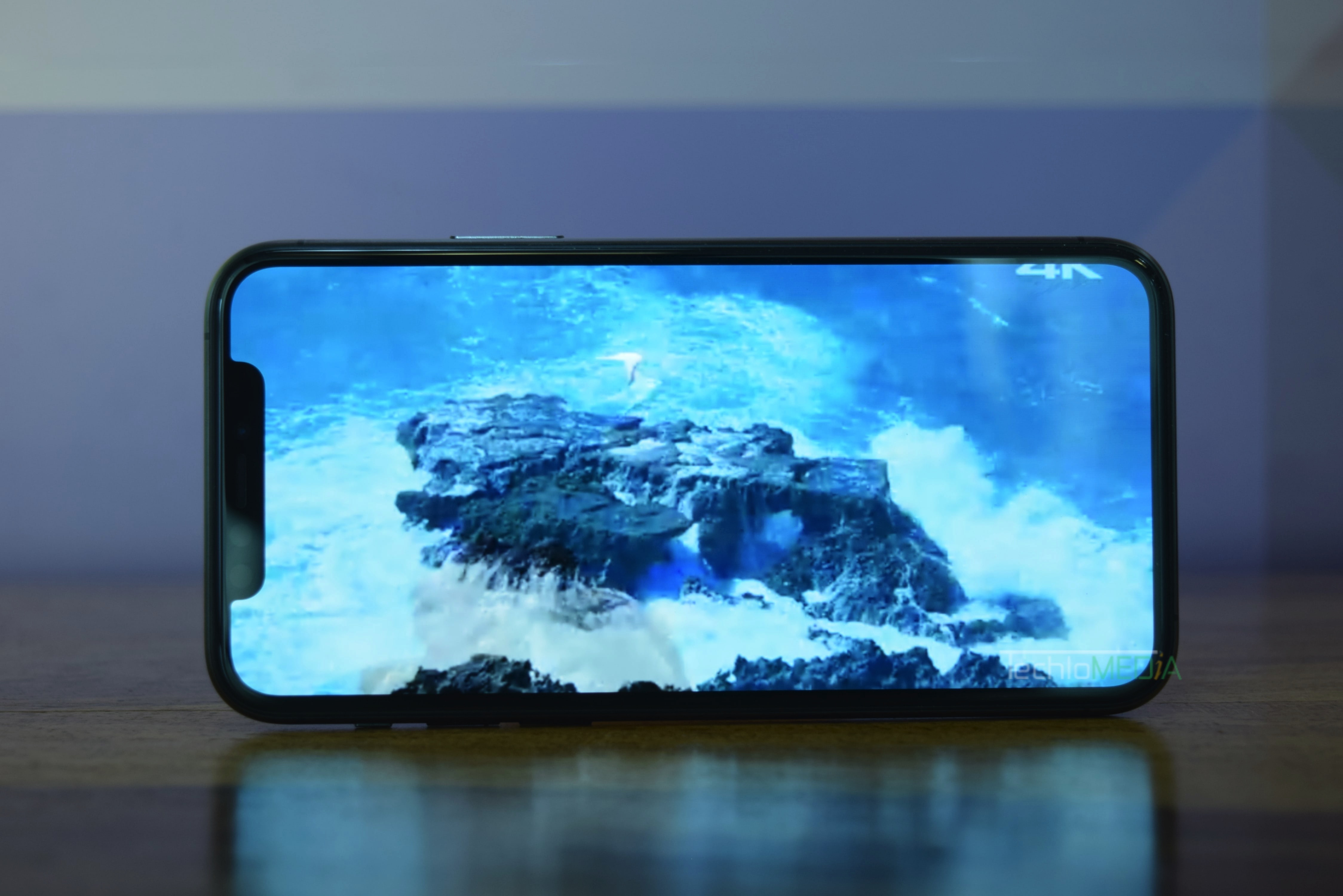 Apple has removed the 3D Touch and added the Haptic Touch that offers a more consistent user experience. The long-press works in the same way but you get familiar force feedback. It supports Home screen shortcuts.
Audio
The phone comes with a dual speaker with support for spatial audio and Dolby Atmos. The first speaker is at the bottom side and the earpiece acts as a second one. It offers a loud and immersive sound experience. The sound is rich and the bass is deep. I also tested wired and wireless headphones with iPhone 11 Pro. The audio experience on both was amazing.
Software, Performance, and Storage
The phone runs on iOS 13 out of the box and iOS 13.1 has already come. Apple's iOS is known for offering the world's best app ecosystems, privacy, and security. Apple has added a lot of notable features in iOS 13. The features include some visual overhauls, file management, Dark Mode and battery optimization. Dark Mode affects all system apps and will also save you some battery. Now you have more detailed control over location access.
There's a Face ID that was introduced with the iPhone X. Apple now claims that Face ID works at wider angles. You can add a second face as an alternate Appearance option. There are several small but smart features using face id to improve user experience. For example, when your phone is running and you look at it, it will recognize your face and will decrease the ringing volume. It hides message preview on the lock screen but when you look at it, it will expand to show you preview because it knows you are looking at it.
It is not surprising to say that iPhone 11 Pro is the fastest phone. The iPhone 11 Pro packs Apple's A13 Bionic chip that is 20% faster than A12 at CPU and GPU tasks. Video editing experience was smooth and exporting was noticeably faster on the iPhone 11 Pro. I also tried a few games and gaming experience on iPhone 11 Pro is really impressive.
The phone also tops in benchmark tests. On the AnTuTu test, it scored 457,975 that is highest I have seen in on a smartphone.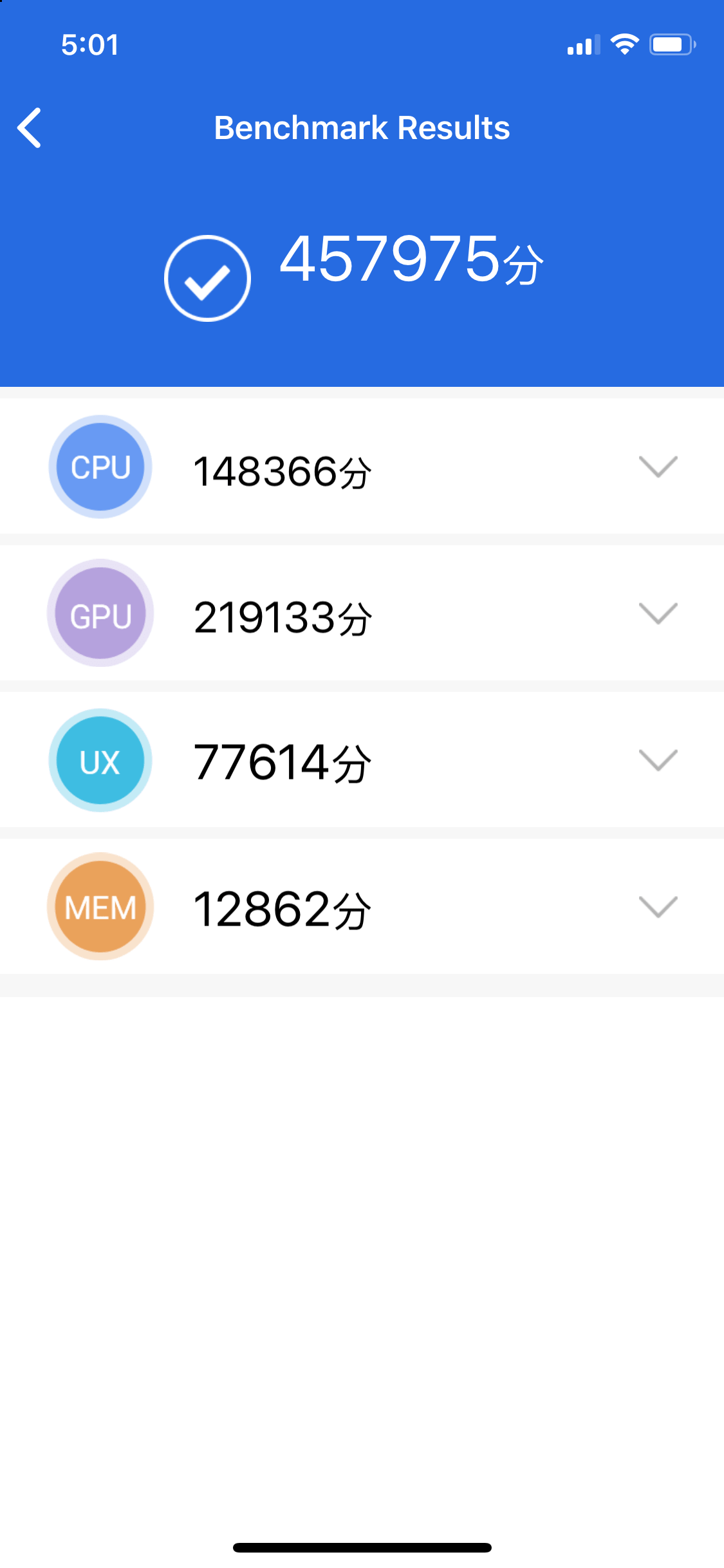 The base variant comes with just 64GB of storage that is not enough when you have a good camera offering 4K recording. There's no MicroSD card slot, so you have no option to expand storage. Apple should now bump the base storage to 128GB.
Camera
The iPhone 11 Pro is the first Apple phone getting a triple camera setup along with iPhone 11 Pro Max. The camera setup that includes 12-megapixels regular wide camera with f/1.8 aperture, 12-megapixels ultra-wide camera with f/2.4 aperture and 120º field of view. and 12-megapixels telephoto camera with f/2.0 aperture for 2x zoom.
All these cameras work together seamlessly to offer you a good camera experience. Unlike the previous 1x wide-angle and 2x telephoto zoom, this time you can select a 0.5x ultra-wide-angle to 2x telephoto zoom and up to 10X digital zoom. The camera app offers precise zoom control for both photography and videography. The camera app also has the ability to preview correct bokeh and HDR prior to shooting that helps a lot and reduces efforts.
Note: I have converted images from Apple's HEIC format to JPG format using an online tool. So, image quality is slightly lower due to the compression by that tool.
Camera specs may look ordinary on paper but the camera offers the best smartphone photography experience. Each of these cameras is surely the best in class. Photos are sharp and crisp with plenty of details. I really loved the color reproduction that is accurate in most of the light conditions.
Photos from the ultra-wide-angle camera show the same colors as the other two cameras and are relatively undistorted. It is really useful for landscapes and architectural photography where you want to capture more scenes into the photo.
Apple's new Night Mode finally brings excellent low-light photography to new iPhones and compete against Google and Huawei's benchmark low-light camera performance. It works by shooting a number of short exposures and the app itself decides how many seconds to shoot. It also gives you a slider to the control this if you want. I am in serious love with the low-light shots captured on iPhone 11 Pro. Shots are crisp and balanced with offering a realistic color tone.
The night mode is only available with either the main wide-angle camera or the telephoto lens and not for ultrawide or front-facing cameras.
Portrait mode is not new but it has been improved. It offers convincing shallow depth-of-field effects. Not just Humans but it can also work with other subjects such as pets.
Deep Fusion was one of the key camera features but it is not yet available in the stable version.
The selfie camera by default opens in 7 megapixels mode. If you switch to a wide-angle mode, it captures 12 megapixels shots. Turning to the phone horizontally in selfie mode automatically activate wide-angle selfies. The selfie camera works well in daylight and captures excellent photos. Skin tone and color reproduction are natural. You can also use Portrait mode on the front camera to get images with blurred backgrounds. The selfie camera struggles in low light and captures average photos.
Video recording from the rear camera is excellent and is, of course, best in class. You can record up to 4K at 60 frames per second. You can shoot from more than one of the cameras at once using the Third-party apps that can be useful for filmmakers but I didn't try that. The video recording experience is the best I have ever enjoyed on a smartphone. Stabilization works good and lens switching is fast yet smooth.
The selfie camera is also now capable of recording at 4K and the videos come with good colors and details. The front camera can also record slow-motion selfies. Apple calls it Slofies.
The iOS 13 intros new video editing features and the phone is capable of editing 4K videos.
Connectivity
The phone lacks 5G connectivity from the spec sheet, but we still don't have a 5G network around. So, this shouldn't be a disappointment. LTE connectivity works fine. It features WiFi 6 that will offer more efficient throughput if you are using a Wi-Fi 6 router. Other connectivity options are NFC, Bluetooth 5, Ultra-Wideband and GPS. Ultra-Wideband chip accurately locates other nearby devices with the same chip inside. So, you can share files over AirDrop with other iPhone 11 series owners by pointing your phone in their direction. Airdrop also seems faster.
Battery
iPhone 11 Pro really impresses with its battery life. As a daily driver, the battery of my iPhone 11 Pro was offering a full day usage. Seriously, I am really impressed. My usage involves a lot of social media, music streaming and video streaming along with lots of daily calls. I once left for office at 10 AM with a 39% battery and came back at 6:30 PM with a 4% battery. Isn't that impressive? Apple ships iPhone 11 Pro with an 18W charger that charges the phone up to 55% in 30 minutes. The phone also supports Qi wireless charging but at a slower rate.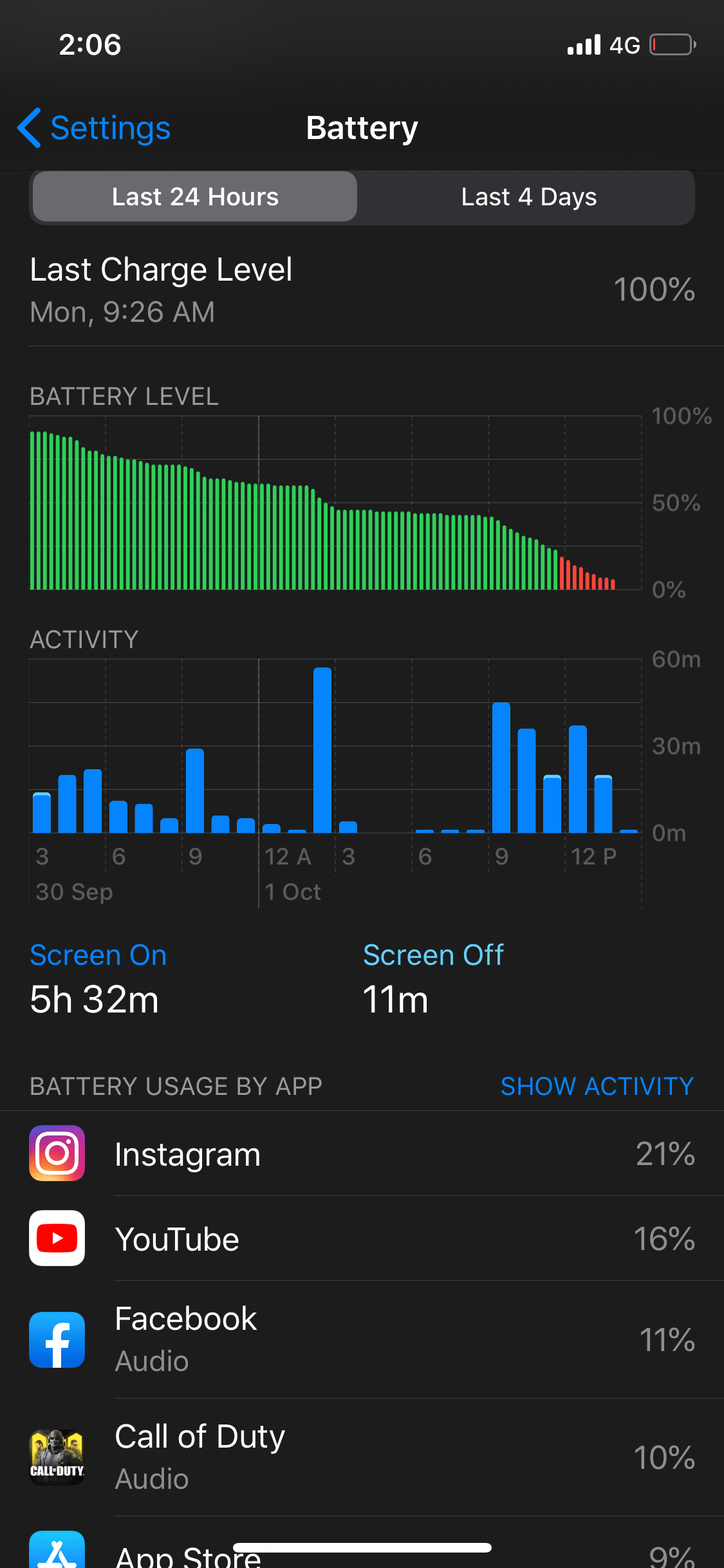 The phone still uses the old Lightning connector for charging. Apple could go with USB-C that has already made its way to MacBook laptops and latest iPad Pro.
Final words
The iPhone 11 Pro is expensive, really expensive to be true. Android Flagships cost lesser and are competitive. But the camera of the iPhone 11 Pro is really impressive and makes it the best camera phone available right now. Design is subjective. So, you may like it or not. But the iPhone 11 Pro impresses in most of the things. It has an excellent display, powerful performance, good camera performance, smooth software experience, and nice battery life.
If money is no concern, you can go with iPhone 11 Pro for experiencing a powerful performance, amazing multimedia experience, and best camera. Even if Apple claims to use toughest glass, get the phone insured.
Buy Here: Amazon
Apple iPhone 11 Pro
"The iPhone 11 Pro delivers best in-class performance and amazing camera experience. Certainly the best camera phone right now."
The Good
High-quality Build
Impressive OLED Display
Excellent Camera
Powerful Performance.
Good Battery Life
The Bad
Very Expensive
Just 64GB Of Base Storage
Ultra Wide Camera Lacks OIS and Night Mode
Average Low Light Selfies
Breakdown
Design 80%

Display 90%

Performance 95%

Gaming 95%

Software 95%

Camera 85%

Battery 100%

Value for money 70%