YouTube is a popular video-sharing platform and is also 2nd most visited website globally. From kids to adults, Youtube is now a go-to place for entertainment, education, and music. Recently, the company also introduced Shorts for the short form of videos. Anyone with an account can create a channel and upload a video. YouTube also has a monetization program for creators to earn money. This is the reason several creators actively upload interesting videos.
Also see: Best YouTube Alternatives
YouTube has viewers from all age groups. So, content is also available for all age groups. Some content isn't suitable for people below 18 years of age because it may contain nudity, violence, harmful activities, or the use of alcohol. YouTube marks these videos as age-restricted. To learn more about age-restricted videos, check this link.
Age-restricted videos are not available for users who are under 18 years of age. For watching these videos, you must sign in to your Google account to let YouTube know your age. If you try watching an Age-restricted video, you will see something like this.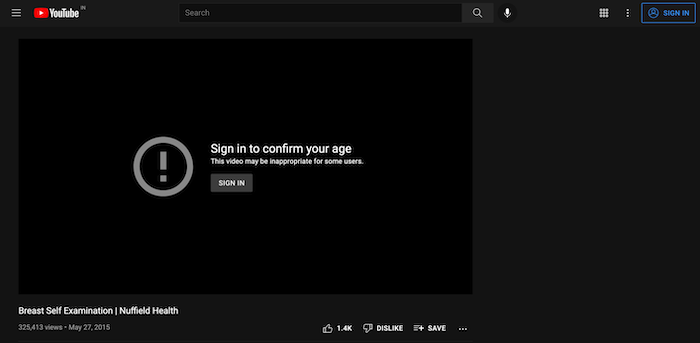 But what if you do not want to sign in to your account, still watch to watch your videos. The reason why most people are not comfortable watching these videos with their account logged in is Watch History. They may not be comfortable in having these videos in their watch history. If you don't know, You can always clear your YouTube watch history if you want. That's another thing. In this article, I will tell you how to bypass YouTube age restriction and watch age-restricted videos without signing into your Google account on YouTube.
Bypass YouTube Age Restriction and watchAge-Restricted videos without sign in
Here are some ways to bypass the YouTube age restriction.
1. NSFW YouTube
NSFW YouTube is the best way to watch an age-restricted video YouTube video and bypass age restriction on YouTube. You just need to do a small modification to the video URL.
Here's a sample URL of an age-restricted video.
https://www.youtube.com/watch?v=ApRGNwSvsnI
Now replace YouTube.com in the above URL with nsfwyoutube.com. So, the final URL will be this:
https://www.nsfwyoutube.com/watch?v=ApRGNwSvsnI
This URL will let you watch the same video without needing to sign in to your Google account.
This website shows so many ads that may irritate you. Having an ad blocker can solve the issue. But you should whitelist Techlomedia if you use adblocker.
2. Download The video
The other way is to download the video and watch it offline. Some online tools let you download the video just by entering the URL. Although there are hundreds of online tools that let you download YouTube videos. Not all can download age-restricted videos. I have personally rested videovor.com for downloading an age-restricted video. It works.
Just visit the website and enter the URL of the video you want to download. In a few seconds, you will get the video download URL.
Warp Up
There have been several other ways such as Embed URL, YouTubeRepeat, VLC stream, and more. Most of those ways now don't work. This is the reason I am not mentioning those ways to watch age-restricted videos. I found these two ways effective in bypassing age restriction on YouTube. You can try any of these ways. Most people will use NSFW YouTube because not many people want to download videos in an era when the internet is fast enough to stream videos online.
If you know any other working way to bypass age restriction on YouTube, let me know using the comments below.