Googly is the esports platform Indian gamers need
Gaming is a growing market in India and is expected to reach $5 billion in 2025. It is growing at a CAGR of 28-30%. Most people are still casual gamers while a lot of people play games professionally. After several game streamers made their fortune by streaming their gameplay, a lot of new gamers are also joining different streaming platforms. We have also seen the rise in esports tournaments in the country. But, there's a big problem most Indian gamers are facing. They find it hard to know about upcoming esports tournaments. So, not many gamers can actually try their luck in esports tournaments. Most esports games like Valorant and Counter-Strike: Global Offensive are team games. You cannot take part in different esports events until you have a team. This seems a small problem, but ask a gamer and you will understand how big the problem is. To solve this, Shubhodip Pal and his team have launched Googly.
Googly is a social platform for gamers where they get information about games and gaming news, can connect with other gamers, and earn rewards. The aim of Googly is to provide gamers with opportunities to compete in different gaming tournaments of their favorite game titles. Gaming companies, colleges, and a group of people can also create their tournaments on the platform and invite gamers to participate. The platform also has several games that users can play within the app.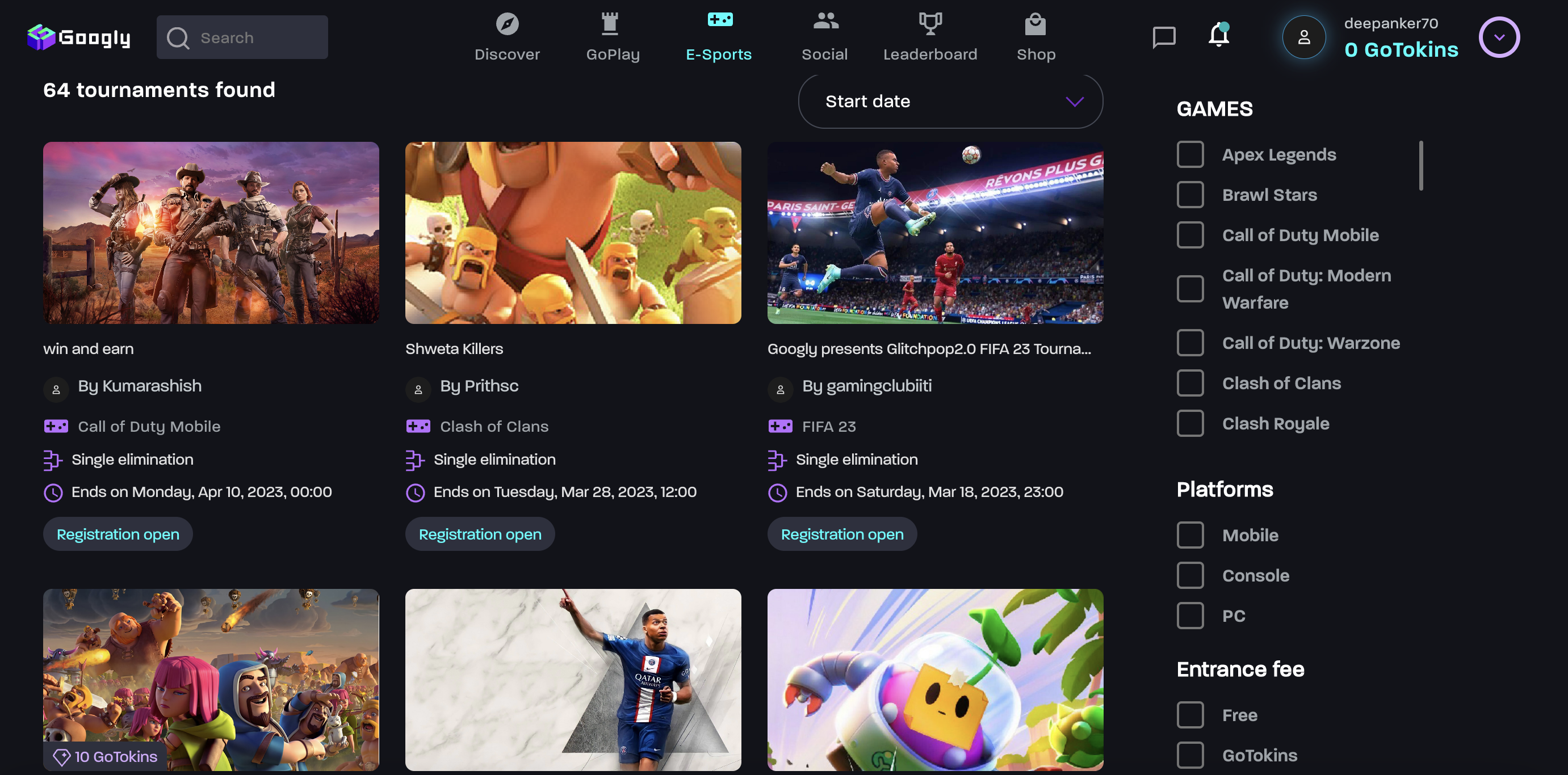 I really found this platform useful. Many casual gamers think of participating in esports tournaments to see where they stand, but there was no reliable platform where they could find information about upcoming esports tournaments. Googly is certainly a platform these casual gamers always wanted.
Googly also lets users connect with other gamers. So, you can connect with like-minded gamers and play together. This social element of the platform is also useful for people who usually play team games in solo queues. They can find teammates to participate in different esports tournaments.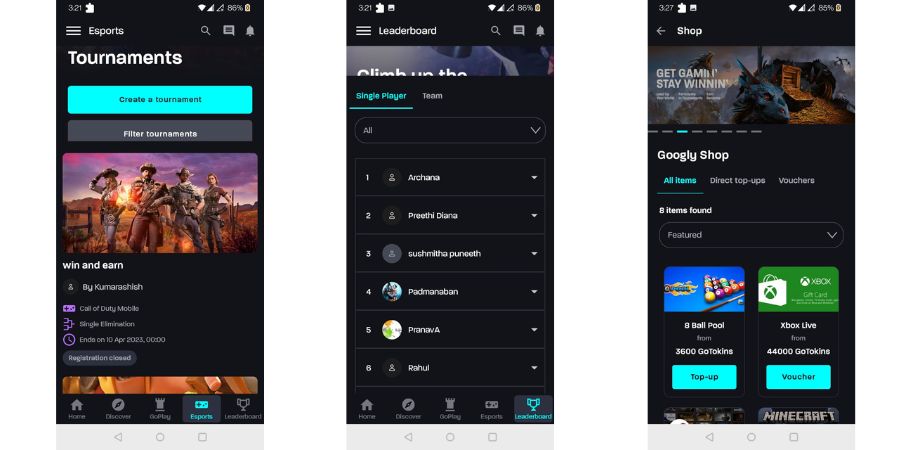 The platform also has in-app tokens called GoTokins. GoTokins can be used to redeem several rewards and game vouchers in Googly shop. I could also see several rewards and vouchers. This section will feature more rewards in the coming months.
Googly also has over 100+ cloud-based games that can be played within the app. These games require no downloads and run smoothly within the app.
The app also keeps track of your gaming activities. So, you can check the stats and see how you have been performing. The performance metrics include win rate, win count, matches played, lose count, and draw count. Users also unlock achievements based on their performances.
The app also makes a leaderboard to rank gamers based on their performance. You can check your overall rank or rank in a specific game. This will motivate you to perform better and rise on the leaderboard.
I also got a chance to have a detailed conversation with Shubhodip Pal about the platform. In that conversation, he clearly stated the aim of this platform, priorities, target market, and future plans. When I asked him about his plans for global expansion, he confirmed that the vision is to first establish the platform in India. As of now, he is not thinking about global expansion.
The most notable thing about this platform is that Googly takes responsible gaming seriously. It is a subscription-based platform and it also requires the consent of parents if a minor join the platform. The platform also has a minimum age restriction i.e. 13 years. Gamers can also enjoy a free 30-day trial before paying for the subscription. The subscription plans start from Rs 39 per month for casual gamers and Rs 99 per month for all gamers.
There is also a dedicated section for gaming and esports news. It will help app users know about recent releases, updates, and esports events.
The platform is still in early phase but I can see several gaming tournaments here. People who are interested in competitive gaming should try this platform. This platform also helps in connecting other gamers to play together and learn.