Apple A16 Bionic: Everything you need to know about it
With iPhone 14 Pro and iPhone 14 Pro Max, Apple also introduced its new mobile platform A16 Bionic. Apple claims that A16 Bionic is the fastest chip in any smartphone ever. A16 Bionic is built on new 4nm architecture. So, it is more efficient than A15 Bionic which is built on 5nm architecture. Apple A16 Bionic will debut with iPhone 14 Pro and iPhone 14 Pro Max. Both the phones are launching on the same day.
Apple A16 Bionic is built on the new 4nm architecture. It has a 6-core CPU and 16 billion transistors. The 6-core CPU includes 2 high-performance cores and 4 high-efficiency cores. This is the same as in the A15 chip but the A5 bionic had only 15 billion transistors. The company claims that A16 Bionic uses 20% less power as compared to A15 Bionic. So, it should deliver improved battery life.
A16 Bionic includes a 16-core neural engine that is capable of performing 17 trillion operations per second. The SoC also includes a 5-core GPU that has 50% more bandwidth.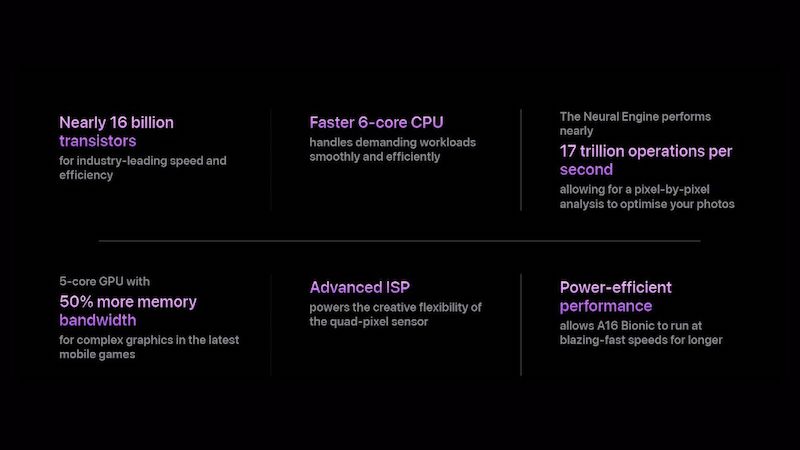 The company has also added a new Display Engine that powers the new Always-On display features. It can drop the display refresh rate to as low as 1Hz and also boosts peak brightness. The new Display Engine also improved anti-aliasing.
Apple also includes a custom image signal processor to power the camera system in iPhone 14 Pro and iPhone 14 Pro Max. The company also boasts that the processor, GPU, neural engine and image signal processor work together to perform up to 4 trillion operations per photo to support the new camera hardware.
A16 Bionic is more powerful and battery efficient than the A15 Bionic. Apple still uses the A15 Bionic in iPhone 14 and iPhone 14 Plus. A16 Bionic is exclusive to only Pro models.