10 Reasons why iPhone beats Android Phones
Almost every one of us have at least once participated in "Android vs iOS" debate. This is never ending debate because Android and iOS both offers something different and better than other. At the same time, both lacks in few things from other. Android devices come in almost all price range. But for iOS, you will have to go with iPhone. For cheaper, you will have to go with older variant which is not recommended. So, iOS cost much higher in comparison to Android phones. This is why people say that iPhone is only for rich but poor can afford Android. While every one compare and criticize Apple for over priced iPhone and offering less specifications as compare to Android, I want to point out few points which makes iPhone better than Android Phones.
In this post, I am adding reasons that makes iPhone better than Android.
10 Reasons why iPhone beats Android Phones
1. Easy to use Interface
This can be a topic of debate but in my opinion, iOS is pretty straightforward with no app drawer. All apps are on home screen and user can tap on app to open. In Android, users have different launcher options to customize home screen. But if we just compare the default things, iOS wins the battle.
One good thing is the consistency in the OS behavior. Apple has also adopted various features of Android, but iOS seems to be easier to use for most of those things too.
2. Timely OS updates
This is the best thing I like in iOS. If there is an update and your phone is eligible, you will receive it. Android phones depend on their manufacturer to push the OS update. This is the reason why most of the Android smartphone users are still using Android Kitkat or lower. Google is preparing to launch Android M, but users are still waiting to get Android Lollipop.
3. Smooth updates
Other big issue is the smoother updates. After updating iOS on iPhone, users get few new features and bug fixes. But in most of the big updates, Android users get performance issue. Yes, I am talking about Lollipop update which ruined the devices. Most of the users saw lagging problem, battery issue and other things. Even, I am the one struggled a lot. Hard reset didn't work and then company suggested to remove cache partition. I am not sure if a less geeky Android user can do this kind of task. Most of the users went to service center for reinstallation of Software. No doubt, Lollipop brings lot more thing but we expect smoother update. Most of the apps face compatibility issue and crashing of apps degrades the performance.
On other hand, iOS user never face these issues. Update is always smoother and apps will never degrade the performance.
4. No Bloatware!
I see this as a major advantage of iPhone over Android phone. Most of the Android users face this issue. Micromax smartphone come with different M! apps which can not be uninstalled. Similar case is with most of the Android smartphone manufacturers. These apps have no value for you, but you are forced to keep.
In iPhone, users never see these kind of bloatware. You will only receive apps which are the part of iOS.
5. Best app first
Yes, this is true in most of the cases. Most of the popular and good apps first land on iOS platform. Instagram took around 2 years to come for Android. Similar case is with most of the apps. So, we can say that iOS users usually get best apps first. Yes, you may argue that iOS apps are mostly paid, but I am not talking about price. Just consider the availability.
6. Overall Performance
High end Android phones now boasts to offer octa-core processor, high RAM and better GPU. Benchmarking results are also good. But this performance starts degrading over the time. In 3-4 month, users start seeing problem of lagging and slow response. On other hand, iPhone does not boast to offer high-end hardware. But the performance remains consistent for most of the users even after 1 year of usage. It is the iOS which offer good performance on dual core processor which can compete with the performance of High-end hardware performance.
See the gaming performance result published by Gamebench.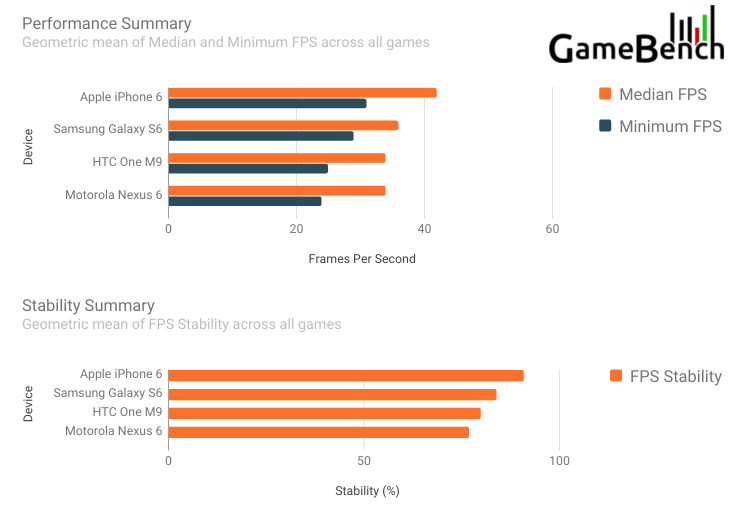 Yes, I agree that High-end android phone win war in benchmarking. But if you consider low hardware of iPhone, still performance is much better than what we see on Android on same hardware. Users' satisfaction matter.
7. Good camera performance
On paper, you can say that iPhone does not have good camera specifications. But on real time scenario, performance is always good. With just 8 megapixel rear camera, iPhone 6 Plus beats Samsung Galaxy S6 in various lighting conditions. In low light, iPhone seems to have best camera performance. In jealousy, you can call it to have only 8 megapixel rear camera or 1.2 megapixel front camera. But you will also praise the performance (Not openly of course.).
8. Secure
It is true that iOS is more secure than Android. Developers will argue that there are so much restriction on iOS. But I am writing this post from a normal users' point of view. Almost every month, we see a new case of Android malware and botnet. But for iOS platform, you do not need to worry about this.
9. Smart Home Controller
This is not available in most of the countries but iPhone lets you various smart home products including LED, fan, door locks and various other smart home gadgets. There are not so many HomeKit devices are available in market. But most of the available devices support iPhone.
10. Great Customer Support
No one can deny this. I have seen Android users struggling to get proper after sale service. This is not the case with iPhone users.
I know you have lot more things to argue after reading this article. Do not worry, I like conversations. So, comment below and let us have a smart conversation about these smartphones.
Recommended Videos