Yahoo Partners With Dropbox To add Yahoo Mail attachments in Dropbox storage
Yahoo has finally revealed that it has no plan to build a cloud storage service. Yahoo has partnered with Dropbox to bring cloud storage for Yahoo mail users. Google and Microsoft already have their own cloud storage services integrated with their email service. This is what Yahoo was missing for past few months.
"Email attachments can be tricky: they've got file size limits, you can't keep them updated, and when you add people to a thread, attachments are the first to get left behind," Dropbox explained.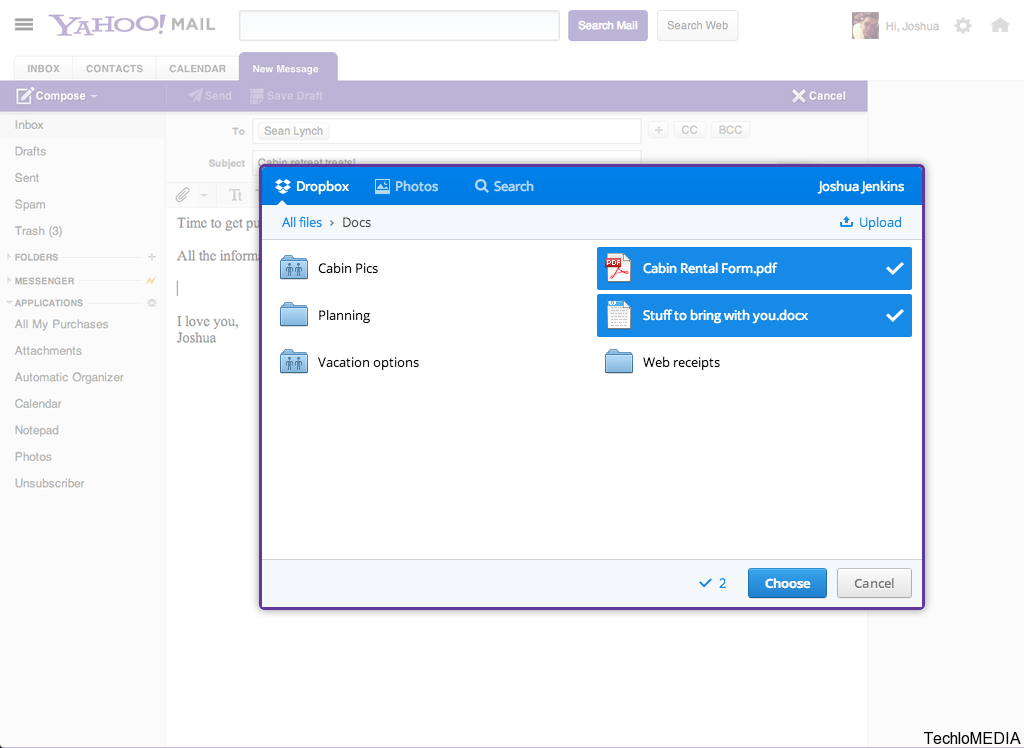 "The Yahoo! Mail team decided to fix this—by integrating with Dropbox!  Starting later today, if you're using a Yahoo! Mail account in English, French, German, Italian, or Spanish, you'll be able to access your Dropbox from right inside your inbox.  You can add stuff from Dropbox to any email message and save attachments back to Dropbox, too" it announced.
"If you already use Dropbox, you can get started right away. If you're new to Dropbox, simply click on any attachment you receive in Yahoo! Mail, select 'Save all to', then 'Save to Dropbox', then follow the instructions to set up a new Dropbox account," Yahoo explained.
After integrating Yahoo mail with Dropbox, you will be able to attach your files stored on Dropbox in Emails. All your email attachments will be directly store in Dropbox account. So, Yahoo mail users can also send large files in emails in similar way as Gmail users can send up to 10 GB file with Google Drive.
The feature only works for few Yahoo Mail language versions. Only Yahoo mail in English, French, German, Italian and Spanish users can use Dropbox integration. Other users will have to wait for few more weeks to get this feature.
Although Yahoo is too late in bringing this feature, but it is fine for Yahoo Mail users.
What do you think about this new partnership and cool feature added in Yahoo mail. Do you also think that Yahoo is too late in doing this? Share your views with us via comments.