Airtel iPhone 5 Plans In India
Today, iPhone 5 has been launched in India in an Airtel Event. It has also announced post-paid and pre-paid plans for Indian customers. 16 GB iPhone 5 is priced at Rs. 45,500. It was already up for pre-order via Airtel online store. You can either go to retail stores or order it online via Airtel online shop.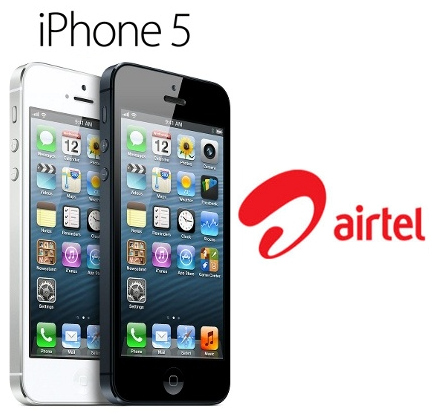 Airtel is offering free 3G data, SMS and local minutes with iPhone 5. These are the plans for Indian customers who will buy iPhone 5 with Airtel.
16 GB iPhone: Rs. 45,500
32 Gb iPhone: Rs. 52,500
64 GB iPhone: Rs. 59,500
Airtel iPhone 5 post-paid plans
| | | | | |
| --- | --- | --- | --- | --- |
| Plan | 600 | 1000 | 1600 | 2000 |
| Free local minutes | 500 | 900 | 1400 | 1500 |
| Free Local + National SMS | 300 | 400 | 500 | 600 |
| 3G Data (MB) | 200 | 500 | 1200 | 3072 |
| Monthly Rental After Discounts (Rs) | 300 | 500 | 800 | 1000 |
Airtel iPhone 5 pre-paid plans
| | | | | |
| --- | --- | --- | --- | --- |
| Plan | 600 | 1000 | 1600 | 2000 |
| Free local minutes | 500 | 900 | 1400 | 1500 |
| Free Local + National SMS | 300 | 400 | 500 | 600 |
| 3G Data (MB) | 200 | 500 | 1200 | 3072 |
| Monthly Charges After Discounts (Rs) | 305 | 500 | 800 | 998 |