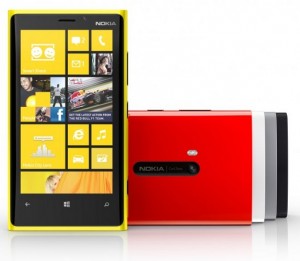 Few days back, Nokia announced a family series of smartphones that run on Windows 8 platform. As Nokia is facing a consistent downfall in market, so the Future of the company depends on the success of these new smart phones.
The first one announced by Nokia is Nokia 920 which is considered to be the most ardor phone in the world. The camera of Nokia Lumia 920 consist of carl Zeiss technology and Nokia pure View technology is pre installed as expected. It promises to give images and video both better than all others phones available in the market. Nokia Lumia 920 has 8 MP pure view for better image stabilization and better low light performance.
Talking about the screen of Lumia 920 it will have brightest screen on a smartphone ever and pixels will update to a faster rate of 2.5x of all the other LCD screens. The clear black technology of nokia has been improved and now known as PureMotion HD+. It will automatically adjust to light and brightness according to the outer specification of the atmosphere.
Nokia Lumia 920 has also got wireless charging with the Fat Boy Pillow, Nokia City Lens and many more than expected previously.
Nokia Lumia 920 uses Amoled display with WVGA resolution. It is also equipped with protective body cells on the back of the body to add a new color to your body. Microsoft has still some new features to announce so the specifications goes on.
Screen size of Lumia 920 is 4.5 Inches which it is not very long but still it is also not bad. The display is approximately bigger than Nokia lumia 900. The weight of the phone is 135 g and I guess it is the heaviest smartphone ever. The shell of Nokia Lumia 920 is made up of poly carbonate that is 10.7 mm thick and back of the phone is curved that really helpful in handling.
The Back camera of Nokia Lumia 920 is placed in the center which is very similar to Lumia 800. In Lumia 920 Nokia first introduced the optical image stabilization that is the first in smartphones though it has a pure view standard camera but skips 41 MP sensor though it has bright F/2.0 aperture plus carl Zeiss lens and it promises by Nokia that it will provide a superb image even in the low conditions.
The plates that surround the camera and keys all round the phone is made up of ceramic and according to Nokia it is impossible to scratch.
At front Nokia Lumia 920 has the IPS LCD screen. This display has about same features as Lumia 800. It also uses some brand new technology called PURE MOTION HD+. The screen of the phone looks like as if something is printed in it. The good feature regarding display is that it will automatically adjust to the screen settings to fit the ambient light.
The Nokia Lumia 920 comes with two great technologies which are NFC and wireless Charging. NFC is related to the Bluetooth Speakers but also for the content sharing. There are two types of charger come with Nokia Lumia 920. These are Fat Boy Pillow charger and Old one plastic charger. Lumia 920 also comes with JBL Power up Bluetppth wireless speaker.
The only Thing Nokia Lumia 920 doesn't have is a micro SD card slot. You have to use only the embedded 32 GB memory. Battery of the smartphone is not User replaceable.