Amazing features of Sony Play Station Vita, are you ready to buy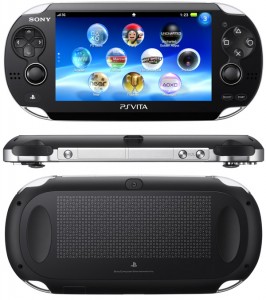 The Vita features a quad core mobile processor based on the Arm Cortex A9 architecture and a dedicated GPU. The device also features a rear and a front camera. The Vita also features a capacitive track pad at the back of the device like the one featured on the Motorola Backflip for easy and accurate navigation.
Sony has included a six axis motion sensing system that comprises of a three axis gyroscope and a three axis accelerometer for accurate motion sensing. Besides, a three axis compass has also been added to the device for location based tracking in conjunction with the integrated GPS system that has been accurately tweaks for best performance for Sony's new Vita operating system that features on the new PS vita.
 features are:
PS Vita makes use of the system's stunning 5 inch OLED touchscreen. With a swipe, tap or touch of a finger you can guide Nathan Drake over rocks, bridges and cliffs by selecting the path you want him to follow in the action-packed Uncharted: Golden Abyss.You can also use your finger to line up and pot balls with amazing accuracy in pool sim Hustle Kings. Both simple and intuitive, the touchscreen on PS Vita allows you to explore amazing scenery and interact with your favourite PlayStation games.
Rear touch pad
The rear touch pad opens up a whole world of new possibilities in portable gaming, whether you're using it to push out platforms for Lil and Laarg to walk over in Escape Plan, poke pesky critters in Little Deviants or sculpt breathtaking racetracks in ModNation Racers: Road Trip. It's easy to use too: simply press against the rear touch pad and watch in awe as your fingers create cool on-screen effects.
Front camera
With the PS Vita system's front camera you can scan your face using the front camera and become part of the action in Reality Fighters. Pick your outfit, perfect your fighting style and then watch yourself battle opponents in famous locations. Upload your picture in Virtua Tennis 4: World Tour Edition and hit the court to personally take on legendary players.
Rear camera
The rear camera is perfect for augmented reality experiences on the move. Everywhere is a potential battle arena in Reality Fighters: use the rear camera to choose your battleground. Will you challenge your opponent in the street, the office or even on the beach? You can also use the rear camera to view your creations in tag. This exclusive graffiti creator allows you to leave your mark on the world and discover other users' street art using augmented reality.
Microphone
Party allows you to catch up with up to seven friends via voice chat, even if you're not playing the same game. You can enter a Party, invite your friends and even save your favourite ones so you can log back in at any time.The microphone also comes in handy in a range of PS Vita games. In WipEout 2048, you can talk to the on-board computer to fire voice-activated weapons at opponents. Use the microphone to sing to the hilarious Little Deviants to earn stacks of points or record your very own war cry to intimidate your opponent in Reality Fighters.
Cross-platform play
With cross-platform play, you can use your PS Vita to connect to friends using their PlayStation 3. Go head-to-head and blast through amazing online multiplayer modes in WipEout 2048, share lap times and top scores in MotorStorm RC or access tracks created on PS3 via your PS Vita in ModNation Racers: Road Trip.
Dual analog sticks
One of the coolest and most anticipated features of PlayStation Vita is the inclusion of the dual analog sticks. With two analog sticks you'll be able to hit every target in military-themed shoot-'em-up Unit 13 and blast asteroids to pieces in the intergalactic Super Stardust Delta. Shooters on the move will never be the same thanks to this revolutionary feature.
GPS
PS Vita titles feature fun-filled creation tools that you'll want to share with friends and other players around the world. Using GPS, you'll be able to create combatants in Reality Fighters and leave them anywhere you like for other players to find. You'll also be able to clock up plenty of ModMiles in ModNation Racers: Road Trip by visiting real locations and checking your score on location-based leader boards.Use location-based app near to find friends in your area and discover gifts left by other PS Vita users.
Recommended Videos