Photography field is booming very fast with the craze of social media and blogging. People want to share their lives, views, hobbies, and talent by photographs. Point to shoot camera, DSLR, SLR and mirrorless cameras are must if you want to be a photographer or blogger. Mirrorless camera is for the person who is truly interested in photography as these cameras are a little bit costlier than SLR or DSLR. The mirrorless camera gives less noisy and high-quality images. It is also good for those who travel a lot for their work as it is light in weight.
If you are searching for Mirrorless camera under Rs. 50000 then we assume that you know what is mirrorless Camera. Mirrorless camera is also known as a hybrid camera and compact system camera. Mirrorless camera does not have an optical mirror as in SLR. It does not use a mirror to switch the scene between the optical viewfinder and image sensor. That's why it is light in weight and have high-quality images in comparison to DSLR.
Up to 80% off Refurbished Mobiles
Up to 80% off Refurbished Mobiles
Mirrorless Camera under Rs. 50000 in India
Below is the list of Mirrorless Camera under Rs. 50000 in India. These are entry level Mirrorless Cameras, so you can not aspect much.
1. Kodak PIXPRO S-1 Compact System Digital Camera
The Kodak Pixpro S-1 is an entry-level mirrorless compact system camera under budget Rs. 50000. It is available in two colors, White or Black. The Kodak PIXPRO S-1 comes with 12-45mm lens kit.  This  DSLR camera has 16MP Four Thirds CMOS sensor and records Full HD video with stereo sound at 30fps, 720p video at 60fps and high-speed 640 (VGA) video at 120fps.
Features:
16MP Four Thirds CMOS sensor
ISO 200-12800 + Auto
3.0″ 920k dot 4:3 tilting LCD (no touchscreen)
Approx 5 fps continuous shooting (JPEG only)
In-camera Full HD time lapse movie recording, 30fps, 720p video at 60fps, VGA video at 120fps
4fps continuous shooting
Built-in stereo microphones
In-body sensor shift image stabilization
High Dynamic Range shooting (JPEG only, 2 levels)
DNG format Raw file recording
360° panoramic shooting
Three customizable function buttons
Built-in Wi-Fi for easy image sharing, and remote control by smartphone or tablet
Micro Four Thirds lens mount
12-45mm f/3.5-6.3 and 42.5-160mm f/3.9-5.9 lenses; 400mm F6.7 'Fieldscope' lens
USB battery charging (no external charger included)
Kodak film emulation 'Picture Effects' (Ektachrome, Kodachrome, Kodacolor)
Price:  Rs. 48,090.67
2. Sony Mirrorless Digital Camera (ILCE-6000L/H)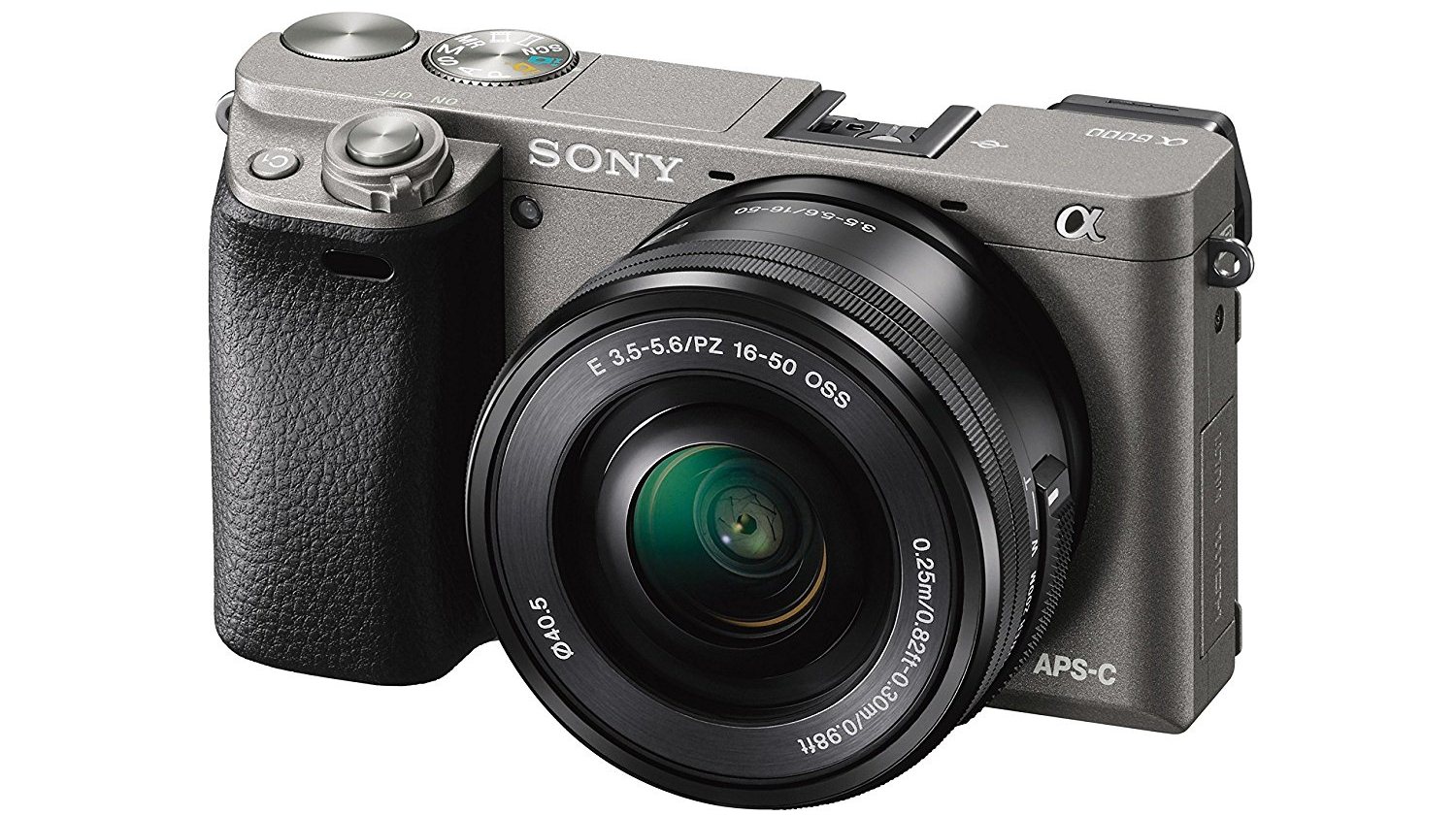 This is Sony entry level mirrorless digital camera. It has 24.3MP APS-C-sized Eor APS HxmD CMOS sensor and BIONZ X image processor. These sensor and processor produce high resolution, low noise, and notable low-light quality video. The sensor utilizes a gapless on-chip lens. This Mirrorless DSLR supports Full HD 1080p video recording at 60, 30, and 24 fps in the high-quality 50 Mbps XAVC S codec. The Fast Hybrid AF system utilizes both a 179-point phase-detection system and 25-point contrast-detection system to achieve precise focus in as little as 0.06 sec.
The alpha6000 does not have built-in "sensor-shifting" image stabilization.
Features:
Compact and lightweight Mirrorless camera for everyday use

24.3MP APS-C-sized Eor APS HxmD CMOS sensor

BIONZ X image processor

Ultrafast autofocus with 179 AF points and up to 11Fps

Capture Life in high-resolution images

Easy and intuitive controls help you shoot Like a Pro

Smartphone remote control and sharing via NFC and Wi-Fi

Fast Hybrid AF & 179 Phase-Detect Points.

BIONZ X Image Processor
Price: Rs. 47,990
Buy Now: Amazon
Also, Check this list of Best DSLR for Beginners under Rs. 30000
If you want to know about best lenses for portrait photography, CLICK HERE.
3. YI M1 Mirrorless Digital Camera
Yi M1 Mirrorless camera has a new Micro Four Thirds body. The Yi M1 has half the price of competing cameras in its class. This makes it best Mirrorless camera in the budget. The YI M1 Mirrorless Digital Camera features Bluetooth + Wi-Fi connectivity
for stable connection and fast sharing on social media
. It has a simple app interface which connects this camera to the smartphone. It offers the power and features of a professional camera with the ease and connectivity of a smartphone. This YI M1 camera has sleek and simple body design with good features and functionality. It has only two physical buttons, the 3″ touch screen LCD simplifies all camera operations.
Features:
20MP still images

4K/30fps video recording

Latest Sony IMX269 Image Sensor;

Latest Firmware Version:2.0

Supports shooting on the App remotely

MFT (Micro Four Thirds) System

Sleek and simple body design

Built-in Wi-Fi and BLE Bluetooth 
Note: Warranty not applicable in India for items sold by Amazon Export Sales LLC
Price: Rs. 43,755.39
Buy Now: Amazon
4. Pentax Q10 12MP 1/1.7-inch CMOS Mirrorless Camera
Pentax Q10 is an Entry-Level Mirrorless camera with a 1/2.3″ (6.17 x 4.55 mm ) sized CMOS sensor. It has 12.4 MP backlit CMOS sensor that produces very low noise and high-quality images for both 12-bit DNG RAW and JPG files. The sensor has shift shake reduction system with integrated DRII dust reduction. This gives blur and dust free stabilized picture, even in low lighting. Pentax Q10 can shoot continuously at a max speed of 5 fps and has a max shutter speed of 1/8000 sec.
Features:
12.4 MP – 1/2.3″ CMOS Sensor
Face Detection Focusing
ISO 100 – 6400
Sensor-shift Image Stabilization
3″ Fixed Type Screen
5 fps continuous shooting
timelapse Recording

Full 1080p HD video @ 30FPS with h.264 compression

Built in pop up flash with extra high extension covers 23 feet at ISO 201
Price: Rs. 40,699
Buy Now: Amazon
5. Panasonic Lumix DMC-G5W Mirrorless Camera
The Panasonic Lumix DMC-G5W camera has 16MP Mirrorless Compact System with digital live MOS image sensor. It comes with interchangeable Dual Lens Kit (LUMIX G VARIO 14-42mm / F3.5-5.6 ASPH. / MEGA O.I.S. (H-FS014042)) and (LUMIX G VARIO 45-150mm / F4.0-5.6 ASPH. / MEGA O.I.S. (H-FS45150)). You can not expect much as this is entry level Mirrorless DSLR.
Features:
16MP Mirrorless Compact System

Video recording Full HD 1,920 x 1,080 60p (NTSC) / 50p (PAL)

Digital Live MOS Image Sensor
3-inch Free-angle TFT LCD with Touch Panel

High-speed response with Lightspeed AF and burst shooting at 6 fps
Price: Rs. 39,000
Buy Now: Amazon
These are the 5 Mirrorless camera under Rs. 50000 in India. These all are entry level mirrorless camera therefore, they don't have many features but they are good in their price range.
---
Advertisement
---