Panasonic Lumix G7 Mirrorless Camera Review : The Video-centric Budget 4K Camera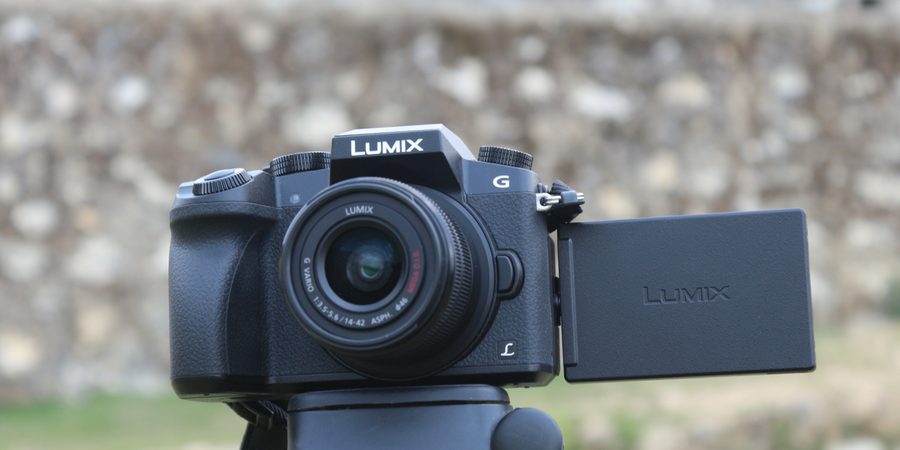 Panasonic Lumix DMC-G7 is an affordable mirrorless camera from Panasonic for those who are more into videos than photos. The camera brings 4K video recording capability with a variety of 4K Photo functions. It can record 4K videos at 30p or 24p frames rates. Recently, I used this camera for a week-long trip and found several interesting things to share.
Panasonic Lumix G7 looks and feels like an entry-level DSLR but is bit smaller. So, It is easy to carry. It even offers substantial grip. It has an angular design and measures 124.9 x 86.2 x 77.4mm. It features a free-angle LCD screen and an electronic viewfinder.
The Lumix G7 features a micro four thirds 16-megapixel MOS sensor and a Venus Engine 9 processor. There are 16 different buttons, 4 dials, and two stitches. So, you have full control over different things. The customizable function keys even enhance the overall control.
On the top right side, it has mode dial with the manual, semi-manual, and automatic modes. There is also a manual movie mode and panorama mode. Next to it, there is a power switch along with a programmable function button Fn1 and a movie record button. This video button is flat and difficult to find without looking at it.
On the left side, it has a drive-mode dial with options for time-lapse/stop-motion animation, self-timer, aforementioned 4K photo, 4K burst options, normal burst photo and normal photo option.
If you go on the back, it has another programmable button and a flash pop-up button on the top left side. This programmable button cycles through the electronic viewfinder (EVF)/LCD display. At the right side of the viewfinder, there is the autofocus mode switch where you also have autofocus/auto exposure lock button in its center. At the right side below the thumb rest, it has another programmable button that pulls up quick settings menu, playback and display options controls. Below it, it has four-way navigation pad with buttons for ISO sensitivity, autofocus area white balance and a programmable button. There is another programmable button below that.
On the right side, it has three connectors: a remote shutter control, Micro-HDMI and proprietary combination AV- and USB-out. On the left, it has a standard microphone input. At the base side, It has a lock that opens a slot for battery and SD card.
The 3-inch display folds out on a side angle and helps a lot while capturing photos and shooting videos. It even helps in capturing selfie. It is a touchscreen display and supports gestures like pinch-to-zoom. The display is bright enough to show you different things under sunlight.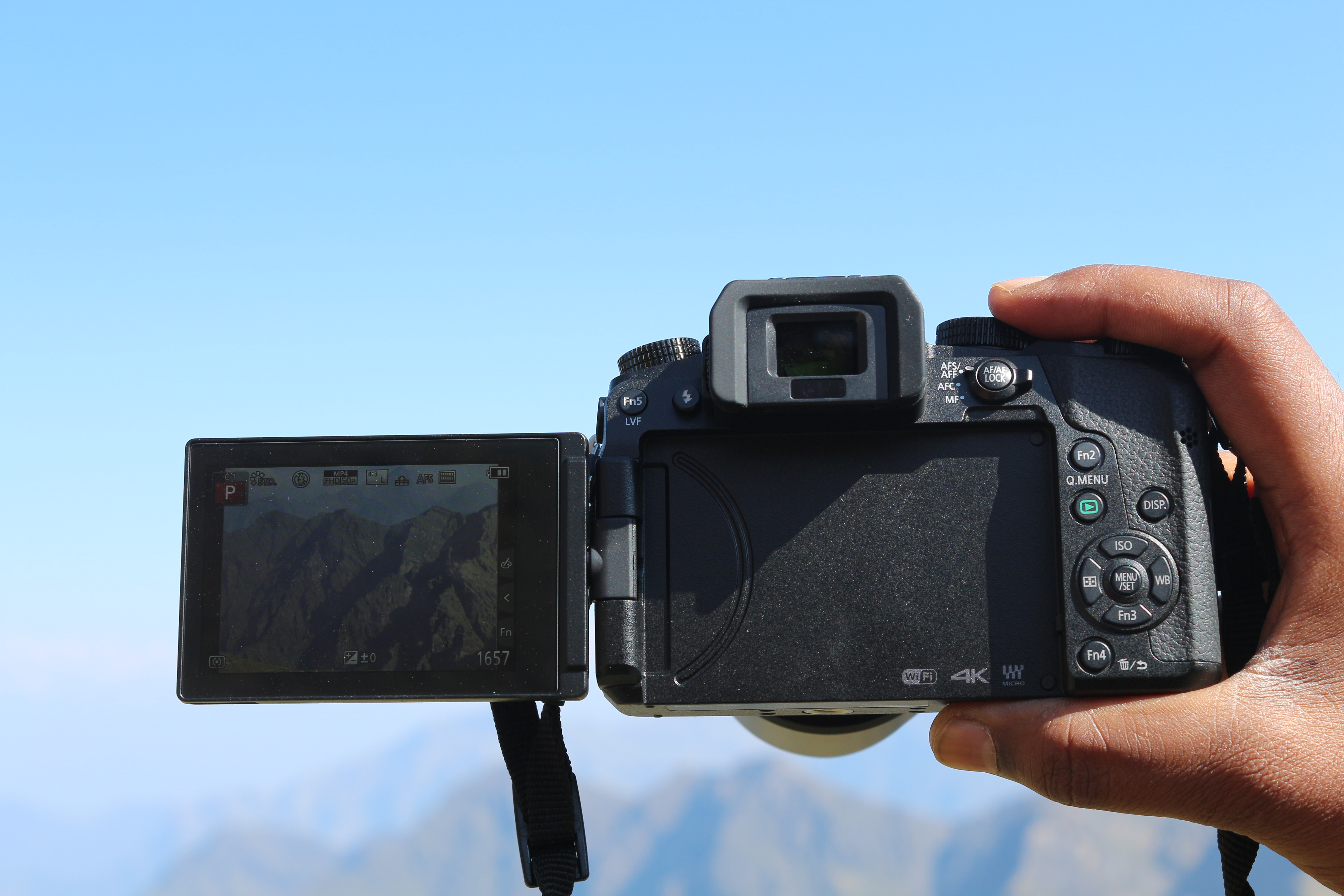 I really like the shooting assistance of the zebra pattern, horizon level gauge, and real-time histogram.
The camera features Wi-Fi connectivity that allows you to directly transfer photos from camera to smartphone and even control the camera from your phone. For this, you need to install Panasonic Image app. The app is easy to use. You can focus on an object and snap photos. You can browse photos on camera's card and even transfer to the phone.
Use of app to control the camera is much better than using the remote shutter. You can have a preview of the photo before capturing it.
If I talk about performance, this camera doesn't disappoint. It has fast focus and captures excellent photos under different light conditions. The company claims that the camera can focus as fast as 0.07 seconds In low light, auto focus becomes bit slow but you can still use touch to focus. Panasonic Lumix G7 has 49 focus points and it covers most of the Rame. You can use the touchscreen or the rear controls to control the position and size of the focus area.
In manual focus, it enlarges a user-definable center area. You can also adjust the amount of magnification of the focus area by using the front and rear. This helps in properly focusing on an object.
It can capture 16 megapixels images at 8fps. If that is not enough, you can also shoot 8 megapixels stills at 30fps. This mode is called 4K Burst. Select it and it shoots as long as you press the shutter button. 4K Burst is very useful when you want to capture a perfect moment from dynamic scenes such as sports events. The only issue I see is that seeing burst images using the viewfinder feels like images are of low resolution but that is not.
The camera has a face and eye detection. It can also detect objects and scenes. It offers good photo quality but dynamic range is limited. I took all photos at 16 megapixels and used the Standard photo style for most of the photos. It captured a good range of tones. The 4K image quality is also very good. The color sharpness looks very good. Auto white balance worked very well in different light conditions. The more you know about using manual controls, the better results you can get.
You get good noise free photos at ISO 100 to 1600 but limited noise starts appearing at ISO 3200. If you capture and process RAW, you can get better details even in low light. The camera offers maximum shutter speed is 60 seconds and there is also a Bulb option for exposures up to 4 minutes long. The camera has an anti-shake mechanism, so your photos are always good and free from motion blur.
The camera also has a range of creative Filters with 22 different options on offer. You can shoot JPEG and raw so you can always go back to the original.
The 14-42mm kit lens performs well. When sun is in the frame, you can use the provided lens hood for protection from flare. The macro performance of this lens is not as good as one expects and the closest focus distance is 20 cm. So, you cannot go very close to the subject. Go with a better lens for macro shots.
You already know that the camera has an option for Panoramas. Use the dial to select Panorama and then capture by 'sweeping' with the camera while keeping the shutter button pressed.
The camera also shoots videos at 4K at 25p or 1920 x 1080 resolution at 50p. The 4K is actually UHD and offers good quality recording. Video stabilization is also good with lens-based optical image stabilization. Recording hand-held gives good result even if I always recommend the use of Tripod.
Low light performance is not as impressive due to the excessive noise in the videos. ISO in movies is also limited to 6400.
Audio from the built-in mic is acceptable and you can adjust the levels. For best Audio experience, you need to connect a better microphone. It has standard mic input for connecting microphone. It lacks headphone jack so you will have to rely on the on-screen audio monitors.
If you make video content for YouTube or any other platform, UHD is actually more useful because the world is moving to 4K content. Now all video streaming services support 4K, so having a 4K camera is the must. Panasonic Lumix G7 is currently one of the best options for video makers who do not want to invest much.
Final Words
Panasonic Lumix G7 is a video-centric affordable mirrorless camera. If you are thinking to upgrade from your entry-level DSLR or want an affordable camera for videos, this one is for you. It offers good experience, manual controls, excellent viewfinder and higher-ISO performance. The 4K photo feature is another plus point where you can capture up to 30fps. It is small and light in weight. So, easy to carry and can fit perfectly fit in your bag. Even if the camera features older sensor, I still recommend this one considering its excellent performance at a low price.
Panasonic Lumix G7
"Panasonic Lumix G7 is a video centric affordable mirrorless camera with excellent performance."
The Good
Good EVF
Plenty of control options
4K video
Excellent performance
Fast autofocus
Wi-Fi and Remote Control via App
The Bad
Average Build Quality
No headphone jack for monitoring audio.
Breakdown
Design and Build 80%

Features 80%

Performance 90%

Image Quality 80%

Video Quality 70%

Value for Money 80%