7 Best manual camera apps for iPhone to get manual camera controls
Apple's iPhone is known for its good videography and photography experience. The default camera app is smart enough to give you the best possible photography experience. You can capture portrait shots, adjust background blur, use HDR, adjust exposure, adjust ISO use manual focus, and more. The only thing the iOS camera app misses is the lack of pro mode where you can adjust shutter speed, focus, and white balance manually. If you want to capture long exposure shots, you cannot get it by default camera app. Photographers want to use manual camera mode to control these things for better photography. If you also want to have manual camera controls on your iPhone, try these best pro camera apps for iPhone.
Also see:
Best manual camera apps for iPhone
1. Halide
Halide is the best and most highly rated camera app that brings manual camera controls to the iPhone. This app is highly rated and loved by most app reviewers. The app comes with manual controls for shutter speed, ISO, and white balance. The app also comes with histograms, XDR 14-bit RGB waveform, and color zebra stripes. You can shoot in RAW. The app also features Halide Smart RAW, which uses machine learning to optimize RAW files with less noise and more details.
There's also an Apple Watch companion app that lets you capture photos remotely. It also supports Siri Shortcuts to trigger the shutter remotely.
The most notable thing about the app that it has a simple and easy to use UI. It is easy to learn and use different tools offered by the app. That's why it is called "A Pro Camera App for Everyone."
The app is available to download for free but asks for membership. Yearly membership costs $11.99 but you can purchase it for a lifetime at $35.99.
2. Manual
Manual is another excellent pro camera app offering manual camera control in an iPhone. This app comes with a simple intuitive interface but with powerful controls. It saves images in the RAW DNG format. The app offers independent controls for Shutter, ISO, Focus, and Exposure Compensation. You can also use Focus Zoom, Histogram, Grid Overlays, and Timer. The app also has an EXIF Viewer. So, you have complete control over the photography. Capture the way you want.
This is a paid app and costs $3.99. Trust me, the app is worth the price.
3. ProShot
ProShot is another good app for professionals who need manual camera control on their iPhones. This app struggled recently due to several bugs but the developers behind the app have removed most of those. So, this app has made its way to our list of best manual camera apps for iPhone. This app offers manual, semi-manual, or automatic control over the camera. You can control focus, ISO, shutter speed, flash intensity, and white balance. You can also shoot in RAW. Not just for rear cameras, the app also offers manual camera controls for the selfie camera.
Not just for photos, this app also comes with manual, semi-manual, or automatic control for videos. You can record up to 4K. It also supports 4K timelapse in some iPhone models.
ProShot is also a pro app and costs $5.99.
4. ProCam
ProCam is also a professional camera app for iPhone and it is also a paid app. The app offers several camera apps like Photo, Burst, Slow Shutter, Portrait, 3D Photo, Video, and Time Lapse. It offers manual exposure, shutter speed, ISO, focus, and white balance controls to help you in capturing good shots. It also shows live shutter speed, ISO, focus, and WB values. The app can capture in RAW. The app also shows True focus peaking and Zebra stripes for overexposure warning.
The app can also record videos and time-lapse in 4K UHD at up to 60 fps. So, it is also a good app for video recording. Manual controls are also available for videos and timelapse modes.
This camera app is priced at $6.99.
5. VSCO
VSCO is the only free app on this list. VSCO is a simple app that is mainly known as a photo editing and filter app but it can also be used as a camera app. The app lets you capture good photos with less effort. You can also control shutter speed, ISO, white balance, exposure, and focus manually. All the settings are available at the bottom of the screen and adjust different things manually.
VSCO also has several editing tools and filters to enhance photos. The app comes with 10 free VSCO presets to help you improve photos. You can also import and edit your RAW photos using the editing tools of this app.
6. ProCamera
ProCamera is also an impressive app that can completely utilize iPhone's camera hardware to give you excellent results. The app offers three modes: Manual, Semi-Automatic, and Automatic. You get several manual controls such as Independent Focus, Manual White Balance, Exposure control, manual focus, Exposure Compensation, bokeh depth of field effect control, and more. The app also offers Dual & Triple Lens support. It can capture photos in several formats such as RAW, TIFF, JPG & HEIF. If you have iPhone 12 Pro or higher, it also supports ProRAW capture & editing. The app has Metadata Viewer, Live Histogram, Selfie Mode with display flash, Adjustable Fill-Light, and more features. If you have an Apple Watch, you can use the Apple Watch to control the camera remotely.
The app can also record HD & UHD 4K Video. You also get manual controls such as Exposure, Focus, and White Balance for videos. It supports High Bitrate Recording and H.265 (HEVC). In supported iPhone models, the app can also record Dolby Vision HDR videos.
7. Camera+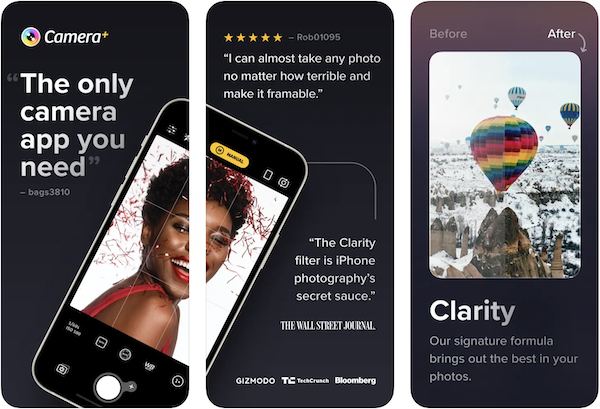 Camera+ is a good manual camera app with several options and editing tools. The app is not for professionals but for beginners. Camera+ app lets you fine-tune the exposure, boost the shadows, sharpen your photo, and more. The app also includes RAW Editor to improve your photos. It offers both Auto and Manual modes for capturing photos. You can use this camera app to learn manual controls before moving to a better app. The app also has Files and iTunes integrations. So, you can quickly transfer your photos and videos. It also has integrated Machine learning algorithms for improving your photos.
Wrap Up
What if you want to adjust ISO or shutter speed on your iPhone? There's no option in the default camera app. So, you need a good pro camera app and this list is about that. In this list, I added the best manual camera apps that let you adjust ISO, Focus, white balance, and shutter speed. So, you can capture excellent long-exposure shots or low-light shots. Halide is my recommendation. But you can also try other apps added to this list.