10 Best Selfie Apps for iOS
Selfie is the new trend. As per reports, most of the people capture more photos from front camera than they capture from rear camera. People like to capture selfies and share it on social media and expect appreciation from friends. Every one wants to post a perfect selfie to get more likes. This is the reason, there are so many apps that let people capture better selfies and give option to enhance the photos. Many selfie apps offer beauty mode to allow them make changes in skin tone and shape to make photos look better. If you are not sure what selfie apps to use, in this post we are listing few iOS apps which lets you create perfect selfie. These apps offers photo editing and enhancement features to improve your photos before sharing on social media. Take a look on these apps.
Also see: Best Wallpaper Apps for iPhone
Best Selfie Apps for iPhone
1. Facetune
Facetune mobile app offers various makeup and retouching features. It lets you smooth your skin, whiten your teeth, widen your smile, remove pimples and blemishes, brighten dark circles, change eye color, apply makeup, add color to your lips, adjust focus and much more. There are so many features which are hard to cover in the summary. This app mainly focuses girls who want to make a perfect photo by modifying their faces. But boys can also use this app.
Download from App Store
2. Retrica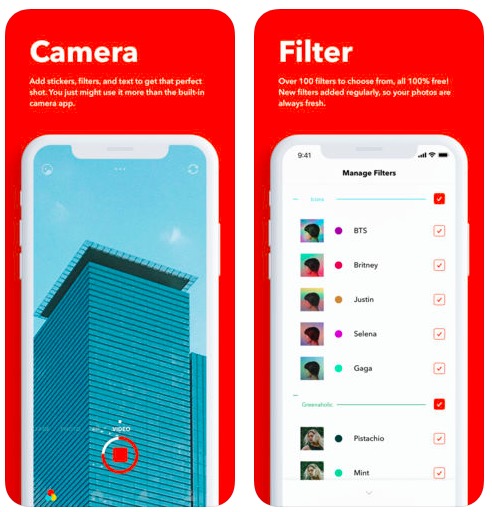 Retrica is a free camera app with powerful tools for taking selfies. You can personalise your photos add filters, stickers and doodles to enhance your photos. There are over 100 camera effects to chose from. So, you will surely love capturing your selfies in different styles. You can also create selfie collages with a variety of shots from different angles. It also has GIF mode to transform a collage or a video into a GIF.
Download from App Store
3. YouCam Perfect
YouCam Perfect is also a nice selfie apps with auto-beautify to improve your selfies. The app hides skin problems and its eye enhancer enlarges and removes under-eye puffiness. The app even offers stickers, backgrounds, and frames to enhance selfies. This app even lengthen legs and slim bodies to make you taller and shorter. The app is free with in-app purchases ranging from $0.99 to $3.99,. The premium version costs $2.99 per month.
Download from App Store
4. AirBrush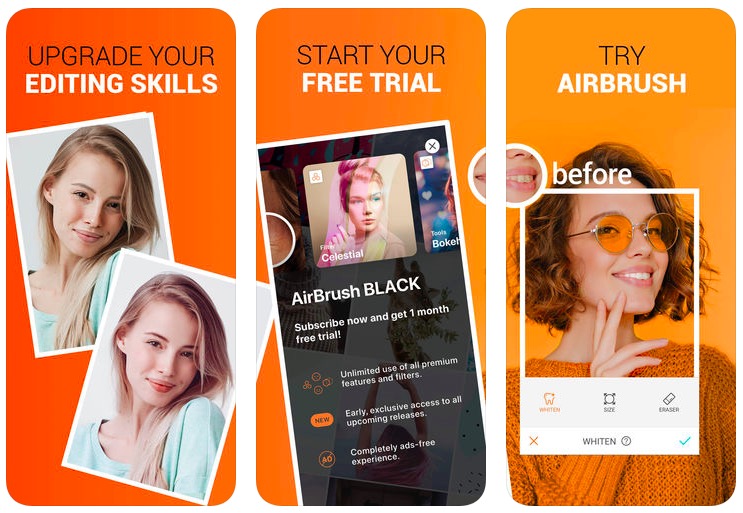 AirBrush is also a similar app that comes with variety of tools to enhance your selfies. You can smooth and firm skin, sculpt and reshape your face, extinguish acne, enlarge and brighten eyes, and more. There is also a Makeup palette with styles like Subtle, Modern, Smokey, Drama and more. You also get effects like bokeh, vignette, and filters. In-app purchases range from $.99 to $2.99.
Download from App Store
5. Cymera
Cymera is also a nice selfie app that help you in creating beautiful selfies. The app allows you enlarging eyes, flashing a smile and slimming your face. Skin corrections options including brightening, blemish concealers, and wrinkle wranglers. The app also comes with body shaper to improve your body shape. There re lots of editing options and hundreds of hair and makeup items to use in the app.
Download from App Store
6. Camera360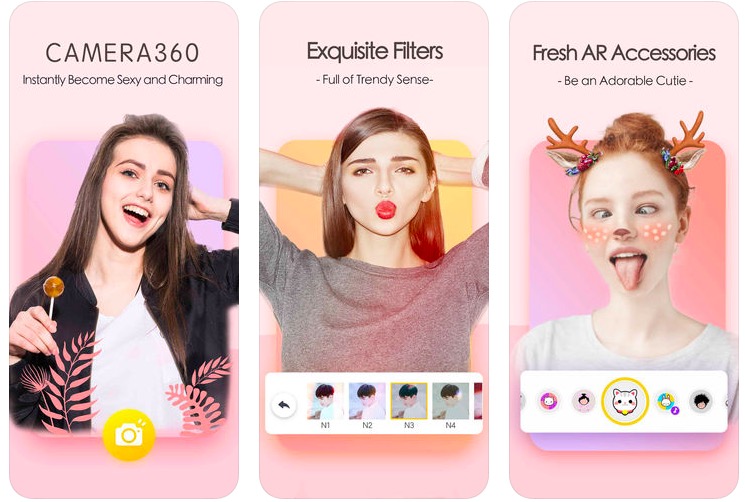 Camera360 is also a classic selfie app for capturing better selfies from your iPhone. The app offers lots of image editing options including crop, sharpness, and temperature. You also get real-time beautification options including enlarges eyes, whitens teeth, plumps and colors lips, slims noses and cheeks, hides blemishes, and more. You have slider based filters to give your photo a distinctive look.
Download from App Store
7. Perfect 365 (Free)
This is another nice iOS app for retouching a photo in different ways. It comes with 20 powerful beauty tools. So, you can beautify your face in different ways. This app can automatically detect your face and other key points like eyes, nose etc. So, working with this app is easy. You can also share photos to various social media apps directly from Perfect 365 app.
Download from App Store
8. Selfie Cam App (Free)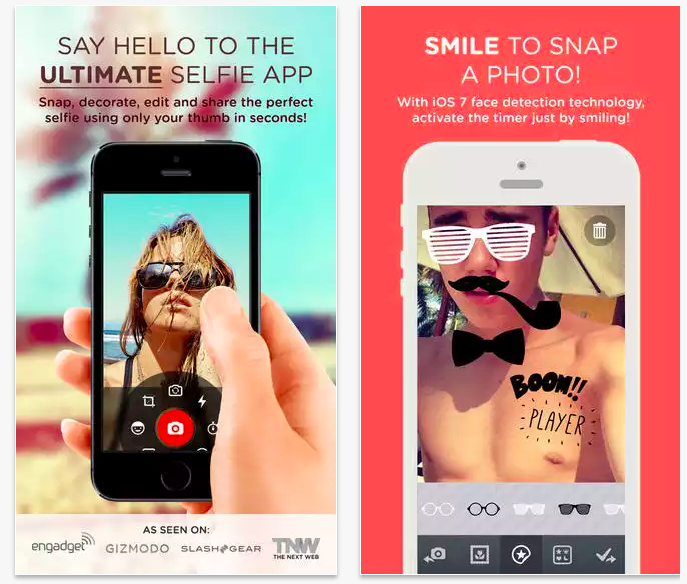 This is one of the popular selfie app available in app store. This app was developed for selfie lovers. It offers features like smile to snap, add stickers, add frames, decorate photo and share on instagram and other social media websites.
Download from App Store
9. Photo Wonder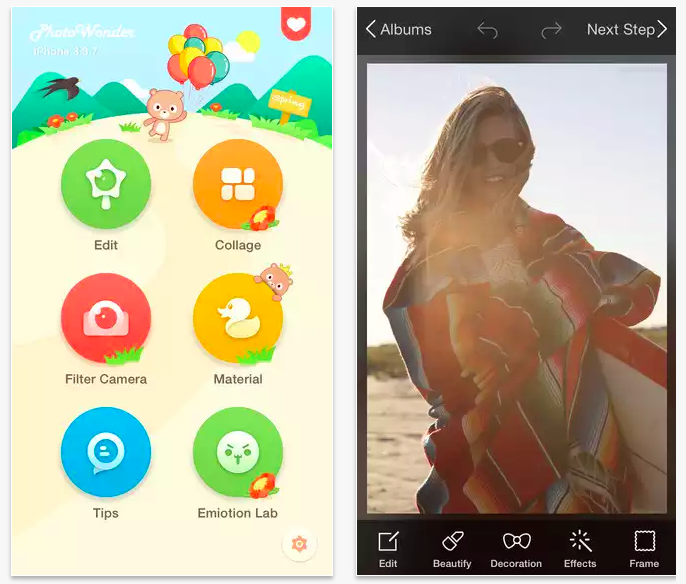 Photo wonder is also a good mobile app that comes with features like beautify, decorate, frames and more. So, you can edit your selfie to make it prettier. It comes with various filters which you can use in real time. it also lets you remove acne, whitening, polishing, enlarging eyes and adding many more effects.
Download from App Store
10. Cream Cam
Cream cam is a simple app with less features. If you do not want to get into too many options, you can try  this simple app with few options. It lets you enhance your photo, remove dark spots, acne and few other beautification edits.
Download from App Store
Final Words
Here are few selfie apps for iPhone. If you capture lots of selfies and use iOS device, this list is for you. You can select any of the given selfie apps list and start capturing beautiful selfies.
If you know any other good selfie, you can share it with us. I will try that app to see if that is worth to try.