5 Best Image Compressor And Resizer Apps For Android
Now smartphone cameras are really good, so captured images are of high size. Sharing these images over WhatsApp, email or other app takes time and also consumes large data. Sometimes many websites also restrict image upload to specific sizes. If you do not prefer using a smartphone, you need a good image compressor or image resizer apps. If you are not sure what Image compressor app or image resize the app to use, here is the list of best image compressor and resizer apps for Android. I have tested a few image compressor apps before making this list. All of these apps work well.
Also see: Best Quotes Apps For Android and iOS
Best Image Compressor And Resizer Apps For Android
Here is the list of best Image Compressor And Resizer Apps For Android. If you were looking for image resizer apps, image compressor apps, or apps to reduce image size, you can download any of these apps. You can read about these apps and select one depending on your usage.
1. Cram – Reduce Pictures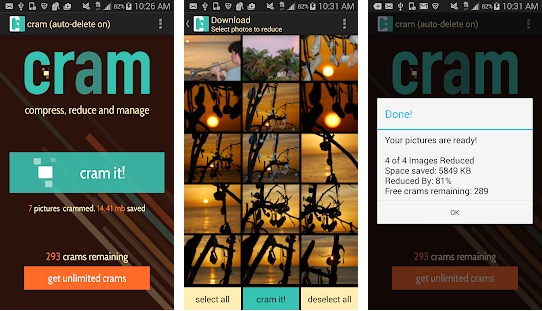 Cram is a notable image compressor app that can shrink photos of your phone by up to 60% without affecting the actual dimensions, resolution, or quality of the photo. Just launch the app and select photos you want to compress. The app compresses photos and replaces the original photos. It also gives you an option to delete the original file automatically or manually.
There is also an option to auto reduce the size of photos. If you tun it on, it will automatically reduce the size of photos you capture from the camera of the phone. This process is done in the background and only compressed photos are saved to keep more storage free on the phone.
The app can compress 300 photos free over the lifetime of the app. If you want more, you need to pay $1.99. If you were looking for a good app to reduce image size, try this one.
2. Photo & Picture Resizer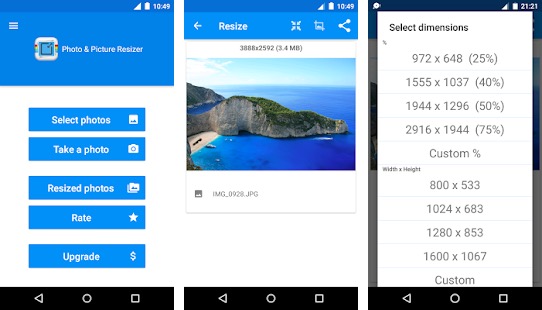 Photo & Picture Resizer is the best image compressor app for Android. It is easy to help app that lets you quickly reduce the size and resolution of photos on your phone.
Soon after you select an image to resize, it shows different resolutions from the list. You can also manually select the resolution if your desired one is not on the list. After that, you can save the resized image in your photo. It saves resized images in a separate folder titled 'Pictures/PhotoResizer'. The original image will not be replaced until you decide to do so. Not just a single image, you can also select multiple images for batch resizing.
This app performs well and reduces the size of an image without affecting its quality much. If you are looking for an app to resize images effectively from your Android phone, this app should be your choice.
3. Reduce Photo Size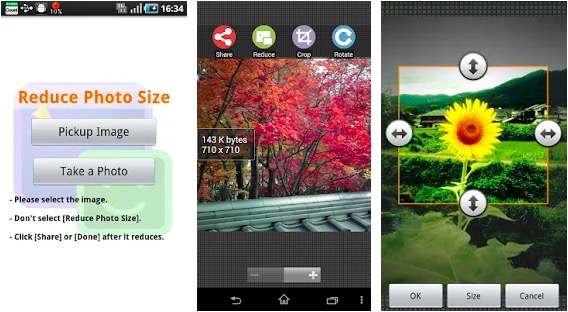 This app doesn't actually compress but resize a photo without affecting the original photo. The app is small in size and resizes effectively. It has easy to understand UI where you can resize multiple photos. You can select from pre-specified sizes or select the custom option if you want to define the size manually.
The app comes in several international languages. If you prefer using the app in your local languages, this one is good.
4. Photoczip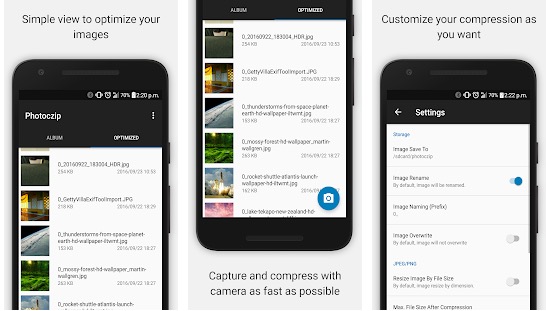 Photoczip is for both compress and resize a photo. It also allows you to compress a photo and make a zip file. The app allows you to compress photos, add watermark and resize as per your need. You can also perform batch compression if you have multiple photos to compress.
It also lets you edit JPG metadata, remove EXIF data, and convert from one format to another format. You can also rotate images within the app. It also comes with a camera widget for one-click image compression. It also allows you to share images via Email, Facebook, dropbox, twitter, google drive & Pinterest, etc.
Most notable thing is that the app is free and does not show any advertisement.
5. Compress image size in KB & MB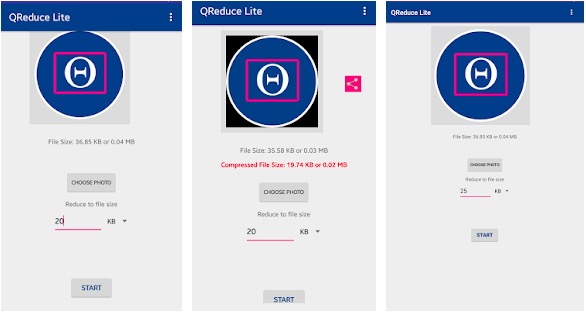 This app compresses photos to the exact output size you want. If you want to t compress the size of the image up to a specific size, this app is for you. Many examination forms ask for images of a specific size or less than the pre-specified size. This app works excellent and does what it says.
If you need to compress photos without caring much about size and quality, this app is for you. This is really good for government forms that require a very low image size.
Also see: Best iPhone launchers for Android
Final Words
I have added 5 different apps for image compression and resizing. If you were looking for the best image compressor and resize apps for Android, you can refer to any of these apps. If you just need an app to compress, go with Cram. The second app 'Photo & Picture Resizer' is for resizing to a specific size.
I have tested a few apps and made this list. If you know any other good app, you can let us know and I will surely try and add this to the list.