5 Best Battery Saver Apps For Android
Smartphone is now an important part of daily life. People now use camera a lot to capture selfies. They are stuck on apps like Instagram, WhatsApp and Facebook to waste hours. Due to all these things, your phone consumes battery faster. If you think your phone's battery is draining quickly, you should think of optimizing the battery to get better battery life. There are few steps which you can take to improve battery backup of your smartphone. These steps include closing unnecessary applications, decreasing the brightness of the display and many other. But There are some nice apps that can help you in this and save your battery. These Battery Saving Apps auto adjust volume, brightness and other settings to save battery.
Read: How to keep smartphone Battery Healthy
Read: Smartphones with best battery life
In this post, I am listing 5 best battery saving apps that you can download and install in your Android smartphone or tablet.
Best Battery Saver Apps For Android
1. Battery Doctor
Battery Doctor is a free app that lets you optimise the battery usage of your phone and hence improve the battery life. The app stops power-draining apps and monitors charging status to extend the battery life while charging. It kill apps when screen is off, schedules power saving modes, controls brightness and temperature.
It also gives quick access to power related system settings including Wi-Fi, Data, Brightness. It also monitors battery temperature.
It is user-friendly and comes in several languages for making it easy to use for most of the people. The only issue with the app is that is it not light in weight as compared to other apps in this list.
2. Avast Battery Saver
Avast is a known name for Antivirus. They also offer a good battery saver app called Avast Battery Saver. This app provides simple power-saving optimizations. It features background task killer and power saving modes to give your phone a better battery life. The app offers quick options for toggling WiFi, Bluetooth, GPS and other settings that consume battery. The app is easy to use and works fine. The only issue is the ads in the free version.
3. DU Battery Saver
DU Battery Saver is also a popular app to save battery and optimise its usage. It is one of the best and used by millions of people around the globe. It offers one tap option for battery saving. It closes inactive CPU-intensive apps and kills tasks consuming too much of battery. The free version of the app can improve battery life by up to 50%. Along with battery saving option, it also offers junk cleaner and phone cooler.
The pro version of the app brings more feature and can extend the battery life up to 70%. If you can buy, you should go with pro version.
4. Battery Saver 2018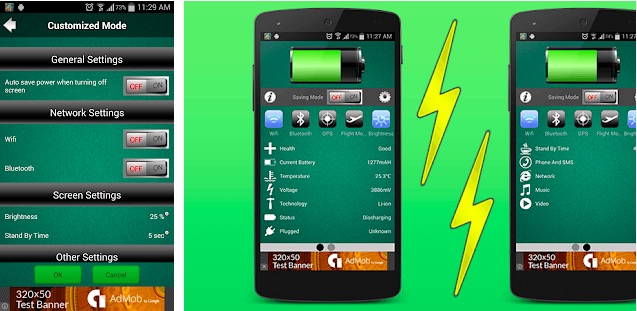 Battery Saver 2018 is also a similar kind of battery saver apps that help you in optimising the battery usage of your Android phone. It shows accurate battery remaining time and Standby Time.You can schedule power saving mode. It automatically controls brightness and gives you quick access to several settings like Wi-Fi, Data, Bluetooth and GPS.
It also shows battery health, remaining power in mAh, temperature and Battery life status.
5. Battery Booster
Battery Booster is a complex app that does lots of tasks in your smartphone. It is a battery booster and power management app as well. The app gives an interactive design and Automatic battery saving mode. It tracks the battery usage and gives you suggestion based on that. The app comes in several languages as well. It offers details like battery level, battery temp and remaining battery usage time.
Final Words
Now you have a list of best battery saver apps for Android. If you think your phone's battery draining too fast and apps of your phone are the reason, you can use any of these given apps to optimize the battery of your phone and optimize it for better battery life.
What do you do to keep your smartphone battery healthy and lasts longer? Share your favorite Battery Saving Apps and ideas with us via comments.