5 Best 360 Degree Camera Apps for Android
360 photos and videos look really cool. I am sure you have already seen such kinds of photos and videos on Facebook or any other platform and thought to try it. You need a good 360-degree camera for capturing 360 photos and videos. I have already made a list of the best 360-degree cameras. You can check that list. But what if you are not in the condition to pay for a 360 camera. Well, there are few apps that allow you to capture 360 photos from your smartphone camera. Yes, this is true. In this article, I am making a list of the best 360-degree camera apps for Android. All these apps work fine and allow you to capture 360-degree photos from your Android phone.
Also see: Fake GPS Apps for Android
Best 360 Degree Camera Apps for Android
Here is the list of the best 360 camera apps for Android. You can read about these apps and download any of the 360 Degree camera app on your phone.
1. Panorama360
Panorama360 by TeliportMe is a cool 360 camera app for Android where you can capture 360 photos and explore 360 photos shared by others. You can Capture 360-degree pictures using panorama. It also allows you to share those 360-degree photos on Facebook, Twitter, and Tumblr. You can also connect the app to 360 cameras to record photo from the camera and share here.
2. Google Street View
Google Street View is a nice app to explore the world. You can go inside different places like museums, monuments, and restaurants and feel like you are in that place. Along with exploring the world, the app also allows you to create 360 photos using either your phone's camera or a certified Street View Ready camera. You can then share that photo to Google Maps or Facebook. You can also view that photo using Cardboard mode.
3. DMD Panorama
DMD Panorama is also a good 360-degree camera app for Android. The app lets you capture panoramas and panoramic selfies. The result will be a 3D photo that can also be seen without the app. The app also works well in low light. You can also export 360 panoramas as looping videos and watch them using Google Cardboard. This 360- camera app is free with in-app purchases.
4. Cardboard Camera
Cardboard Camera is also a nice 360-degree camera app that lets you capture and share moments in VR photos. You can capture 360 Degree VR 3D photos and save them directly to Google Photos App. You can also record 360 Degree Videos. Everything you can capture using this camera app can also be shared on social channels.
5. Photaf Panorama Pro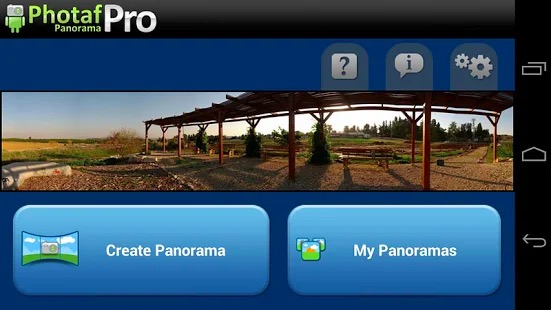 Photaf Panorama Pro is also a good camera app to capture 360 panoramic photos. It uses the camera and orientation sensor to know the exact angle at which each picture was taken. After capturing the photo, you can move your phone around to see the complete panoramic view by using the phone's compass or the touch screen. It uses automatic Image Stitching for creating 360 photos. You can also share the photos with friends.
Also see: Best Document Scanner Apps
Final Words
Now you have a list of the best 360 camera apps for Android. You can start using these apps to capture 360 photos and share them on social media. Facebook and Google Both support 360 photos. There are also few other platforms where you can share and explore more 360 photos and videos.
On Play Store, you could find more apps claiming the same, but not all work fine. So, I added only 5 but working apps. If you know any other good 360 camera apps or Android that I missed adding, let me know in the comments below.